Saudi Arabia's sovereign wealth fund, a key engine of the kingdom's plan to diversify the economy, on Wednesday laid out new targets for growth, saying it aims to nearly double the value of assets it manages to around $400 billion by 2020. That sum includes the expected proceeds from the planned initial public offering of up to 5% of state-owned oil giant Saudi Aramco. The listing, slated for next year, could raise as much as $100 billion, Saudi officials have said. The Saudi fund, called the Public Investment Fund or PIF, held assets worth roughly $224 billion as of September, it said in a document released on Wednesday. It had previously struggled to calculate the value of its holdings, estimating them to be between $200 billion and $300 billion. The PIF has made a series of high-profile investments and announcements since Saudi Arabia unveiled its long-term plan for economic overhaul last year. It has invested $3.5 billion in Uber Technologies Inc., and committed $45 billion to a technology fund led by SoftBank Group Corp.
The PIF's announcement highlighted its aim of raising the fund's annual returns.
"The Program also encompasses efforts to maximize value in PIF's existing assets, which make up the majority of the Fund's holdings, and a new target to increase PIF's Total Shareholder Returns (TSR) up from 3 percent to between 4 to 5 percent."
While our calculation suggests that they'll need at least 5% to reach $400bn by 2020, Reuters reports that the PIF is even more optimistic about the "long-term", aiming for 6.5-9.0% - all-time highs in equities and all-time lows in bond yields notwithstanding.
How will it do this?
As Reuters reported from the Future Investment Initiative in Riyadh, it will invest in almost every asset class (apart from gold and cryptos it seems) and – this might be important - add leverage to juice its performance.
"The 96-page program said PIF will structure its investments in six areas: Saudi equity holdings, sector development, real estate and infrastructure, mega projects, international strategic investments and a "diversified pool" across global asset classes….

Outside of Saudi Arabia, PIF's investments will be in a number of assets such as fixed-income, public equity, private equity and debt, real estate, infrastructure and alternative investments such as hedge funds, the fund said…

It also outlined its four major sources of funding to include capital injections from the government, government asset transfers, loans and debt instruments as well as retained earnings from investments.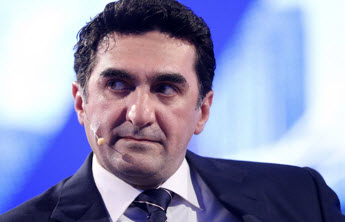 The PIF's managing director, Yasir Al-Rumayyan, explained to Bloomberg how it discovered collateralized lending.
"If you look at investments we have today, it's basically all equity -- we need to look at leverage," Al-Rumayyan said at the event Tuesday.

"If we're in one project, we can use the underlying project as the base for the leverage with no recourse to the rest of the portfolio."
It's not just about returns, however. The PIF's press release estimated that its program will lead to the creation of nearly 300,000 new jobs.
The Public Investment Fund (PIF) Program (2018-2020) has today been launched as part of the Kingdom's Vision 2030 Vision Realization Programs (VRP)…

The four key objectives underpinning the Program include growing and maximizing PIF assets; launching new sectors; localizing advanced technologies and knowledge; and building strategic economic partnerships…

The PIF Program, which is underpinned by 30 separate initiatives, will see the Fund's AUM increase to SAR 1.5 trillion (over $400 billion) by 2020, creating 20,000 direct domestic jobs, more than half of which are high-skilled roles, and 256,000 construction jobs, which will increase PIF's contribution to real GDP from 4.4 percent to 6.3 percent
For anyone who's a tad skeptical about any of this, there were soothing words from "MBS" in the PIF's press release. HRH Prince Mohammad bin Salman Al-Saud, said:
"The PIF Program represents a vital milestone as we work towards realizing Vision 2030. As well as being recognized for being well-capitalized, the Fund also wants to be known as being well-run, transparent and well-governed, and the PIF Program will ensure this ambition is delivered."