Wendy's has been flat in the first half of the year, and turned bearish from June to the beginning of October. The high on the year was around 11.70 and the low around 8.45. From September through October price consolidated and this week, as we begin November, price jumped up above the consolidation resistance of 9.35.

Wendy's (WEN) Daily Chart 11/3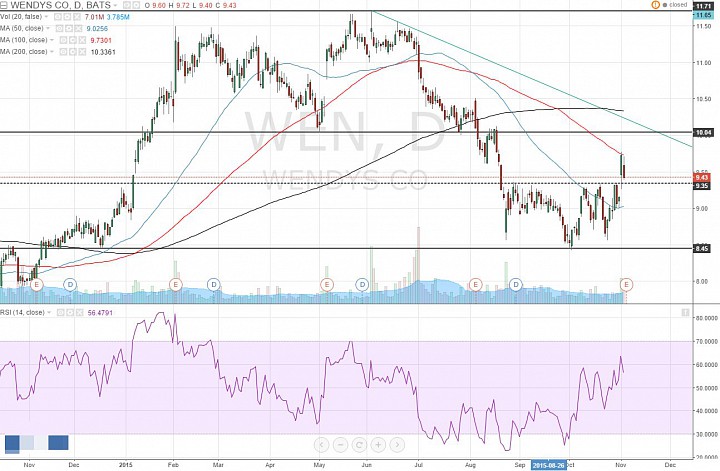 (click to enlarge)

The daily chart shows that price broken above this consolidation range to start this week. It might be a little premature to say that the market has turned bullish, but there are a few signs, the breakout being the strongest one of them. Another is that the RSI is pushing above 60, and thus reflects loss of the prevailing bearish momentum. We can at least anticipate a rally towards the 10.00 psychological handle, which was also a previous support pivot. 

Now, another reason I believe a bullish outlook is building because the prevailing trend in late 2014 has been bullish. Let's take a look at the weekly chart. 

Wendy's (WEN) Weekly Chart 11/3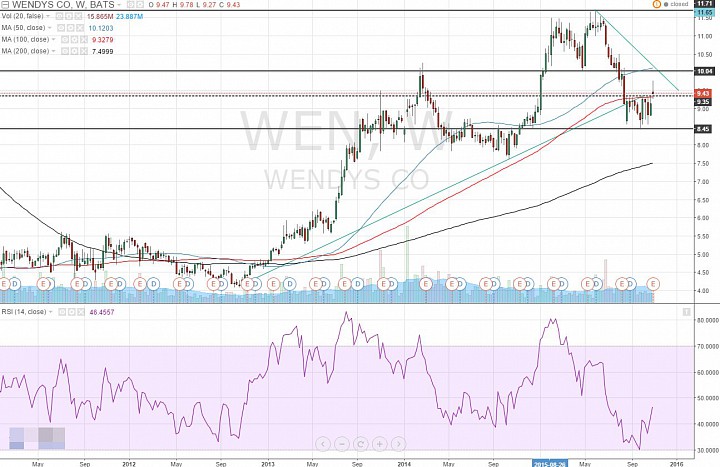 (click to enlarge)

The weekly chart shows that price has been bullish since 2013, after a few years of consolidating around 5.00. This uptrend is still intact though the momentum has stalled.

If I am right, the 10-10.25 area will be a key resistance. If price holds below this, WEN might still be in a medium-term consolidation with bearish outlook in the short-term. A break above 10.25 opens up the high on the year around 11.70 with more upside risk in-line with the prevailing trend since 2013. 

What do you think? I like their salads. Mickey D's tried and failed with that. Since consumers are progressing towards more health consciousness, Wendy's might have more growth potential than the stigmatized Mickey D's, Burger King, KFC etc.