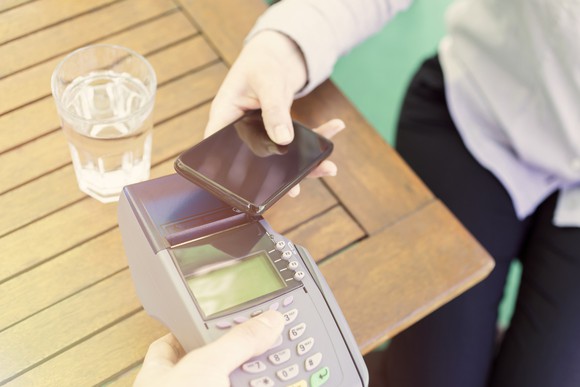 It may surprise you to know this, but cash transactions still account for 85% of all global transactions. Americans, accustomed to using our plastic to cover our purchases, don't quite understand the potential that exists for electronic payment systems worldwide.
In today's matchup, we'll pit the largest credit card company in the world-- Visa (NYSE:V), against one of the fastest growing payment companies, PayPal (NASDAQ:PYPL). While there's no definitive way to divine which company will perform better over the next three years, we'll view each company through three different lenses to get a better idea for which is a better buy today.
Financial fortitude
For investors, cash on hand isn't all that sexy: it doesn't earn much, and is sometimes associated with an unwillingness to return capital to shareholders. But over the long run, cash is always king. That's because when tough times hit -- scandals, industrywide slowdowns, or recessions -- those that have cash on hand have options. They can outspend rivals, return money to shareholders, or even make acquisitions of competitors.
The exact opposite is true of debt -- it can be fragilizing. If a company is caught with too much debt when the economy heads south, it will be forced to go into survival mode. That's a necessary but destructive choice that must be made. Here's how Visa and PayPal stack up in terms of their financial fortitude.
| Company | Cash | Debt | Net Income | Free Cash Flow |
| --- | --- | --- | --- | --- |
| Visa | $19.9 B | $15.9 B | $6.86 B | $6.60 B |
| PayPal | $4.8 B | $0 | $1.34 B | $2.74 B |
Data source: S&P Global Market Intelligence. Net income and free cash flow are presented on trailing twelve month basis.
It's important to note that Visa is currently valued at roughly four times the market cap of PayPal. Given that, the companies' net income and free cash flow are roughly comparable. That leaves the cash–to-debt side of the equation as the determinant of which company has more financial fortitude.
While Visa is by no means in danger of succumbing to its debt load -- it produces gobs of free cash flow -- it's undeniable that PayPal is in the stronger position. With $4.8 billion in cash on hand versus no debt, PayPal simply has more optionality. It's...
More