On Jul 6, Frontier Communications Corporation FTR, a leading regional telecommunication company in the U.S, was downgraded by a notch to a Zacks Rank #3 (Hold). You can see the complete list of today's Zacks #1 Rank (Strong Buy) stocks here.
Despite continuous loss of legacy fixed telephony business to wireless and other offerings, Frontier Communications is a favorable stock option with its efforts to expand and enhance its broadband infrastructure and services.
Broadband Expansion Strategy
Frontier Communications recently announced its plan to deploy Nokia Corp.'s NOK G.fast technology in Connecticut. The technology is aimed to deliver gigabit-speed broadband services to users living in apartments and multi-dwelling units (MDUs) throughout the state. The G.fast approach is expected to be a key element of broader copper network upgrade plan which will simplify the broadband installation and activation process in MDUs.
Moreover, the company announced the availability of enhanced broadband service to previously unserved residents throughout West Virginia and in 25 counties within Ohio and to numerous additional rural households in North Carolina, South Carolina, Tennessee, Wisconsin, Minnesota, Arizona, New Mexico, Illinois, Indiana and Texas.
Upsides
We are impressed with Frontier Communications' focus on generating additional revenues through customer retention, market share gain, new product introductions, broadband expansion as well as improved sales and marketing initiatives. We believe that the company is presently focusing on cost control with productivity and customer-oriented enhancements.
The above factors have made the company's operations efficient. We are also encouraged by sustainable broadband subscriber growth supported by strong network expansion and improved pricing structure.
The company has been trying to benefit from the growing Business Service Segment. By foraying into North Carolina with the rollout of 'Vantage TV' IPTV and broadband services in the region, Frontier Communications will challenge major incumbents like AT&T Inc. T and Charter Communications CHTR.
Meanwhile, the company's decision to reward its stockholders with a quarterly cash dividend of $0.04 per share of common stock, paid on Jun 30, 2017 to holders of record at the closure of business on Jun 15, 2017, is an encouraging initiative.
Some Downturns
Frontier Communications has been facing outages, poor telephone services and billing problems. The company continues to suffer from the loss of legacy fixed telephony business to wireless offerings. Decline in access lines and wireless backhaul revenues due to customer migration to Ethernet solutions at lower price is another concern. The persistent decline continues to tighten local service revenues, which accounts for most of Frontier Communications' overall revenues.
Moreover, the price performance of Frontier Communications is also depressing. Over the past three months, share price of Frontier Communications moved down 44.76% compared with the Zacks-categorized Wireless–Regional (Rural) industry's decline of 22.68%.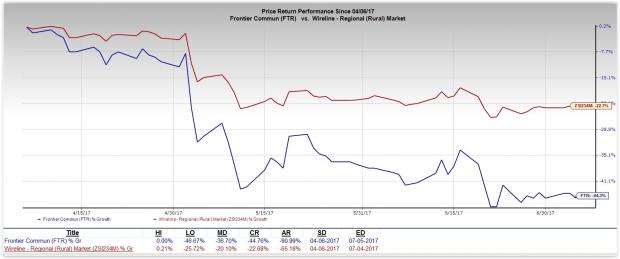 Today's Stocks from Zacks' Hottest Strategies
It's hard to believe, even for us at Zacks. But while the market gained +18.8% from 2016 - Q1 2017, our top stock-picking screens have returned +157.0%, +128.0%, +97.8%, +94.7%, and +90.2%, respectively.
And this outperformance has not just been a recent phenomenon. Over the years it has been remarkably consistent. From 2000 - Q1 2017, the composite yearly average gain for these strategies has beaten the market more than 11X over. Maybe even more remarkable is the fact that we're willing to share their latest stocks with you without cost or obligation. See Them Free>>
Want the latest recommendations from Zacks Investment Research? Today, you can download 7 Best Stocks for the Next 30 Days.
Click to get this free report
Nokia Corporation (NOK): Free Stock Analysis Report
AT&T Inc. (T): Free Stock Analysis Report
Charter Communications, Inc. (CHTR): Free Stock Analysis Report
Frontier Communications Corporation (FTR): Free Stock Analysis Report
To read this article on Zacks.com click here.
Zacks Investment Research