Phase 2b Data Expected Shortly
HedgePath Pharmaceuticals, Inc. (HPPI) is a Tampa-based biopharma company developing an improved, patent-protected, oral capsule formulation of itraconazole for the treatment of solid tumors. Itraconazole has been marketed for over 25 years in the U.S. as an antifungal. It decreases ergosterol synthesis which is critical to fungal replication, a mechanism that makes the drug highly effective as an antifungal agent. It was brought to the market as an antifungal by Johnson & Johnson in the U.S. under the brand name Sporanox® and posted peak worldwide sales of over $600 million prior to the patent expiration. It is now widely available as a generic.
Recent evidence points to itraconazole's strong inhibition of the Hedgehog pathway in human cells, with broad implications for the treatment of cancer. In particular, in the case of basal cell carcinoma (BCC), this molecular pathway plays an apparently essential role in the development and growth of tumors. Two recently approved Hedgehog inhibitors, Roche's Erivedge® and Novartis' Odomzo® are indicated for the treatment of locally advanced or metastatic BCC, validating the market for HedgePath's SUBA™-Itraconazole product.
Exploratory Phase 2a data published in Journal of Clinical Oncology in 2014 showed itraconazole was effective in shrinking tumors and achieving partial response or stable disease in patients with BCC. A larger, Phase 2b program using a unique, superior formulation, SUBA-Itraconazole, is currently enrolling patients who have Basal Cell Carcinoma Nevus Syndrome (BCCNS), an autosomal dominant hereditary condition which results in the appearance of significant numbers of BCC tumors, and the company expects to report preliminary data in the next few weeks. I see SUBA-Itraconazole as a potential blockbuster drug for HedgePath given the improved efficacy and tolerability over generic formulations of itraconazole and existing medications, including Erivedge and Odomzo, where side-effects deter long-term use and discontinuation of therapy results in the reappearance of BCC tumors. Below is an introduction to the story ahead of the preliminary data expected shortly.
---
Basal Cell Carcinoma Nevus Syndrome (BCCNS)
Basal cell carcinoma nevus syndrome (BCCNS) also referred to as nevoid basal cell carcinoma syndrome or Gorlin-Goltz syndrome, is an autosomal dominant disorder characterized by the early appearance of basal cell carcinomas (1). Non-hereditary, sporadic basal cell carcinoma is the most common type of skin cancer in the U.S., and it usually occurs as a result of prolonged exposure to sunlight. It is most frequently found in people over age 45; however, people with BCCNS develop multiple basal cell carcinomas at an early age and continue to develop new tumors throughout their lifetime. Other distinguishing clinical features found in the majority of patients with BCCNS include keratocystic odontogenic tumors of the jaw, craniofacial defects, ectopic calcifications, bifid ribs, and dyskeratotic palmar and plantar pitting (2, 3).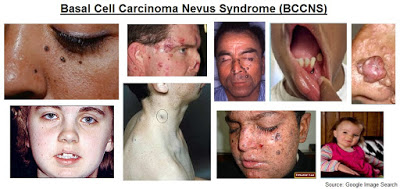 Basal cell carcinoma, whether sporadic or hereditary, is caused by defects in hedgehog signaling which result in constitutive pathway activity and tumor cell proliferation (4, 5). Molecular analysis studies suggest a relationship between BCC and the loss-of-function mutations of the patched gene (PTCH) found on chromosome arm 9q (6). PTCH1 is a member of the patched gene family and is the receptor for sonic hedgehog (SHh), a secreted molecule implicated in the formation of embryonic structures and in tumorigenesis (7). The gene functions as a tumor suppressor, and the PTCH1 gene product is a transmembrane protein that suppresses the release of another protein called Smoothened (SMO). When SHh binds PTCH1, SMO is released and signals cell proliferation by activation of the Gli family of transcription factors.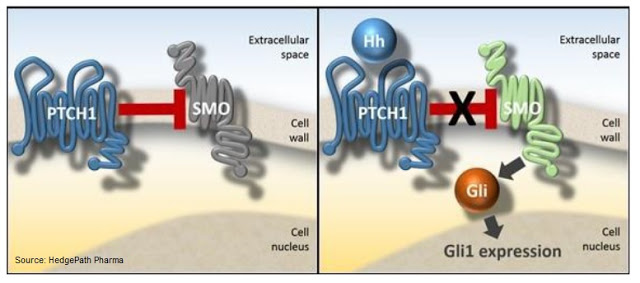 Clinical experiments with hedgehog inhibitors have shown real promise in halting and even reversing the growth of various tumor types, including basal cell carcinoma (8, 9), prostate cancer (10, 11), non-small cell lung cancer (12, 13), pancreatic cancer (14), and other solid tumors (15, 16). From a commercial standpoint, the U.S. FDA approved the first hedgehog pathway-targeted small molecule, Roche's Erivedge (vismodegib) in January 2012 (17). Erivedge is approved for the treatment of adults with metastatic basal cell carcinoma, or with locally advanced basal cell carcinoma that has recurred following surgery or who are not candidates for surgery, and who are not candidates for radiation (18).
- Treatment for BCCNS
There are several treatment options available to patients with BCCNS. These options include:
Excision: Excision is the surgical removal of the cancer lesion performed by a dermatologist, otolaryngologist (ear-nose-throat specialist), plastic surgeon, or another specialist. If the lesion is large enough, a skin graft from another area of the body may be required. While this certainly is the simplest way to deal with the skin cancer lesions, it has a higher rate of recurrence than some other treatments.
Mohs Surgery: Also known as "chemosurgery," Mohs micrographic surgery is a more advanced form of excision in that the excised area tends to be larger than just the cancerous area and includes a margin of healthy cells surrounding the lesion. Mohs surgery is more effective than traditional surgical excision (19); however, it's also usually more costly, complex, and time-consuming and can cause disfigurement (20).
Electrodesiccation and Curettage: ED&C utilizes a light electric current to dry out and kill cancerous cells, which are scraped away using a round knife called a curette. This process is repeated until the entire lesion has been removed, along with a margin of healthy skin to ensure complete removal. ED&C involves little bleeding and requires no stitches, but it takes longer to heal and may not be suited for all skin cancers.
Cryosurgery: Almost the opposite of ED&C, cryosurgery freezes the skin cancer lesion with liquid nitrogen instead of burning it. The growth scabs over and usually falls off within a couple of weeks. Cryotherapy has a lower cure rate than other procedures, but it is the procedure of choice for people with bleeding disorders or trouble with anesthesia.
Topical Chemotherapy: Topical chemotherapy involves applying the drug directly to the cancerous lesions as a cream. The cancerous cells absorb the drug and die off, forming scabs that can be removed. Side effects include temporary skin irritation, but the area tends to heal with the least amount of scarring. However, the treatment may miss portions of some tumors that lie deeper under the skin.
Photodynamic Therapy: PDT uses a drug that only becomes active under a certain wavelength of light. Cancerous cells absorb the drug more readily than healthy cells, so the cancerous cells are killed off while the healthy cells remain. The procedure can be made more accurate by using lasers to direct the light only at the cancerous cells. Patients sometimes complain of feeling "cigarette burns" or other irritation, and they must stay out of the sun for the next day or two, but PDT can be very useful for treating many BCCs at one time.
- Erivedge® for BCC
Erivedge (vismodegib) is an oral small molecule inhibitor of the Hedgehog pathway (Hh) signaling. Erivedge use in mBCC and laBCC is growing compared to invasive procedures noted above - market share was found to be as high as 40% in a recent study published in JAMA Dermatology (21). Roche posted global sales of Erivedge of CHF167 million ($162 million) in 2015, up 31% from 2014 levels. Approximately 70% of these sales were derived from the U.S. market.
Approval of Erivedge was based on a Phase 2, international, single-arm, multicenter, open-label, 2-cohort trial conducted in 104 patients with either metastatic basal cell carcinoma (mBCC) (n = 33) or recurrent locally advanced BCC (laBCC) (n = 71). Gorlin syndrome was diagnosed in 22 of the 104 patients (21%). The median age of the efficacy evaluable population was 62 years. Patients received 150 mg vismodegib per day orally until disease progression or unacceptable toxicity. The primary efficacy outcome was objective response rate (ORR) as assessed by an independent review facility (IRF).
Of the 104 patients enrolled, 96 patients (92%) were evaluable for ORR. For the mBCC cohort (n = 33), 97% of patients had prior therapy including surgery (97%), radiotherapy (58%), and systemic therapies (30%). For the laBCC cohort (n = 63), 94% of patients had prior therapies including surgery (89%), radiotherapy (27%), and systemic/topical therapies (11%). The median duration of treatment was 10.2 months (range 0.7 to 18.7 months).
Efficacy results published in the New England Journal of Medicine show an ORR of 30.3% for mBCC and 42.9% for laBCC (22). Complete response (CR) rates for mBCC and laBCC were 0% and 20.6%, respectively. Partial response (PR) rates were 30.3% and 22.2%, respectively. Median response duration was 7.6 months for both mBCC and laBCC.
Adverse events in the trial were significant and included muscle spasms (65%), alopecia (61%), dysgeusia (49%), weight loss (44%), fatigue (34%), nausea (28%), loss of appetite (22%), and diarrhea (21%). Several grade 3/4 events, including muscle spasms, weight loss, and fatigue were reported. A separate Phase 2 supported by Roche and published in the NEJM found the discontinuation rate of 54% due to adverse events (23).
Itraconazole As A Cancer Therapy
Itraconazole (ITZ) is a triazole antifungal agent with widespread clinical use in the prevention and systemic treatment of a broad range of fungal infections, including aspergillosis, blastomycosis, candidiasis, histoplasmosis, and in some dermatological and nail infections. The mechanism of action for this antifungal activity is through the decrease of ergosterol synthesis, required for membrane integrity of fungal cells, via inhibition of the lanosterol 14 alpha-demethylase (14DM) catalyst (24). Common trade names include Sporanox® (Janssen) and Onmel® (Merz), although the drug is now widely available as a generic.
Recent evidence points to the potential utility of itraconazole as an anti-cancer agent in mammalians. Work out of Stanford University and Johns Hopkins University shows the drug is a potent antagonist of the Hedgehog (Hh) signaling pathway that acts by a mechanism distinct from its inhibitory effect on fungal sterol biosynthesis (25). Kim J, et al. show that systemically administered Itraconazole, like other Hh pathway antagonists, can suppress Hh pathway activity and the growth of medulloblastoma in a mouse allograft model and does so at serum levels comparable to those in patients undergoing antifungal therapy. Mechanistically, itraconazole appears to act on the essential Hh pathway component SMO by a mechanism distinct from that of cyclopamine and other known SMO antagonists.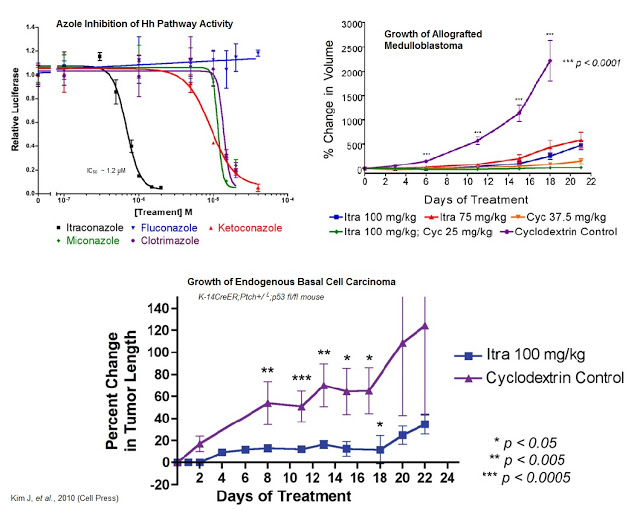 There is significant in vitro and in vivo evidence of the anti-cancer activity and potentiation of chemotherapeutic drugs by itraconazole, even in patients with multi-drug resistance (MDR). Examples include in vitro studies on the reversal of MDR in a murine P388 leukemia cell line resistant to daunorubicin (26), adriamycin and etoposide (27), and in human breast cancer resistance protein (BCRP) expressing human embryonic kidney (HEK) cells resistant to topotecan (28).
Examples of human studies testing itraconazole as an anti-cancer agent are numerous, with published data available in BCC, prostate cancer, non-small cell lung cancer (NSCLC), ovarian cancer, glioblastoma, and pancreatic cancer.
BCC: Data from Kim DJ, et al., 2014 in 29 patients, 19 treated with itraconazole, was presented at AACR in April 2011. Results show itraconazole reduced cell proliferation by 45% (P = 0.04), Hh pathway activity by 65% (P = 0.03), and reduced tumor area by 24% (95% CI, 18.2-30.0%). Of eight patients with multiple non-biopsied tumors, four achieved a partial response, and four had stable disease. Tumors from untreated control patients and from those previously treated with vismodegib showed no significant changes in proliferation or tumor size (29). Adverse events included fatigue (grade 2) and congestive heart failure (grade 4). More on this is discussed below.
Prostate Cancer: A study by Antonarakis ES, et al., 2013 in 46 men with chemotherapy-naïve metastatic castration-resistant prostate cancer tested low-dose (200 mg/day) or high-dose (600 mg/day) itraconazole until disease progression or unacceptable toxicity. Results of the high-dose arm were most impressive and demonstrated 61.8% progression-free survival (PFS) at 24 weeks. PSA response rate was 14.3%. Common toxicities included fatigue, nausea, anorexia, rash, and a syndrome of hypokalemia, hypertension, and edema (30).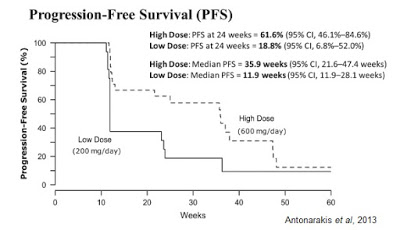 NSCLC: A study by Rudin CM, et al., 2013 enrolled 23 patients with progressive non-squamous non-small-cell lung cancer after one prior cytotoxic therapy for metastatic disease. Patients were randomized 2:1 to intravenous administration of pemetrexed 500 mg/m2 on day 1, with or without itraconazole 200 mg orally daily, on a 21-day cycle. The primary outcome measure was progression-free survival at 3 months, overall survival, and observed toxicity. Results demonstrate that an impressive 67% of the patients on itraconazole plus pemetrexed were progression-free versus only 29% taking pemetrexed alone (P = 0.11). Median progression-free survivals were 5.5 months for itraconazole plus pemetrexed versus 2.8 months for pemetrexed alone (hazard ratio = 0.399, P = 0.089). Overall survival was longer in patients receiving Itraconazole plus pemetrexed (median 32 months) versus pemetrexed alone (8 months) (hazard ratio = 0.194, P = 0.012). There were no evident differences in toxicity between the study arms (31).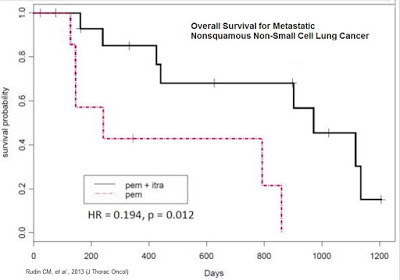 I find the use of itraconazole in NSCLC as quite intriguing. Animal model data out of Johns Hopkins University demonstrates that itraconazole has potent antiangiogenic activity. Work published in Cancer Research in 2011 confirms that itraconazole results in a potent, specific, and dose-dependent inhibition of endothelial cell proliferation, migration, and tube formation in response to both VEGF- and basic fibroblast growth factor-mediated angiogenic stimulation. In primary xenograft models of human NSCLC, oral itraconazole showed single-agent growth-inhibitory activity associated with induction of tumor hypoxia-inducible factor 1 alpha expression and marked inhibition of tumor vascularity. Additionally, itraconazole significantly enhanced the antitumor efficacy of the chemotherapeutic agent cisplatin in the same model systems (32).
Ongoing human clinical trials with itraconazole for the treatment of cancer includes:
NCT01787331: A Phase 2 study in biochemical relapse in prostate cancer.
NCT02357836: A Phase 1 study of neoadjuvant use in NSCLC prior to surgical resection.
NCT02120677: A Phase 1 study of topical itraconazole in the treatment of BCC.
NCT02354261: A Phase 2b study of SUBA-Itraconazole in the treatment of BCCNS.
NCT02366884: A Phase 2 study that is testing a range of antibacterial, antifungal, and antiprotozoal agents, including itraconazole, in combinations targeting all cancer types.
- Issues With Generic Itraconazole
With the exception of the Phase 2b study above, the other studies with itraconazole were conducted with the generic formulation of the drug. The challenges for generic itraconazole as an anti-cancer agent include the poor bioavailability of the drug that leads to inconsistent plasma levels, as well contraindications with achlorhydric agents and proton-pump inhibitors. Itraconazole is poorly soluble in water and has a mean absolute bioavailability of only 55% (33). Absorption of the generic formulation is also reduced by a mean of 20% by concomitant use of H2-antagonists cimetidine and ranitidine (34). It is contraindicated for use with a host of other drugs listed in the Prescribing Information (35). Additionally, fed / fast conditions have a major impact on the bioavailability, with fasting conditions increasing the bioavailability by up to 60% (36).
Enter HedgePath Pharmaceuticals
Mayne Pharma has licensed the U.S. commercial rights to SUBA-Itraconazole for the treatment of cancer to Tampa-based HedgePath Pharmaceuticals. Mayne Pharma is the sole source supplier of SUBA-Itraconazole to HedgePath and seems an excellent collaborative partner for the company. In fact, Mayne owns significant equity in HedgePath - approximately 49.6% as of late July 2016 (37) - and recently participated in a $5.5 million private placement by HedgePath in June 2016, investing $2.86 million new equity into the company (38).
Mayne has developed a proprietary, patented drug delivery technology called SUBA™ designed to enhance the bioavailability of poorly soluble drugs. The technology achieves "super bioavailability" compared to conventional formulations by utilizing a solid dispersion of API in a polymer to improve the absorption of drugs in the gastrointestinal tract. This dispersion improves the dissolution of poorly soluble drugs compared to their normal crystalline form, increasing bioavailability, reducing intra/inter-patient variability, and reducing side-effects (39).
Mayne has applied the SUBA technology to improve the bioavailability of itraconazole. Data from Mayne show SUBA-Itraconazole has 80-90% bioavailability compared to the 55% noted above for generic itraconazole and less variation in AUC at steady state (40). And since absorption is not dependent on stomach pH, SUBA-Itraconazole bioavailability is not materially impacted by fed / fast conditions and should not be contraindicated for use in achlorhydric patients (low acid stomach) or patients with acid reflux (requiring proton-pump inhibitors).

Mayne Pharma Group Limited is an Australian-based (ASX-listed) specialty pharmaceutical company focused on applying its drug delivery expertise to commercialize branded and generic pharmaceuticals. The company has a significant product portfolio and pipeline, global reach through distribution partners in Australia, North America, Europe and Asia, and two product development and manufacturing facilities based in Salisbury, Australia and Greenville, North Carolina. Mayne Pharma also provides contract development and manufacturing services to more than 125 clients worldwide.
Mayne Pharma is a significant player in the U.S. generic drug market. In fact, Mayne recently entered into an agreement to acquire 37 approved and 5 FDA filed products from Teva Pharmaceutical and Allergan plc for cash consideration of $652 million (41). To finance the transaction, Mayne recently raised $668 million in cash through a secondary public offering (42).
- SUBA™-Itraconazole
A Phase 2a clinical study with itraconazole in patients with BCC has been completed and the data is published in the Journal of Clinical Oncology (32.8:745-751, March 2014) (43). As previously discussed above, the results show itraconazole reduced cell proliferation by 45% (P = 0.04), Hh pathway activity by 65% (P = 0.03), and reduced tumor area by 24% (95% CI, 18.2-30.0%). Of eight patients with multiple non-biopsied tumors, four achieved a partial response, and four had stable disease. A total of 57 BCC tumors from eight patients were treated with itraconazole. Percentage change in tumor area for all 57 tumors is presented below. The results are quite impressive:
HedgePath is currently enrolling patients in a Phase 2b open-label trial (NCT02354261) of SUBA-Itraconazole in subjects with basal cell carcinoma nevus syndrome (BCCNS). Management at HedgePath met with the U.S. FDA in August 2014 in a pre-IND meeting and filed the Investigational New Drug (IND) application in November 2014. The current Phase 2b trial has been recruiting patients since September 2015. The study is designed to assess the safety and efficacy of SUBA-Itraconazole in BCCNS patients. The primary endpoint is response rate for BCC lesions. Key secondary endpoints include new BCC lesions eligible for surgical resection, duration of response, change in the number of jaw cysts and palmar/plantar pits, and safety and tolerability.
Target enrollment for the Phase 2b trial is 40 patients with BCCNS. HedgePath is collaborating with the BCCNS Life Support Network, a philanthropic organization dedicated to supporting the patients and families of patients with BCCNS / Gorlin Syndrome (44). BCCNS Life Support Network provides direct mail and phone support for the ongoing trial, as well as patient advocacy and assistance in gaining IRB approval and FDA clearance. The organization was involved in helping Roche gain approval for Erivedge (vismodegib) in 2012. Management expects to release preliminary results in the next few weeks Because itraconazole is an FDA approved product, HedgePath will seek approval via the 505(b)(2) regulatory pathway. This significantly reduces the risk and time to achieve FDA approval compared to new chemical entities.
Market Opportunity In BCCNS
The U.S. National Institute of Health estimates approximately one million individuals in the U.S. will develop BCC in 2016; however, less than 1% of these will be Nevus / Gorlin syndrome patients (45). This equates to roughly 10,000 patients in the U.S. Work done by Evans DG, et al. in 1991 estimated the incidence rate in the UK at 1 per 57,000 (46), which would equate to roughly 6,000 in the U.S. assuming similar etiology among the two countries. Evans DG, et al. updated this figure in 2010, revising the estimate to 1 per 30,827 (47), again which would equate to roughly 10,300 patients in the U.S. assuming similar etiology.
Management has been using the 10,000 figure in its SEC filings and most recent investor presentation (48). That being said, the market is likely significantly larger than just BCCNS patients. For example, there are an estimated 4 million cases of BCC diagnosed in the United States each year. A significant number of BCC patients undergoing surgical treatment for facial tumors (excisions) in the U.S. will require reconstructive surgery following excision of their tumors. Some of these surgeries might benefit from pretreatment with SUBA-Itraconazole to reduce the size of the tumor (see the Phase 2a data noted above) or benefit from post-surgical treatment with SUBA-Itraconazole to reduce the incidence of recurrence. The Company has not determined if it will seek an approved indication for sporadic basal cell carcinomas.
In June 2016, the U.S. FDA granted HedgePath's SUBA-Itraconazole Orphan Drug designation for the treatment of BCCNS (49). I believe this is a significant market opportunity for HedgePath. Roche's Erivedge costs roughly $10,800 per month (50), with the average patients on the drug for 7-8 months. In 2015, Novartis gained approval for Odomzo (sonidegib). Odomzo is a hedgehog pathway inhibitor indicated for the treatment of adult patients with laBCC that has recurred following surgery or radiation therapy, or those who are not candidates for surgery or radiation therapy. The drug costs $10,400 per month (51). Importantly, neither of these drugs is approved for the treatment of BCCNS.
I believe that SUBA-Itraconazole is a share gainer in BCC and BCCNS given the drugs solid efficacy and substantially reduced toxicity / better tolerability than Erivedge and Odomzo. Market research suggests an effective price between $4,000 and $5,000 per month for SUBA-Itraconazole. I believe the drug has pricing power higher than this, but even at only $5,000 per month, the market opportunity for HedgePath is $375 million in BCCNS. In BCC, assuming 25% of the patients might opt for adjunct pharmacotherapy pre- or post-surgery, the market is another $600 million.
Conclusion
Hedgehog pathway inhibitors, including recently approved Erivedge (Roche) and Odomzo (Novartis) are commercially validated anti-cancer therapeutics for the treatment of basal cell carcinoma that is non-resectable or locally metastatic, but they not approved for the treatment of Basal Cell Carcinoma Nevus Syndrome. Additionally, their on-target toxicity profiles make them unattractive for chronic administration. Azole antifungal agents, including itraconazole, posaconazole, ketoconazole, clotrimazole, miconazole, and fluconazole are inhibitors of the hedgehog pathway and show promise for the treatment of BCC and BCCNS (52). Of these, itraconazole is the most potent (53). Itraconazole, previously marketed by Johnson & Johnson as Sporanox®, is now widely available as a generic. The generic formulations of itraconazole have poor bioavailability and high intra/inter-patient variability that make its use as an anti-cancer agent challenging.
Mayne Pharma and HedgePath are developing SUBA-Itraconazole, an improved "super bioavailable" formulation of itraconazole designed specifically for use as an oral capsule anti-cancer agent for the treatment of BCCNS, and potentially sporadic BCC, NSCLC, prostate, and other cancers, given the major role that the hedgehog pathway plays in these diseases. This formulation is not generically rated, meaning that Sporanox and current generic formulations of itraconazole are not bioequivalent to SUBA-Itraconazole. Phase 2a data published in Journal of Clinical Oncology in 2014 showed that itraconazole is effective in shrinking BCC tumors and a Phase 2b program using the SUBA-Itraconazole is currently enrolling patients with the hereditary form of BCC (BCCNS). The company expects to report preliminary data in the next few weeks from this study.
HedgePath has solid science, excellent data, a sound business strategy, and recently just raised $5.5 million in cash. SUBA-Itraconazole targets a potential billion-dollar market as an oncology drug. The U.S. FDA has granted SUBA-Itraconazole orphan drug designation for BCCNS, a subset of the overall BCC market. I see BCCNS as a $375 million peak opportunity. Upside to the story comes from expansion into other cancers such as sporadic BCC, NSCLC, and prostate cancer. As such, I think this is an attractive opportunity for investors at today's low valuation of only $70 million.
---------
This article was written by Jason Napodano, CFA of BioNap, Inc.
Please see additional information on our Disclaimer.