Last month we published a transcript of our interview with 22nd Century Group Inc. (NYSEMKT: XXII) President & CEO, Henry Sicignano III. The key issue we discussed with Mr. Sicignano during our interview was the rollout of the company's MAGIC® Very Low Nicotine brand cigarettes in Europe and a filter supply bottleneck that seemed to hold back the ramp-up in sales over the past few months. We find this issue incredibly important to the stock because the success of MAGIC® in Europe should serve as a proxy for the market opportunity with BRAND A, a similar very low nicotine brand cigarette under U.S. FDA review, in the U.S. On May 2, 2016, investors got some very good news with respect to MAGIC® and a new, potentially revolutionary, cigarette filter.
Filter Issue Resolved
Mr. Sicignano referred to the issue as a logistical with respect to licensing a new filter for MAGIC® during our interview last month. Feedback obtained by the company during the initial rollout of MAGIC® in Spain noted that the cigarette taste was not what European smokers were accustomed to. Management decided to address the issue by changing the filter. The company believes it has found an incredible filter for MAGIC®, one that seems to further reduce certain toxicants inhaled from cigarette and fits perfectly with the 22nd Century's primary mission to pioneer new technologies to reduce the harm caused by smoking.
During our interview, Mr. Sicignano noted negotiations were essentially complete and that a final agreement would be announced in mere days. True to his word, on May 2, 2016, the company announced a deal with Celanese Corporation to combined its tobacco products, including MAGIC®, with Celanese's revolutionary CelFX® carbon filter. Under terms of the agreement, 22nd Century will have the rights to use the CelFX® cigarette filter technology with the company's MAGIC®, RED SUN®, and MOONLIGHT® brands.
The company believes that the addition of Celanese's CelFX® filters to MAGIC® fine-tunes the taste profile and results in a cigarette that is highly attractive to European smokers. As the company broadens distribution for MAGIC® from Spain to include Holland, Italy, France, and other European countries, both MAGIC 0 and MAGIC 2 cigarettes will exclusively use the Celanese CelFX® filter.
A Potentially Revolutionary Filter
Both 22nd Century Group and Celanese Corporation (NYSE: CE) seem particularly excited about CelFX® filters. CelFX® offers an innovative matrix technology that incorporates four times more activated charcoal than conventional cigarette filters. Initial research indicates that CelFX® has the ability to offer a step-change reduction in most of the known constituents when compared to standard carbon-on-tow products currently on the market, without impacting nicotine or tar levels.
The result is highly effective filtration that absorbs toxic compounds, including benzene, acetaldehyde, acrylonitrile, formaldehyde, 1,3-butadiene, and hydrogen cyanide, while also providing full air flow to maximize the smoking experience. Celanese reports that smokers describe CelFX® as "exceptionally smooth and rich."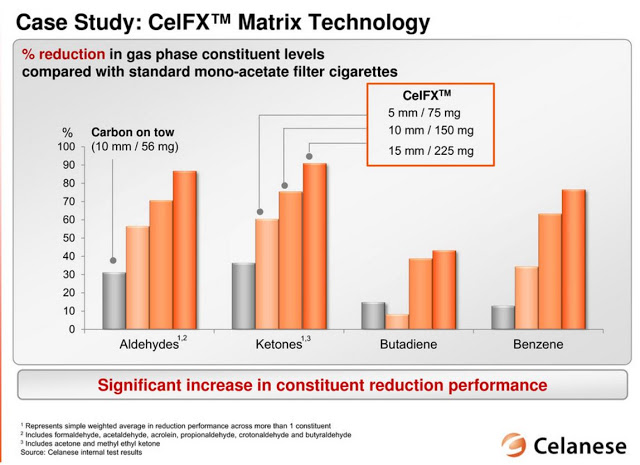 Focus On The Mission
Recent data published in the New England Journal of Medicine shows that individuals who smoked very low nicotine (VLN) cigarettes during a randomized controlled trial ended up smoking fewer cigarettes per day after six weeks compared to the start of the trial, exposing themselves to less toxic smoke and tar on a daily basis. MAGIC® is 22nd Century's VLN tobacco cigarette that contains approximately 95% less nicotine than in leading conventional brand cigarette. The product is on the market in Spain and now being rolled-out to other countries around Europe.
MAGIC® is a concept that the former U.S. FDA commissioner, Dr. David Kessler, MD, JD, summed up rather nicely in a public comment in June 2010, stating, "The FDA should quickly move to reduce nicotine levels in cigarettes to non-addictive levels. If we reduce the level of the stimulus, we reduce craving. It is the ultimate harm reduction strategy."
Dr. Kessler's thoughts are now being echoed around the globe. For example, Health Canada is studying the possibility of forcing companies to make their cigarettes less addictive by containing lower levels of nicotine. It's a controversial anti-smoking strategy that no other country has implemented but fits right in with Dr. Kessler's strategy. Through its proprietary plant-biotechnology, 22nd Century Group owns and controls over 200 patients in this field. 22nd Century Group is the only company that can grow tobacco with varying levels of nicotine. It is the only company that can accomplish with Dr. Kessler and Health Canada are suggesting.
Conclusion
Approximately 18% of American's smoke. That's nearly 60 million people who smoke 265 billion cigarettes per year. Nearly 50% of all smokers in the U.S. attempt to quit on a regular basis, but only 2-5% will succeed per year. The average number of attempts before success is between 8 and 11 attempts. According to the U.S. CDC, 12.6% of smokers tried e-cigarettes in 2014. Over the counter sales of nicotine gums, patches, and lozenges totaled $2.4 billion in 2014. Pfizer's Chantix® (varenicline) posted sales of $671 million last year and cumulatively has posted over $6 billion since its approval in 2006. Quite simply, the smoking cessation market is enormous.
Combining CelFX® filters with the very low nicotine tobacco found in MAGIC® brand cigarettes looks like a huge win-win for both companies. MAGIC® cigarettes with CelFX® filters offer a potentially less addictive, less toxic cigarette to smokers in Europe. Although product labeling restrictions preclude the use of the term "safer cigarette", it is clear that marketing for MAGIC® will be at smokers in Europe looking to reduce the harm caused by smoking.
Back in the U.S., BRAND A, the code name for the U.S. version, is currently under review by the U.S. FDA as a modified risk tobacco product (MRTP). I expect a decision in the fourth quarter of 2016. BRAND A is similar to MAGIC® in that it contains less than 0.05 mg nicotine yield per cigarette. This represents a reduction of at least 95% less nicotine relative to "Big Tobacco" cigarette brands, including Marlboro®, Camel®, Newport®, and American Spirit®. Once approved by the U.S. FDA, 22nd Century Group will be able to market BRAND A as a "modified risk" cigarette, a claim that potentially up to 90% of smokers would be interested in based on market research conducted by JP Morgan.
I see BRAND A as a $250-500 million opportunity in the U.S. Coupled with RED SUN® and MAGIC®, two products each with peak potential over $100 million, and 22nd Century Group's tobacco suite is getting too attractive to ignore. With a market capitalization of only $65 million, I am looking for a major revaluation in the shares.
----------
This article was written by Jason Napodano, CFA of BioNap, Inc.
I am long shares of XXII.
Please see additional information in my Disclaimer.