Today, we saw the AUD get a boost after a slightly more hawkish RBA statement, compared to recent statements. A key distinction was that this statement did not talk about the concern of the AUD being too high. For the AUD/CAD, the reaction was also bullish and might be shifting the pair from a period of consolidation to one that is bullish.

AUD/CAD has been sliding in a choppy manner since making a high on the year at 1.0084 in January. After making a low on the year at 0.9372 there continued to be choppiness. This week however, it appears that the market is breaking the pattern of choppy bearish action into a sharper bullish one, especially after today's RBA-reaction.

AUD/CAD Daily Chart 8/4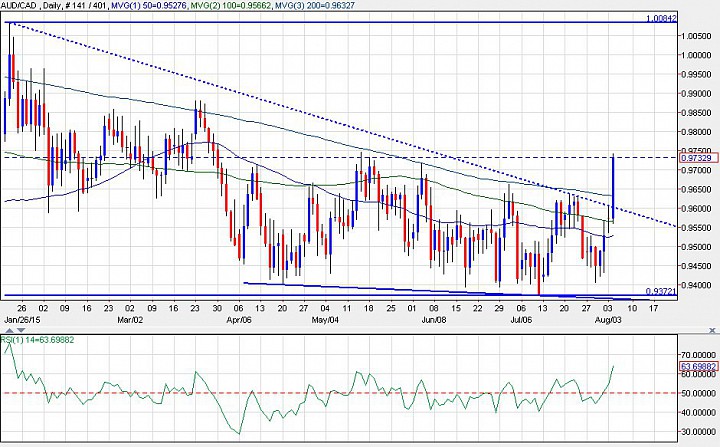 (click to enlarge)

Now before the market is convinced of a bullish AUD/CAD, we might see some resistance around the 0.9750 May-high. Now, if there is a pullback, a bullish market should provide support around 0.9550-0.96. Below that, and we still have a sideways market in the medium-term and maybe even a bearish one in the short-term. IF price can hold above 0.96 however, the medium-term outlook would likely be bullish, and the 1.0084 high on the year would come into play.