Silicon Motion Technology Corporation SIMO reported third-quarter non-GAAP earnings of 57 cents per American Depositary Share (ADS), which declined 46.7% from the year-ago quarter and 19.7% sequentially. The figure was in line with the Zacks Consensus Estimate.
Net sales decreased 20% year over year and 4% from the previous quarter to $127.2 million. The figure surpassed the Zacks Consensus Estimate of $126 million and was within the guided range.
Management noted that improved NAND supply benefitted the company but high price of NAND flash products affected the demand for certain products during the quarter.
Shares of Silicon Motion have gained 11.3% year to date, underperforming the industry's 30.3% rally.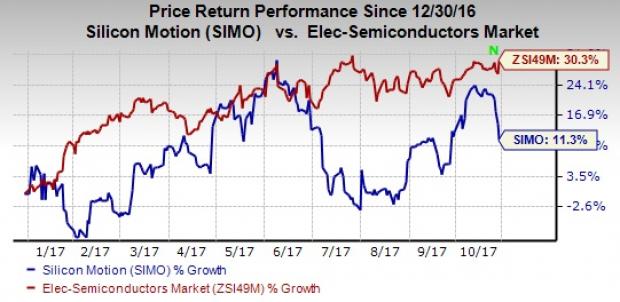 Segment Sales
Sales from mobile storage products (which include Embedded Storage as well as Expandable Storage products) decreased 20% year over year and 4% quarter over quarter to $117.2 million. It constituted 92% of revenues.
Management noted that during the third quarter, NAND supply increased driven by improvement in flash manufacturing. The company's SSD solutions revenues were positively impacted by this. Driven by strong growth in sales of Shannon hyper-scale SSDs and Ferri industrial SSDs, this segment saw a 50% sequential increase in revenues.
However, the highly priced NAND components resulted in increased price of Client SSD Controllers, thereby resulting in lower demand for these controllers and hence lower revenues from the segment. Revenues from this segment declined almost 10% sequentially. Additionally, eMMC controller sales witnessed a 20% sequential decline.
Mobile communications product (which include mobile TV SoCs and handset transceivers) sales were $8.7 million and represented 7% of the total revenue.
Silicon Motion Technology Corporation Price, Consensus and EPS Surprise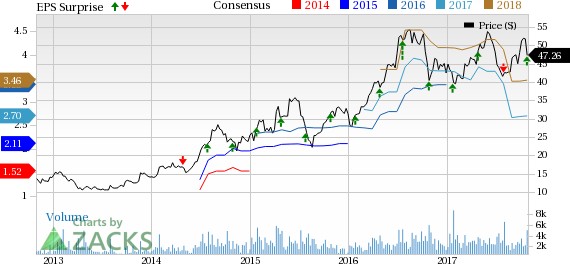 Silicon Motion Technology Corporation Price, Consensus and EPS Surprise | Silicon Motion Technology Corporation Quote
Operational Details
Non-GAAP gross margin declined 290 basis points (bps) on a year-over-year basis and 270 bps sequentially to 46%. The sequential decrease was primarily due to growth in sales of low margin SSD solutions and decrease in high margin client SSD controller sales.
Non-GAAP operating margin decreased 870 bps on year-over-year basis and 390 bps sequentially to 20%, within the guided range of 19%–21%.
Liquidity & Cash Flow
Exiting the quarter, Silicon Motion's cash, cash equivalent and short-term investments were $333 million, up from $303.6 million as of Jun 30, 2017.
Guidance
For third-quarter 2017, Silicon Motion expects non-GAAP sales to be in the range of $130–$136 million, reflecting 2%–7% increase on a sequential basis, driven by the comeback of the Client SSD Controller segment and a stable SSD Solutions segment.
Non-GAAP gross margin is anticipated within 45.5%–47.5%, owing to anticipated growth in high margin Client SSD Controller sales.
Operating margin is expected to increase a bit driven by increasing revenues and gross margin but is likely to be offset by increased research and development costs.
Management expects the increase in the availability of 64 layer 3D NAND to bring down the high NAND prices, which will eventually improve the financial results. Improved supply of NAND flash is expected to drive growth of Ferri and Shannon SSD solutions. Additionally, as the company's pipelined product, 2nd generation PCIe NVMe client SSD controllers, enter into production, Client SSD Controller sales are anticipated to increase.
Zacks Rank & Key Picks
Silicon Motion has a Zacks Rank #3 (Hold).
Better-ranked stocks in the broader technology sector include Applied Materials, Inc. AMAT, NVIDIA Corp. NVDA and Vishay Intertechnology, Inc. VSH, all sporting a Zacks Rank #1 (Strong Buy). You can see the complete list of today's Zacks #1 Rank stocks here.
The long-term earnings growth rate for Applied Materials, NVIDIA and Vishay is projected to be 17.1%, 11.2% and 20.6%, respectively.
Zacks' Best Private Investment Ideas
While we are happy to share many articles like this on the website, our best recommendations and most in-depth research are not available to the public.
Starting today, for the next month, you can follow all Zacks' private buys and sells in real time. Our experts cover all kinds of trades… from value to momentum . . . from stocks under $10 to ETF and option moves . . . from stocks that corporate insiders are buying up to companies that are about to report positive earnings surprises. You can even look inside exclusive portfolios that are normally closed to new investors.
Click here for Zacks' private trades >>
Want the latest recommendations from Zacks Investment Research? Today, you can download 7 Best Stocks for the Next 30 Days.
Click to get this free report
Silicon Motion Technology Corporation (SIMO): Free Stock Analysis Report
NVIDIA Corporation (NVDA): Free Stock Analysis Report
Vishay Intertechnology, Inc. (VSH): Free Stock Analysis Report
Applied Materials, Inc. (AMAT): Free Stock Analysis Report
To read this article on Zacks.com click here.
Zacks Investment Research