There's growth every which way you look, even before upcoming product announcements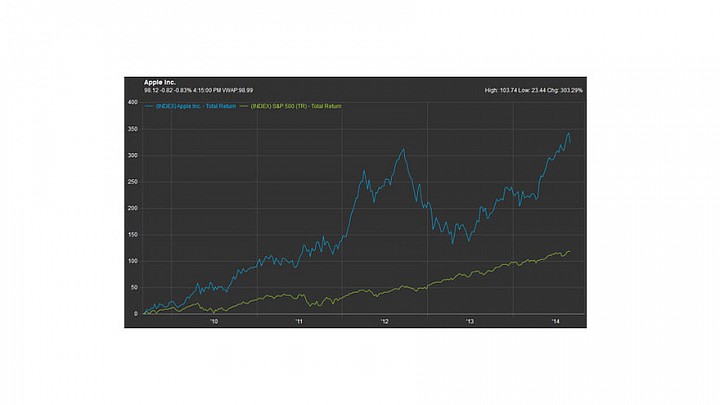 Apple's stock has returned 324% over the past five years, nearly tripling the performance of the S&P 500 Index.
A decision to buy, sell or hold Apple's stock should have nothing to do with whether you like iPhones or iPads.
Do you think that's a radical concept?
It seems that discussions on the merits of Apple Inc.'s AAPL, +0.87% stock often degenerate into arguments over the merits of Apple's portable devices against those that run Google Inc.'s GOOG, +0.70% Android operating system.
But all that has nothing to do with what Apple has accomplished, which is consistently increasing revenue from a loyal following for its products.
Credit Suisse analyst Kulbinder Garcha in June said the various iServices made it increasingly likely that the company would have "an annuity stream from its valuable 800 million installed base."
Consumer habits are continuing to change, as music downloads are declining and less profitable music streaming is increasing. But Apple reported a 12% year-over-year increase in revenue from iTunes, software and services to $4.49 billion for its fiscal third quarter ended June 28.
The company's revenue for products distributed through its hardware continues to grow, even though its market share for portable products has been declining. Then again, the entire market is growing, so the smaller market share is not a very a strong argument against Apple's stock.
The stock
Apple's stock was down more than 4% Wednesday, as craven investors sold off their shares following reports that the celebrity photo scandal happened because of a breach in iCloud security. The shares gave up another 1% Thursday, and after Samsung announced its oversized Galaxy Note smartphone, with a screen that wraps around one side, and its new Samsung Gear 3-D gaming device.
That seems to have set up a buying opportunity for traders, but even before the drop, the stock was looking like a long-term bargain.
Apple's shares have returned 24% this year, with a five-year total return of 324%, easily exceeding the S&P 500 Index's SPX, +0.50% 118% gain.
The shares closed at $98.12 Thursday and trade for 14 times the consensus 2015 earnings estimate of $7.01 a share, among analysts polled by FactSet. That is significantly lower than the aggregate forward price-to-earnings ratio of 15.1 for the S&P 500.
Earnings and cash flow
This chart from FindTheBest shows how Apple has beaten consensus earnings-per-share estimates over the past five quarters: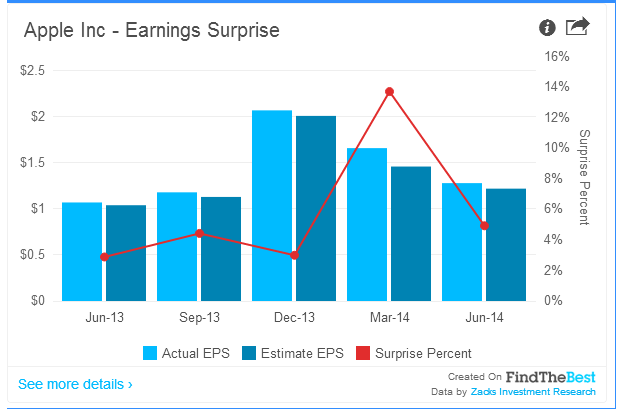 Apple's fiscal third-quarter revenue rose 6% from a year earlier to $37.4 billion, while its gross margin improved to 39% from 37%.
Those figures are impressive, but the company's earnings per share for the most recent quarter grew at a much faster 20% to $1.28 because stock buybacks lowered the share count by 6%. Apple naysayers love to bash the company's new shareholder-friendly policy of buybacks and dividends, but the declining share count magnifies the effect of revenue and earnings gains. That can only help the stock over time.
According to FactSet, Apple's free cash flow over the past four quarters through June totaled $47.83 billion. Free cash flow represents a company's remaining cash flow after capital expenditures. Over the same 12-month period, Apple stock repurchases totaled $32.91 billion, while dividend payments added up to $11.07 billion.
Apple looks great for the long term
With an important set of product announcements, Apple could have a very exciting week coming up. For day traders, it's anyone's guess how much money can be made or lost over the next few trading days.
But for investors who are considering whether to own this stock for the long term, all the trends look good, and the accelerated increase of EPS, combined with a relatively modest valuation, could support a much higher stock price over the next several years.
Source