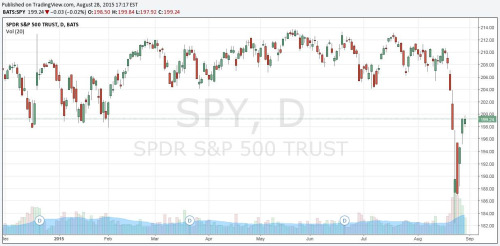 Bulls raged back in a big way during the week of trading ending August 28 to erase some of the massive losses experienced from the May 2015 highs of 2,013 on the S&P 500. Though no longer staring down at 1,800, the S&P 500 still closed comfortably shy of 2,000. No matter what next week will bring, almost everybody is expecting more volatility. Could this then mean that we're back to normal? The market has a very interesting way of disappointing the majority of investors the majority of the time.
Here are 3 observations that are worth noting.
1. The Fed Doesn't Have the Right Data…Yet
The stark reality is one of two things: a) either the Fed knows exactly what's going on and is doing all that it can to assuage the markets of another "panic" fall, or b) the Fed doesn't really believe that the capital markets lead, and sometimes drive, future economic activity. Why are we saying this?
Well, yesterday, Moody's released its 'Weekly Market Outlook,' and while it was titled, Corporate Credit Cycle Is Past Its Prime, that's not what got our attention. Tucked away on page 15, written in bold blue, was the following: Financial market turmoil has brought corporate bond issuance to a near standstill. To us, it looks as if the collapse in Chinese and other markets around the world, including the US, have choked off confidence, even if access to capital remains fluid.
We brushed this observation off, until Friday, when Federal Reserve Bank of St. Louis President James Bullard said "that volatility in financial markets hasn't dented the good outlook for the US economy." If Moody's is right, and businesses are re-considering or delaying debt-funded growth projects, the implications on the trajectory of US economic growth will be material. The Fed probably doesn't just yet have a great understanding of the situation, and savvy market observers are betting that means no rate hike…perhaps for the foreseeable future.
But...
More