NORWICH, Conn., May 5, 2016 /PRNewswire/ -- Connecticut Municipal Electric Energy Cooperative (CMEEC), SolarCity (SCTY) and Brightfields Development, LLC (Brightfields) today announced the development of 13 megawatts (AC) of solar power systems and at least 1.5 megawatts (6.0 megawatt hours) of energy storage systems located in southern Connecticut. CMEEC will use the solar and stored energy generated by the systems to provide a cleaner and more resilient power infrastructure for its municipal utility members and wholesale electric customers. CMEEC's member utilities serve more than 70,000 homes and businesses in six Connecticut communities as well as multiple communities in Massachusetts.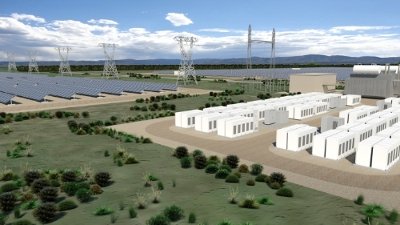 SolarCity and its development partner Brightfields have begun work on seven solar project sites which will comprise nearly 57,000 panels supplying clean, local solar energy when CMEEC needs it most. The sites are located in Bozrah (off of Brush Hill Road), in Norwich (on a portion of the Mountain Ash Farm and also on the city's former landfills located at Rogers Road), and in Groton (on open land provided by Northeast Housing LLC, which is managed by Balfour Beatty Communities, adjacent to the Navy Submarine Base). The energy storage solution installed at Mountain Ash Farm represents SolarCity's first capacity services project, whereby the company will provide engineering, installation, and maintenance of a battery storage system that CMEEC can control using SolarCity's proprietary GridLogic control platform. Through GridLogic, CMEEC will be able to remotely and instantaneously dispatch stored solar energy to manage load spikes and optimize the operational performance of the distribution system.
"CMEEC's focus is on energizing customers and community prosperity, so we are excited to help create clean, reliable and locally based power resources. These systems utilize leading edge technology that is both powerful and fiscally responsible," said Drew Rankin, CMEEC's Chief Executive Officer. "With these solar and storage projects, we are pleased to join SolarCity at the forefront of energy innovation."
Under the terms of the 20‐year solar power purchase agreements, SolarCity and its financing partners will build, own...
More