For anyone who missed it, things spun out of control in China's equity markets on Tuesday when a violent bout of afternoon selling sent the SHCOMP and the Shenzhen tumbling by more than 6%.
More than half of the market traded limit-down.
"At 2 p.m. it started to turn south again at a very fast rate," one analyst told WSJ, adding that "people questioned why the government hadn't yet stepped in."
That's a testament to just how dependent China's equity markets have become on the plunge protection "national team" spearheaded by China Securities Finance, the state-run margin lender that so far, has purchased nearly CNY1 trillion in shares.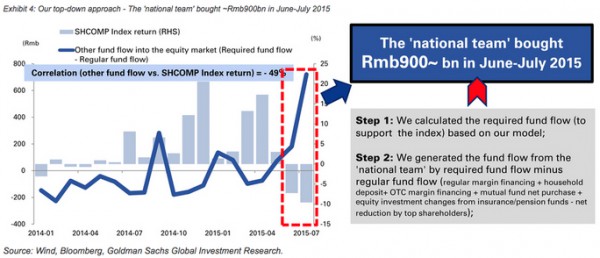 It's easy to see why investors would expect Beijing to intervene during a sell-off. After all, it was just four days ago that CSRC promised that the CSF would remain in the market "for years to come" and will "enter the market during times of volatility." Times like Tuesday. 
Of course it's not at all difficult to spot a buyer of this size lumbering around in the market. Here's what Goldman had to say on the subject earlier this month:
"...government support has largely focused on large-cap blue chips and certain defensive sectors. Due to insufficient high-frequency data for fund flows across sectors, we used the sectors' performance fluctuation from end-June to July and concluded that supportive capital has mostly flowed into large-cap blue chips or certain defensive sectors, such as banks, insurance, F&B and healthcare. Admittedly, the 'national team' has also invested in some ChiNext stocks and SME stocks according to media reports and the listed companies' reports, although these investments appear to have taken up only a small proportion of the total government buying."

 
Given the above it shouldn't come as a surprise that some enterprising investors have now taken to simply frontrunning the plunge protection team, because as any vacuum tube will tell you, frontrunning big trades is a great way to establish an impressive track record. Here's Reuters:
Some foreign investors have found a new and simple way to make money from China's dysfunctional stock markets - by dispensing with market research and playing "follow the leader" instead.

 

Rather than crunching data on earnings and stock valuations to come up with investment strategies, they are mimicking China's so-called "national team", a group of state-backed financial institutions tasked with propping up share prices.

 

"Some of the recent policy measures taken by China's authorities in the markets have been quite puzzling and it hasn't really increased confidence among foreign investors," said Karine Hirn, Hong Kong-based partner of Swedish group East Capital, a $3.5 billion fund management firm.

 

"That has prompted some investors to closely follow the intervention tactics taken by authorities rather than analyzing and investing fundamentals which we think is required."

 

The national team is easy to identify and simple to follow, foreign investors say.

 

It generally buys index heavyweights opportunistically when the market is tanking to shore up confidence.

 

PetroChina Co Ltd is one of its favorites: with a free-float of only 2.4 percent but a weighting of more than 6 percent of the Shanghai Composite Index, it can have an outsized impact on the nation's biggest stock exchange.

 

Last week, when the index posted its biggest weekly gain in nearly two months, the top 10 index heavyweights, including PetroChina as well as state-owned banks and insurers, gained even as most other constituents declined, indicating authorities were intervening aggressively.

 

Most of these purchases happen in the last 30 minutes of trading and in heavy volumes, according to Reuters data analysis of last week's trades, indicating the aim of this intervention is to ensure benchmark indexes close higher.
In case that's not clear enough for you, consider this quote from a trader at an equity derivatives desk at a European bank in Hong Kong: "We watch what the large Chinese brokers are doing everyday and follow them blindly as that can be quite profitable in these illiquid markets."
Yes, "quite profitable", and quite dangerous as well because as Reuters also notes, "the national team is unwittingly encouraging short-term trading patterns that amplify the detachment of stock markets, which have become less responsive to fundamental drivers such as earnings trends, domestic economic data and shifts in global markets."
So basically, China is doing the same thing everyone else is doing. All hail manipulated markets.