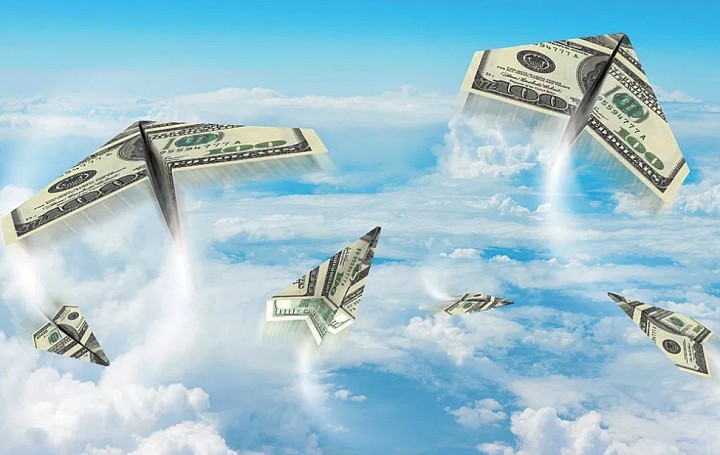 Cheap stocks can be a smart choice for investors, as there are serious bargains to be found. The stocks below may be cheap, but they all have significant support from Wall Street's best-performing analysts. To pinpoint these top stocks, we turned to  TipRanks' unique stock screener. We used this screener, which covers over 5,000 stocks, to find only the best stocks with a 'Strong Buy' analyst consensus rating. This is based on all the ratings that a stock has received in the last three months alone. From the results, we quickly scanned for stocks trading at under $10, while also looking for those with compelling analyst price targets. Most of the stocks listed below are small-cap or micro-cap stocks, but as one analyst says "For those who can look small, this could be big."
Here are five cheap stocks from top analysts that we believe are worth tracking into 2018:
1. Seres Therapeutics (NASDAQ:MCRB)
Seres is a top stock to track right now according to the Street. The company is working on treating infectious and inflammatory diseases by adding 'good' bacteria to your digestive tract. According to analysts, its lead product candidate, SER-109 (made up of microbial spores) could revolutionize the treatment of diseases like inflammatory bowel disease.
"We rate Seres Outperform with a $19 12- to 18-month price target, based on our conviction that multiple programs in the company's pipeline can achieve regulatory and commercial success" writes Oppenheimer analyst Mark Breidenbach on November 8. Given that the stock is now trading at just $9.54, his price target suggests potential upside of just under 100 percent from the current share price.
Additionally, Breidenbach is looking out for two trial results expected in early 2018- including top-line results from the ongoing Phase 1b trial of SER-262. This is the company's microbial restoration therapy for primary CDI recurrence (C. difficile infection). Overall, MCRB has received only buy ratings from the Street in the last three months. Based on the price target of five analysts, the stock has a bullish average analyst price target of $18.7.

2. Everspin Technologies (NASDAQ:MRAM)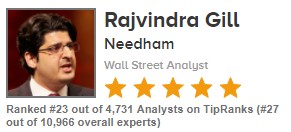 This semiconductor company suffered in the third quarter, with a now-fixed manufacturing issue harming results. But top analysts are still positive on this stock's outlook. MRAM has received four back-to-back analyst buy ratings recently. The average price target of $16 works out at 81 percent upside potential from the current share price.
Needham's Rajvindra Gill reiterated his MRAM buy rating on November 14 with a bullish $17 price target. He says: "We continue to see substantial value in Everspin's technology and maintain our Strong Buy rating." Specifically, Gill likes MRAM's new strategy which will see it better align its current MRAM memory products/roadmaps with commercialization. He also raised his gross margin estimate for 2018 from 50.9 percent to 53.7 percent.
Note that Gill is ranked as one of the top 25 analysts on TipRanks with a 69 percent success rate and 24 percent average return across his 376 recommendations.
3. Amarin Corporation plc (NASDAQ:AMRN)
AMRN is an innovative biopharma that develops and markets drugs for cardiovascular disease. The stock is currently trading at just $3.30- but top analysts say AMRN can reach $8.25 in the next 12 months. This means huge upside potential of 150 percent. AMRN has a 'Strong Buy' analyst consensus rating on TipRanks with four consecutive buy ratings in the last three months.
The company's lead product is Vascepa, a purified type of omega-3 for decreasing high triglyceride levels. Amarin is currently testing Vascepa through its REDUCE-IT study. Cantor Fitzgerald's Louise Chen says: "A potential positive read-out from the REDUCE-IT outcomes study, expected in mid-2018… [could] draw a straight line between triglyceride levels and cardiovascular risk, possibly changing how cardiovascular risk is managed and treated and potentially creating a multi-billion-dollar market opportunity." She reiterated her buy rating on the stock with a $10 price target (203 percent upside) on November 15.
And top HC Wainwright analyst Andrew Fein agrees. He is optimistic about the outlook of the ongoing large trial- as reflected by his $10 price target. On November 2, he told investors "We believe clinical trials showing the importance of triglycerides, longer study periods, and the role of inflammation in CV events point to the hidden value of Amarin."

4. CPI Aerostructures (NYSE:CVU)
Aerospace and defense contractor CVU is set for a strong 2018 according to the Street. Overall the stock boasts three buy ratings from top analysts in the last three months. The average price target from these three analysts works out at $11.50 (27 percent upside from the current share price).
Four-star Noble Financial analyst Mark Jordan says that "with the signing of the Fiscal 2017 defense budget and growing pipeline of defense contracts, we now see improved visibility of growth in 2018". In particular, "ramping of replacement parts for the T-38C, F-16 and pod manufacturing for Raytheon and UTC Aerospace should support double digit revenue growth in 2018." He is looking for 24 percent earnings growth in 2018 to $0.75 per share and EBITDA growth of 22% to $13.1 million.
Given the improved visibility, Jordan reiterated his buy rating on the stock with a $10 price target on November 9 vs the current share price of $8.85. New A-10 and F-16 contracts could add $5 to $10 million to 2018 expectations and twice that amount to 2019- but these possible large contract wins are not yet included in the price target says Jordan.
5. CareDx Inc (NASDAQ:CDNA)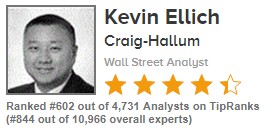 CDNA is a niche 'Strong Buy' company that is developing a surveillance solution for organ transplant recipients. The idea behind the device is to help clinicians make personalized treatment decisions without invasive procedures. CDNA is currently trading at just $6.70. In the last three months, three analysts have published buy ratings on the stock. This includes an upgrade from Raymond James analyst Nicholas Jansen- boosting share prices over 7%. But the most recent rating from top Craig Hallum analyst Kevin Ellich is also the most bullish. He ramped up his price target from $4 to $10 (49% upside) in October. So far, this one rating has generated a return of 17.5%.
Ellich is optimistic about the outlook for AlloSure. This is the first and only non-invasive test which assesses organ health by directly measuring allograft injury. Ellich is confident that the company will see solid uptake of the non-invasive kidney transplant surveillance test. As a result he says this could lead the company to profitability in 2018.
The post Here are 5 'Strong Buy' stocks for under $10 appeared first on TipRanks Blog.