Shire plc SHPG recently announced that it has filed an investigational new drug (IND) application with the FDA, seeking approval for its recombinant factor VIII (FVIII) gene therapy candidate, SHP654, for the treatment of patients with Hemophilia A.
The bleeding disorder disease affects the clotting of blood and causes longer-than-normal bleeding in patients due to lack of clotting FVIII in the blood. It is also the most common form of hemophilia.
Shares have underperformed the Zacks classified Medical-Drugs industry so far this year. The stock declined 2% while the industry registered an increase of 5.9%.

Coming back to the latest news, the IND was supported by data from pre-clinical and phase 1 studies, which showed the potential utility of the candidate.
The company will present additional data on the candidate at the International Society on Thrombosis and Haemostasis (ISTH) 26th Biennial Congress in Berlin, Germany.
The gene therapy developed by the company treats hemophilia A by selectively targeting the liver. The candidate delivers a functional copy of FVIII to the liver. This in turn activates the body's immune system to generate FVIII in the liver. The production of FVIII will help in stopping the bleeding.
The company plans to initiate a global multi-center study to evaluate the safety of and examine SHP654 doses to boost FVIII activity levels and reduce hemophilic bleeding, following acceptance of the NDA.
We remind investors that with the acquisition of Baxalta in 2016, Shire added key products to its hematology, oncology and immunology franchises, which also included hemophilia A drug, Advate. Moreover, the company has an approved drug in this indication, Adynovate, for pediatric patients under 12 years of age.
We note that in Jun 2017, Shire received validation from the European Medicines Agency for the Marketing Authorization Application for Veyvondi to treat another bleeding disorder in adults (age 18 and older) caused by von Willebrand Disease (VWD).
We remind investors that in Apr 2017, Roche Holding AG's RHHBY unit Genentech announced positive interim results from the Phase III HAVEN 2 study evaluating its pipeline candidate emicizumab. Emicizumab is being evaluated in children less than 12 years of age with hemophilia A and inhibitors to factor VIII. Moreover, in Feb 2017, BioMarin Pharmaceutical Inc.'s BMRN hemophilia A candidate, BMN270, was granted access to Priority Medicines (PRIME), a regulatory initiative by the European Medicines Agency (EMA).
Shire PLC Price and Consensus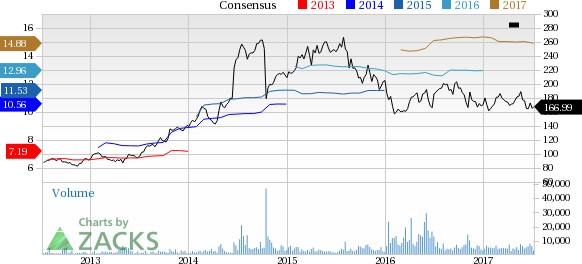 Zacks Rank and Stock to Consider
Shire currently carries a Zacks Rank #3 (Hold).
A better-ranked stock in the health care sector is Enzo Biochem, Inc. ENZ, which sports a Zacks Rank #1 (Strong Buy). You can see the complete list of today's Zacks #1 Rank stocks here.
Enzo Biochem's loss estimates have narrowed from 12 cents to 7 cents for 2017 and from 11 cents to 3 cents for 2018 over the last 30 days. The company came up with positive earnings surprise in the last four quarters, with an average beat of 55.83%. Its share price is up 62.1% so far this year.
Will You Make a Fortune on the Shift to Electric Cars?
Here's another stock idea to consider. Much like petroleum 150 years ago, lithium power may soon shake the world, creating millionaires and reshaping geo-politics. Soon electric vehicles (EVs) may be cheaper than gas guzzlers. Some are already reaching 265 miles on a single charge.
With battery prices plummeting and charging stations set to multiply, one company stands out as the #1 stock to buy according to Zacks research.
It's not the one you think.
Want the latest recommendations from Zacks Investment Research? Today, you can download 7 Best Stocks for the Next 30 Days.
Click to get this free report
Roche Holding AG (RHHBY): Free Stock Analysis Report
BioMarin Pharmaceutical Inc. (BMRN): Free Stock Analysis Report
Enzo Biochem, Inc. (ENZ): Free Stock Analysis Report
Shire PLC (SHPG): Free Stock Analysis Report
To read this article on Zacks.com click here.
Zacks Investment Research