Today, we got some ugly inflation, retail sales, and manufacturing data out of the US, which not surprisingly gave the greenback a hard knock off its recent gains. It was already consolidating across the board and was indecisive until today's data nudged it to the further correction scenario. Let's start with the data.
Producer Price Index (PPI)  m/m (Sept.): -0.1%
Forecast: 0.1%
Previous 0.0%
Core PPI m/m (Sept.): 0.0%
Forecast: 0.1%
Previous: 0.1%
Gasoline prices fell 2.6% and food prices fell 0.7%. PPI data has been sliding and have been around 0.0% for the past 3 months. This shows that inflation pressure could be fading, which will give the FOMC reasons to hold rates at historic rates for longer.
US Retail Sales m/m (Sept): -0.3%
Forecast: -0.1%
Previous 0.6%
Core Retail Sales m/m (Sept): -0.2%
Forecast: 0.2%
Previous: 0.3%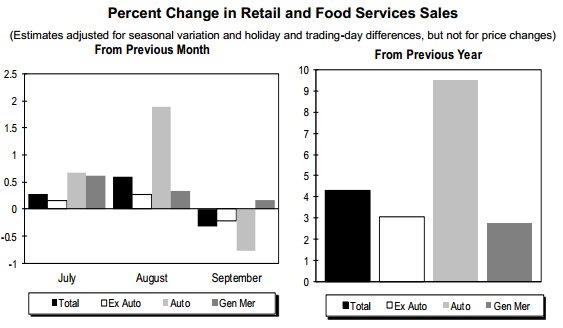 (click to enlarge; source: US Department of Commerce)
The retail sales data is probably looks worse than it really is. We had a strong August, and now a weak September. The 2-month volatility surrounding the change to school season is a key factor, so we should look beyond the poor retail sales data in October, especially as it compares to September. The headline reading on the year is 3.9%, with the core reading at 2.9%.
Empire State Manufacturing Index (Oct): 6.2
Forecast: 20.3
Previous: 27.5


(click to enlarge; source: forexfactory.com)

The USD Index has been consolidating since a new high on the year at 86.74 in October. After the data release, it fell from around 86.00 to below 85.00 into new lows on the month. It is now breaking below the 200-period SMA in the 4H chart. The 4H RSI has also held below 60, showing maintenance of the bearish momentum, though the bearish momentum has not been strong so far. 

USDX 4H Chart 10/15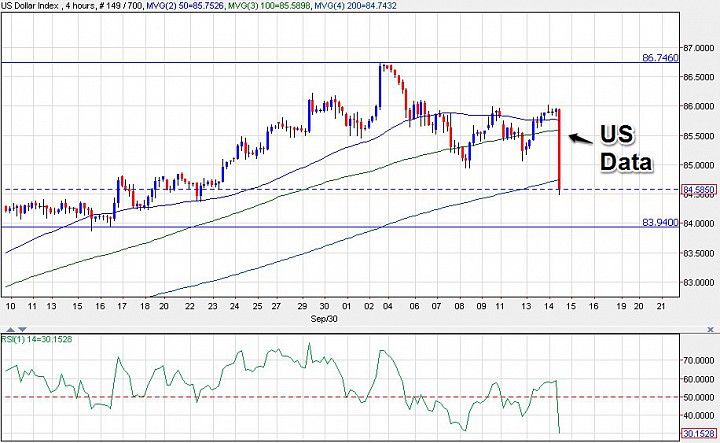 (click to enlarge)
In the near-term, this dip in the USD has the 83.95-84.00 level in sight. At this point within the bearish correction scenario, we should expect sellers if the USDX comes back to the 85-85.50 area.