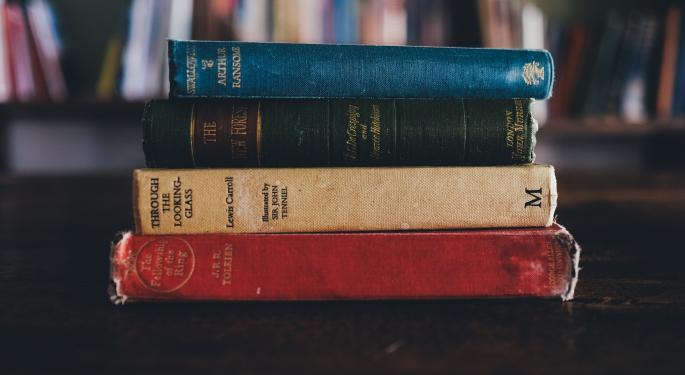 This weekend's Barron's examines whether the country's largest bricks-and-mortar bookseller is down and out.
The prospects for the world's largest animal-health company and a good contrarian stockpicker are also examined.
This week's cover story finds dissension in the ranks of the Barron's strategists for the first time in years.
"Barnes & Noble: Bookseller at a Bargain Price" by Andrew Bary makes a case that, despite a widespread perception that Barnes & Noble, Inc. BKS 0.87% is getting destroyed by Amazon.com, Inc. AMZN 0.24%, the country's largest bricks-and-mortar bookseller remains solidly profitable and actually projects significant earnings increases in coming years. Plus, it has a 5.3 percent yield.
In "Animal Spirits: Zoetis Shares Could Rise More Than 15%," Reshma Kapadia points out that with its focus on animal health, Zoetis Inc ZTS 0.29% should benefit from Americans' lavish spending in pet care and growing meat consumption among the middle class. See why Barron's thinks the world's largest animal-health company just might be an investor's best friend.
Jack Willoughby's "AMG: An Asset Manager Whose Stock Is a Value Play" suggests that if you want to make a good contrarian stock pick, consider shares of a good contrarian stock picker like Affiliated Managers Group, Inc. AMG 0.46%. See why Barron's thinks the recent selling is overdone and AMG shares are worth 35 percent more than they currently fetch.
See also: The Herbalife Saga Continues With Another Negative Report Released Saturday Morning
A disappointing sales outlook that came along with last week's quarterly results has pummeled shares of DSW Inc. DSW 0.63%, according to "Weak Forecast Scuffs Up Shoe Seller DSW" by David Englander. However, the specialty retailer's longer-term prospects are better than many investors may realize. And insiders appear to like the stock, too, as they have been heavy buyers in the past year.
In Vito J. Racanelli's "Barron's Survey: Strategists Say Beware the Bear," four strategists call themselves bullish, three are in the bear camp and three are neutral—the first time in years there has been dissension in the ranks of the Barron's strategists. Stocks could tread water for the rest of the year—or even fall, says this cover story, and Wall Street's top strategists also predict only modest gains in 2017.
Also in this week's Barron's:
Why the job market isn't working
The no-growth stock rally
Whether the iPhone 8 will lift chip stocks next year
Whether the federal deficit is set to explode
Why to go active in commodity futures funds
How real estate investment trusts have come of age
Reviews of "Heads I Win, Tails I Win" and "Debunking Utopia"
Byron Wien talks up U.S. stocks
Bill Gross on the G20 gold mystery
At the time of this writing, the author had no position in the mentioned equities.
Keep up with all the latest breaking news and trading ideas by following
https://twitter.com/Benzinga
on Twitter.
© 2016 Benzinga.com. Benzinga does not provide investment advice. All rights reserved.