Snapchat parent Snap Inc's stock (SNAP) is sliding after a downgrade from Morgan Stanley. The stock is set to close -9% on the day.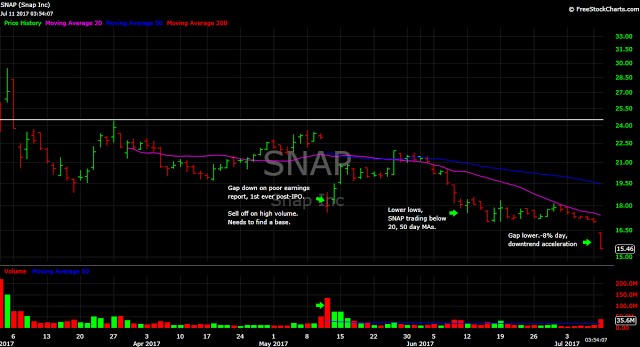 As the updated price chart shows (see annotations), SNAP has been suffering since its first quarterly
https://twitter.com/FinanceTrends/status/862746590594965504
.
Since then, the downtrend has accelerated. After a brief rebound above $21, SNAP has continued to trade at new lows. Today's gap down put the stock well below its IPO price of $17.
From Fortune: "Snapchat's Biggest Underwriter Says It Was 'Wrong' About SNAP Stock"
"...Morgan Stanley's downgrade is a particularly hard hit for the company as the bank was an underwriter for Snap's IPO, guiding the company through the...
More