Vanguard's high dividend yield ETF (VYM) is designed to follow the common stock of select US-based companies that pay dividends beyond a certain percentage based on forward-twelve-months forecasts. The index is weighted by market capitalization (similar to the S&P 500) and excludes REITs given their higher volatility in order to maintain a more conservative approach. The expense ratio is just 0.08%.
Given the weighting is by market cap rather than dividends, the actual dividend yield is only about 3% (the S&P 500 is generally around 1.9%-2.0%). Accordingly, those who invest purely for the dividend income might want to look elsewhere, but VYM is a reasonable option for those wanting a cheap, liquid fund that provides a yield some 50% higher than the broader equities market.
Since its inception in November 2006, it has had a +0.95 correlation with the S&P 500. It has yielded 3 bps lower in annualized terms but its annualized volatility has been 35 bps lower, making its risk-adjusted returns a bit better. This largely has to do with the fact that large-cap dividend-paying companies are almost uniformly profitable, leading to lower volatility relative to the market as a whole.
Holdings
Below are some basic facts about the fund: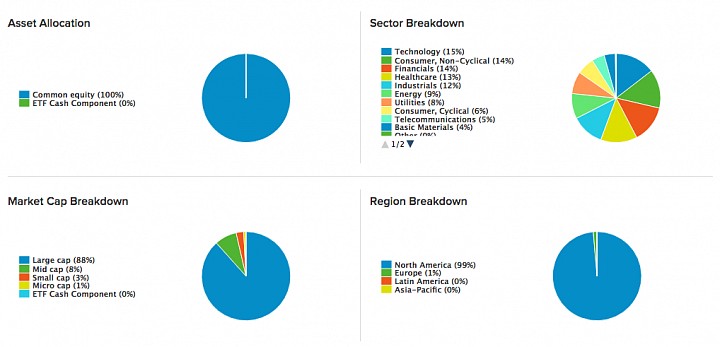 All of its holdings are in common equity. It is heavily skewed toward large-cap, US companies. The sector breakdown is fairly well dispersed, with no particular bias toward any one industry.

This fund is different from others in that it doesn't go overboard on the top names. If you have exposure to US equity funds, chances are you might own plenty of Apple, Google, Facebook, and Amazon. They're the most in-demand, have large liquidity, and quality business prospects; consequently, many funds include shares of these companies in relatively high quantities.
Microsoft (MSFT), which is one of tech's more mature companies, fits the dividend screening criteria of this fund. It's the only stock with more than a 5% weighting.
After that comes a host of safe, lower-growth companies, many part of the "dividend aristocrats" list. Of the top 10 holdings (31% of the fund's weighting), there's a mix of pharmaceutical companies (JNJ, PG, PFE, MRK), banks (JPM, WFC), integrated oil (XOM, CVX), telecom (T, VZ), consumer discretionary (PM, KO, PEP), and, of course, GE, which has lines of business in various sectors.
(Click to enlarge)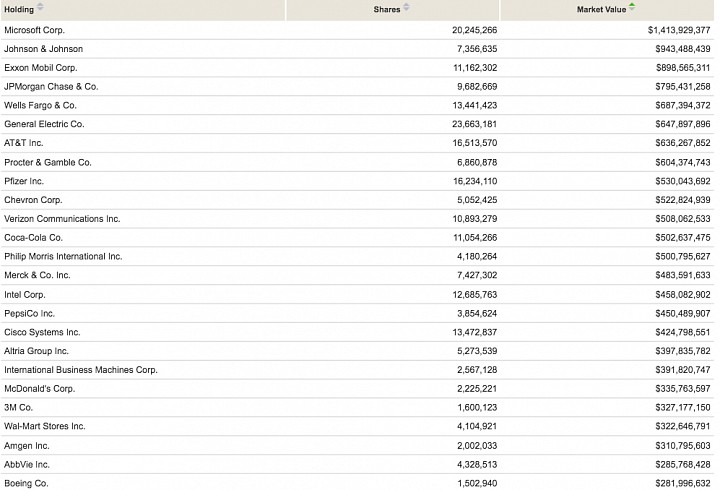 Because of the focus on stable, large-cap US companies, the first 75 or so are almost all household names.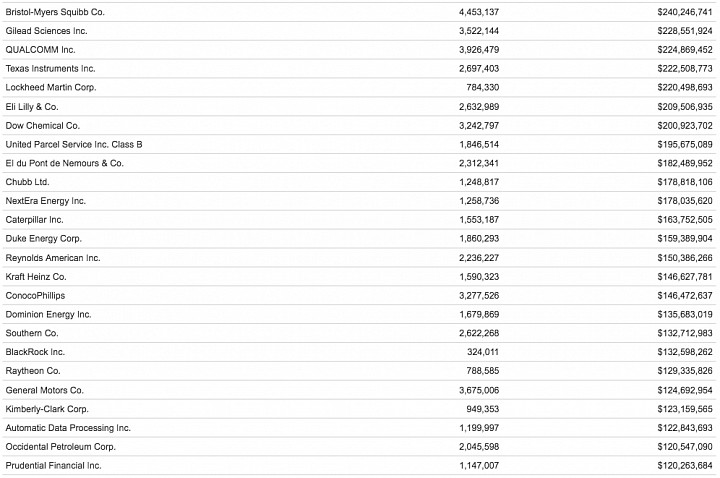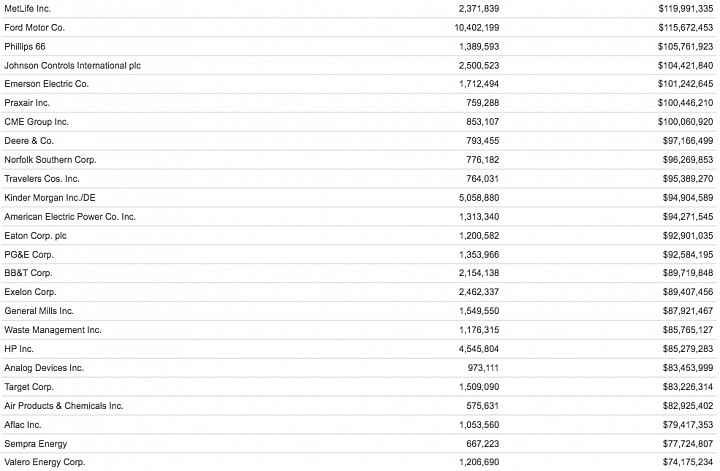 Overall, this fund is best suited for who want dividend yield but are not looking for volatile, risky securities in order to secure it, such as what you obtain with REITs, MLPs, and various stocks which have high dividend yields only in light of the fact that their stock prices have recently gone down in price. As such, 3% is a reasonable yield to target and provides around the same returns of the broader market but at slightly lower volatility.

The complete list of holdings can be found below: