Reportedly, Japan-based video game developer Nintendo Co. NTDOY) targets to sell around 25-30 million units of Switch Console next year.
For fiscal 2017 ending March 2018, the company had set a sales target of 10 million for Switch, which it later increased to 14 million and subsequently to more than 16 million.
The continuous increase in the target reflects the growing adoption of the gaming console.
We note that Nintendo has massively outperformed the industry on a year-to-date basis. While the stock has returned 86.6%, the industry gained 45.8%.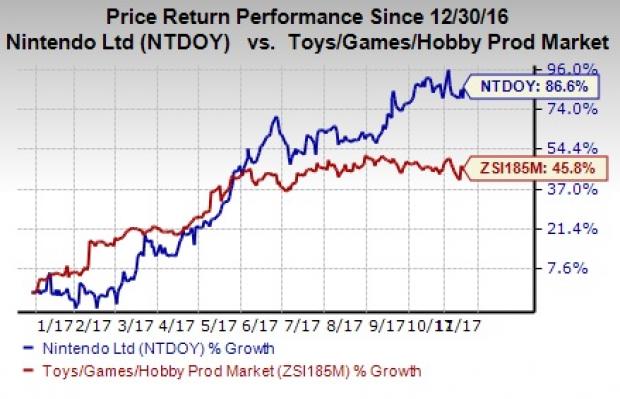 Strong Demand Drives Growth
Per Nintendo, as of Sep 30, 2017, 7.63 million units of Nintendo Switch (launched in March) were sold globally. Apart from Japan, the console is doing really well in the United States and Europe.
Moreover, Nintendo Switch has also fared better than the company's Wii U gaming console, which took nearly a year to sell 5 million units.
Geographically, the company has sold nearly 41% of Switch consoles to date in the United States and 26% in Japan.
Management noted that the demand for the console in the United States was primarily from male consumers in the age group of 20 to early 30s. The device also garners the interest of 10-19 year olds.
Nintendo's The Legend of Zelda: Breath of the Wild is the top-selling game on the Switch platform, having sold around 4.7 million units to date. It is the most sought-after game in the United States and Europe.
In Japan, Nintendo Switch outperformed Sony's SNE PS4. In the first 26 weeks, the company sold 1.5 million units of Nintendo Switch in the country, which is more than double the number of PS4 units sold over the same time frame following its launch in 2013. Reportedly, it took PS4 69 weeks to reach the figure which Nintendo Switch achieved in 26 weeks.
The company's Splatoon 2 game is noted to be the "most impressive performer" in Japan. Mario Kart 8 Deluxe, launched in April, enjoys high demand globally.
The company also has a strong pipeline of new launches on the Switch platform ahead of the upcoming holiday season. The Legend of Zelda: Breath of the Wild is up for a sequel this winter. Snipperclips - Cut It Out, Together! is also set for a new version.
Moreover, continuous free updates of ARMS and Splatoon 2 are also expected to keep the interests of the fans alive.
Additionally, the company's collaboration with Western Digital Corporation WDC in September to create Nintendo Switch-licensed microSDXC SanDisk memory cards with capacity of 64 GB and 128 GB is a positive. It will enable users to enjoy the full gaming experience for certain games that require additional storage due to their large file formats.
Market research firm, Newzoo expects consoles to be the second largest revenue generator after mobile gaming with $33.5 billion in 2017. We believe Nintendo is well-poised to cash in on the growing market.
However, competition from Microsoft's MSFT much-awaited gaming console Xbox One X launched on Nov 7, and PS4 remain concerns.
Nintendo Co. Price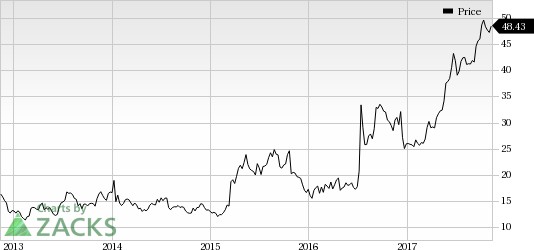 Zacks Rank
Currently, Nintendo sports a Zacks Rank #1 (Strong Buy). You can see the complete list of today's Zacks #1 Rank stocks here.
Will You Make a Fortune on the Shift to Electric Cars?
Here's another stock idea to consider. Much like petroleum 150 years ago, lithium power may soon shake the world, creating millionaires and reshaping geo-politics. Soon electric vehicles (EVs) may be cheaper than gas guzzlers. Some are already reaching 265 miles on a single charge.
With battery prices plummeting and charging stations set to multiply, one company stands out as the #1 stock to buy according to Zacks research.
It's not the one you think.
Want the latest recommendations from Zacks Investment Research? Today, you can download 7 Best Stocks for the Next 30 Days.
Click to get this free report
Western Digital Corporation (WDC): Free Stock Analysis Report
Sony Corp Ord (SNE): Free Stock Analysis Report
Microsoft Corporation (MSFT): Free Stock Analysis Report
Nintendo Co. (NTDOY): Free Stock Analysis Report
To read this article on Zacks.com click here.
Zacks Investment Research