Bitcoin has been in a bearish market this year, though it has been a choppy one. The latest bearish push came after price retreated from 680 in June. It formed a triangle, and price broke below this triangle when it dipped below 550. Then we saw a decline to 442 before a bullish correction to 534. The daily chart still shows a bearish market as price is under the 200-, 100- and 50-day simple moving averages (SMAs), and the RSI has shown bearish momentum, but is not oversold.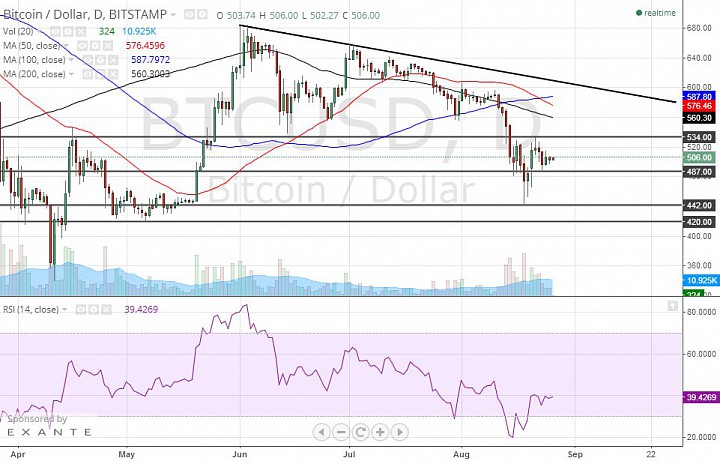 (Bitcoin daily chart 8/26)
Before we get into the inverted head and shoulder, we can see that if there is a bullish correction, price should find sellers in the 560-580 area. A break above 600, would probably liberate bitcoin from the bearish outlook. Bitcoin would be at the crossroad in that 560-580 area. The bearish outlook would still be in play if bitcoin respects this area as resistance and stays south of 560. 

To the downside, the 420 low from April and May could be a short-term target, while the 340 low on the year could be the medium-term target. 

Now, when we look at the 4H chart, we also see bearish conditions - price is mostly below the moving averages, and the 4H RSI held below 60 after it dipped below 20. 

There is one thing going for the bullish scenario, the hold above 487, which appears to be forming the second shoulder in an inverted head and shoulder attempt. A break below 485 will likely invalidate this price bottom attempt and revive the bearish outlook toward 442, and 420. A break above 534, the neckline opens up the 560 level, which would be around the 200-period SMA in the 4H chart, a scenario we discussed above, when looking at the daily chart.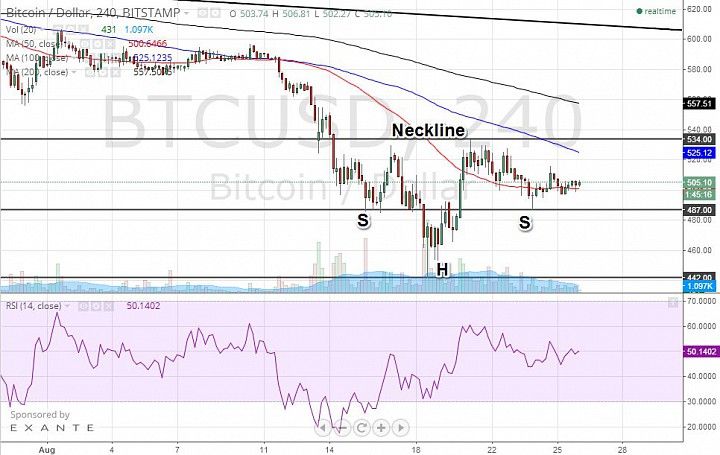 (Bitcoin 4H chart 8/26)