Invest with Confidence. Are you a financial professional? Stay on top of your portfolio with Benzinga Pro's real-time newsfeed and alerts and never miss a headline again.
Don't miss the chance to try it FREE today.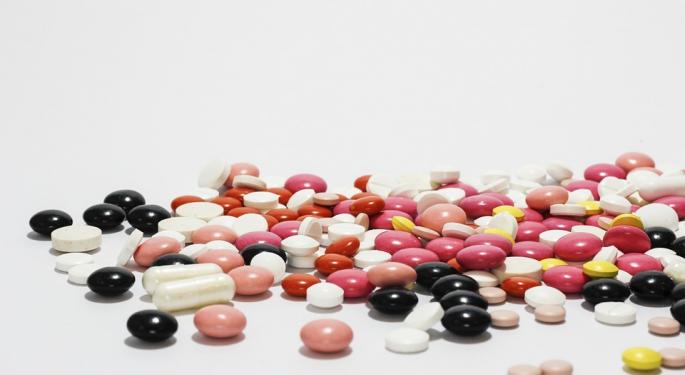 Like many small-cap biotech stocks, Synergy Pharmaceuticals Inc SGYP 0.69% is no stranger to the rumor mill. StreetInsider reported the company was exploring a sale on April 8, sending shares 8 percent higher.
Bloomberg reported a similar rumor in March 2015, also yielding no follow-through.
Little has happened on the M&A front since that report. News that Synergy's new drug application (NDA) for Plecanatide had been accepted by the FDA on April 19 pushed the stock up another 11 percent, leading analysts at Rodman & Renshaw and Roth Capital to reiterate bullish theses the next day.
The NDA is now under review with a target PDUFA action date of January 29, 2017.
Synergy Management Seen 'Weighing' Options
So, if Synergy buyout chatter emerges again, should investors take it seriously? It depends on the timeline.
Roth's Michael Higgins told Benzinga this week that as far as he could tell, the company has not put itself on the block at the moment. However, he didn't rule it out over the long-term.
Management, he said, is "weighing their options, doing what most companies do in their position: consider the market opportunity, bring expertise internal to vet the opportunity, and take steps to prep for selling themselves," along with conversations with potential marketers.
Higgins also recently wrote that he expects the company to finalize its marketing strategy for Plecanatide by this summer.
M&A Or No M&A, Sell-Side Sees Upside
While the analyst said he doesn't see Synergy as an "ideal fit" for either Pfizer Inc. PFE 0.75% or Allergan AGN 2.05%, he did stress the sheer "blockbuster potential" of Plecanatide to be a billion-dollar drug by 2020. That means larger companies could take a close look.
"[P]roducts of this ilk are rare gems for companies with the marketing expertise and sales force capacity to maximize [the drug's] potential," Higgins wrote.
That upside is evident in sell-side price targets, M&A or no M&A. Higgins, who has as Buy rating on Synergy, sees upside of $6.50 per share -- 120 percent higher than the current stock price. Raghuram Selvaraju of Rodman & Renshaw has an even higher target on the stock of $16.00.
For its part, Synergy management has been quiet. The company had no comment in Higgins' report two weeks ago, and has not announced a specific timeline for Plecanatide commercialization.
Synergy shares presently trade near $2.96 on Thursday afternoon.
Date
Firm
Action
From
To
Mar 2016
Rodman & Renshaw
Maintains
Buy
Mar 2016
Citigroup
Maintains
Neutral
Dec 2015
Citigroup
Downgrades
Buy
Neutral
© 2016 Benzinga.com. Benzinga does not provide investment advice. All rights reserved.