Verizon announced that it was acquiring Yahoo on Monday. Then on Tuesday, we got a disappointing earnings report. From the daily chart, we can see a price top which reflects a market losing confidence in VZ.

VZ Daily Chart 7/27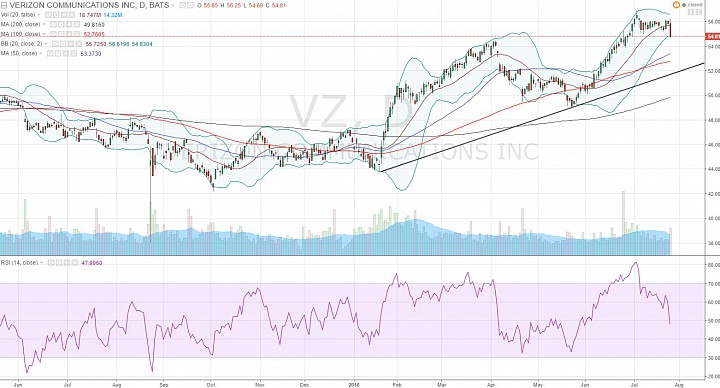 (click to enlarge)

Short-term Bearish Correction:
- I think it is too early to call a bearish reversal in Verizon. After all, the prevailing trend in 2016 has been bullish.
- We should limit the current bearish outlook as a correction swing. 
- In this correction scenario, we should anticipate support above 52, where price will be challenged by a rising speedline.
- Also monitor the daily RSI as it approaches 40. It if can turn up before breaking 40, it reflects maintenance of the prevailing bullish momentum. 
- A break below the rising speedline would shelve the bullish continuation scenario, but the overall market would still be neutral-bullish in the medium-term.
Here's a what the Wall Street Journal had to say about the latest Verizon earnings: 
(The Wall Street Journal) Verizon Communications Inc. reported its first decline in quarterly revenue in six years amid sluggish subscriber growth, underscoring why the nation's biggest wireless carrier is seeking new sources of revenue through acquisitions like Yahoo Inc.
Revenue fell 5.3% from a year ago, its first drop since 2010 after three quarters of declining growth. Excluding recent landline divestitures and AOL, revenue would have decreased 3.5% from a year ago. Meanwhile, Verizon's net additions of retail postpaid subscribers—its most valuable customers—were down 46% in the quarter.
The slowdown in its wireless business underpins Verizon's push to develop new sources of revenue like digital advertising and connected cars. The strategy drove its $4.83 billion planned acquisition of Yahoo, announced Monday, the biggest addition to the carrier's burgeoning media business which Verizon projects will have $20 billion of revenue by 2020.
"Yahoo brings viewers. Viewers bring advertising. Advertising brings top line growth," said Verizon Chief Financial Officer Fran Shammo in a call with investors, the first time Verizon executives have spoken publicly about the deal, which is expected to close in the first quarter. (Full Article at The Wall Street Journal)