FireEye (FEYE) just released its second-quarter financial results, posting a GAAP loss of 40 cents per share and revenues of $185.5 million. Currently, FEYE is a Zacks Rank #3 (Hold) and is up 5.51% to $15.50 per share in trading shortly after its earnings report was released.
FireEye:
Beat earnings estimates. The company posted a GAAP loss of 40 cents per share. Adjusting for some costs, the FireEye reported a non-GAAP loss of 4 cents per share, beating Street estimates of a loss of 12 cents.
Beat revenue estimates. The company saw revenue figures of $185.5 million, beating our consensus estimate of $176 million.
Total revenue was up 6% from the prior-year quarter, while GAAP net loss improved about 53%. However, billings were down about 12% year-over-year.
FireEye expects third-quarter revenue in the range of $183 million to $189 million. Billings are expected to be in the range of $190 million to $205 million.
"We executed well against our priorities in the second quarter, delivering billings, revenue, earnings per share and operating cash flow above expectations," said Kevin Mandia, FireEye chief executive officer. "As we look forward to the second half of 2017, we are focused on new opportunities to expand our customer base with our Helix platform, our next generation endpoint protection, and innovations in our network and email security solutions."
Here's a graph that looks at FireEye's earnings performance history:
FireEye, Inc. Price, Consensus and EPS Surprise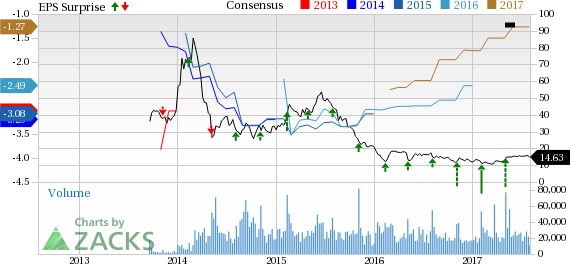 FireEye, Inc. Price, Consensus and EPS Surprise | FireEye, Inc. Quote
FireEye Inc. provides security platform for cyber-attacks to enterprises and governments. The Company offers web security, email security, file security and malware analysis. It provides products and services through distributors, resellers and strategic partners primarily in the United States, the Asia Pacific, Japan, Europe, the Middle East, Africa and internationally.
Check back later for our full analysis on FireEye's earnings report!
Want more stock market analysis from this author? Make sure to follow @
https://twitter.com/Ryan_McQueeney
on Twitter!
Will You Make a Fortune on the Shift to Electric Cars?
Here's another stock idea to consider. Much like petroleum 150 years ago, lithium power may soon shake the world, creating millionaires and reshaping geo-politics. Soon electric vehicles (EVs) may be cheaper than gas guzzlers. Some are already reaching 265 miles on a single charge.
With battery prices plummeting and charging stations set to multiply, one company stands out as the #1 stock to buy according to Zacks research. It's not the one you think. See This Ticker Free >>
Want the latest recommendations from Zacks Investment Research? Today, you can download 7 Best Stocks for the Next 30 Days.
Click to get this free report
FireEye, Inc. (FEYE): Free Stock Analysis Report
To read this article on Zacks.com click here.
Zacks Investment Research