Nobody likes to wake up and see a stock they own down big. But the brutal treatment of some Blue Chips is a reminder of the risks of stocks when they are getting toppy.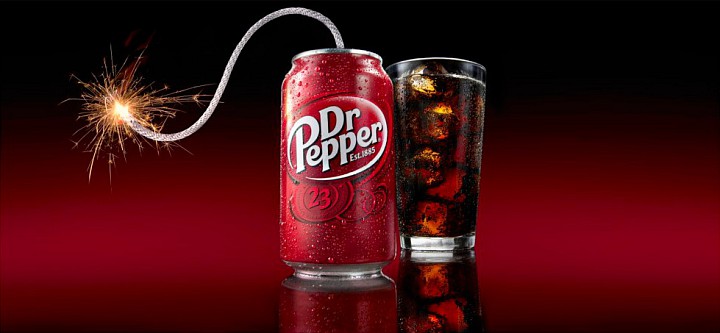 There are 12 stocks in the Standard & Poor's 500, including Wisconsin Energy (WEC), Dr. Pepper Snapple (DPS) and Clorox (CLX) that are looking like they might be ahead of themselves – at least if you believe what analysts think the stocks are worth. These are the stocks trading for 10% or more above the 18-month price targets from analysts – that are also up 10% or more over the past year, according to a USA TODAY analysis of data from S&P Capital IQ.
Now that the stock market's volatility is double what it was – and stocks are no where near as cheap as they were – investors are getting increasingly nervous about stocks might be flying too far too fast. And while analysts don't get it right all the time, they have been on a hot streak during this bull market. And keep in mind, the price target is an aggregate view of what all the people who watch the stocks the closest think they're worth.
Interestingly, the stocks running past the estimates aren't the high-flying must-have stocks that probably pop into mind. Many are utilities, which have turned into hot stocks as investors chase after yield in this world of low interest rates we live in. Of the 12 stocks that have blown past price targets, five are utilities.
They're stocks like Wisconsin Energy, an electric utility that won many fans with its impressive 3% dividend yield. That's a solid dividend compared with the S&P 500 at below 2%. But here's the problem – investors have driven Wisconsin Energy stock up 38% over the past year to $57.16. At current levels, the stock is trading for 19% over the $47.93 a share analyst price target. And it's not like earnings are growing like mad. Analysts are calling for the company to report an adjusted quarterly profit for the December quarter of 57 cents a share, down 9.5%. Just check out this moonshot stock: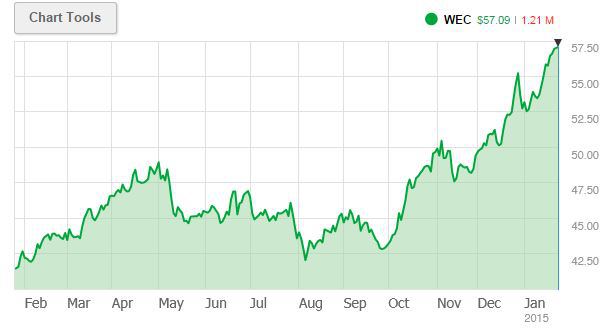 It's not just a yield grab creating stocks to get ahead of targets. Some of the stocks looking toppy are stealth stock-market winners like beverage company Dr. Pepper Snapple. Shares of the company are up 62% over the past year to $79.30. That's already 16% past analysts' 18-month price target of $68.22. The stock is now trading for more than 22 times its earnings over the past 12 months, well ahead of the market at 17. It's important to note, though, other beverage stocks are trading above the market, including Coca-Cola (KO) at at P-E of 23.6. But Coca-Cola closed Tuesday at $42.39, which is still below analysts' price target of $44.30. Just look at Dr. Pepper's chart: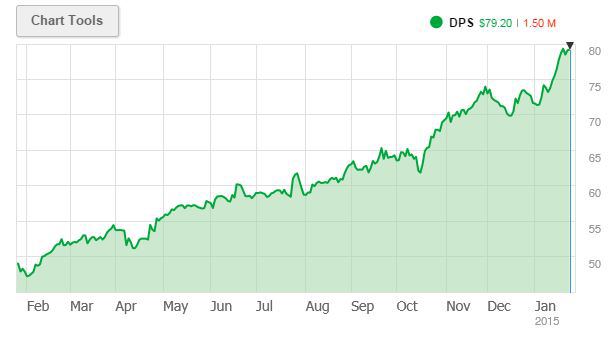 Toppy stocks don't necessarily tip over. Earnings may jump faster than expected, justifying the price. And perhaps the targets are overly conservative, and analysts might increase their targets over time. But with investors paying closer attention to what they're paying for stocks, it pays to keep your eyes open and be prepared if the stock falls over.
S&P 500 STOCKS THAT HAVE ALREADY BLOWN PAST ANALYSTS' 18-MONTH TARGETS
| | | | |
| --- | --- | --- | --- |
| Company | Ticker | 1/27/2015 close | % past 18-month target |
| Wisconsin Energy | WEC | $57.09 | 19.1% |
| Dr. Pepper Snapple | DPS | $79.20 | 16.1% |
| SCANA | SCG | $64.41 | 14.7% |
| Consolidated Edison | ED | $70.88 | 12.6% |
| Integrys Energy | TEG | $82.57 | 12.6% |
| AutoNation | AN | $59.81 | 12.1% |
| Leggett & Platt | LEG | $44.69 | 11.7% |
| AGL Resources | GAS | $57.25 | 11.4% |
| Clorox | CLX | $108 | 11.5% |
| Corning | GLW | $24.73 | 10.8% |
| Hospira | HSP | $65.49 | 11% |
| Campbell Soup | CPB | $46.55 | 10.6% |
Sources: S&P Capital IQ, USA TODAY research