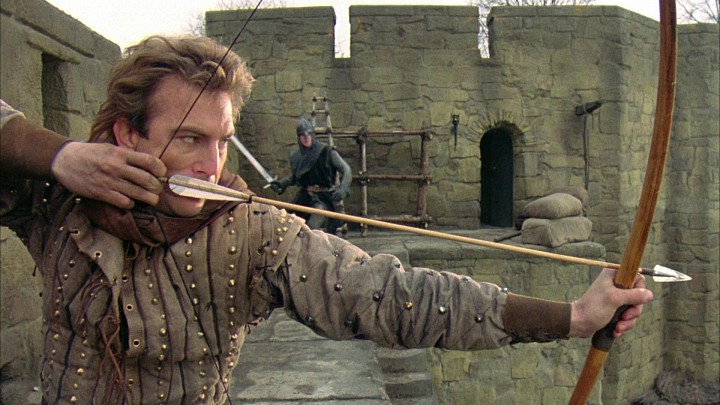 Robin Hood: Origins is just one upcoming franchise that banks on audiences and/or the media forgetting how "dark," "gritty," or "realistic" and "revisionist" the prior reboots were.
There was a story in Deadline Hollywood on Friday concerning the so-called short list to nab the role of Robin Hood in Lions Gate Entertainment Corp.'s Robin Hood: Origins. This isn't about the fact that there are four different Robin Hood projects on tap at four different studios at the moment. Nor is this even a screed about another would-be big budget franchise probably being toplined by a somewhat generic white male actor who is supposed to be the next big star. No, this is about this specific Robin Hood film, which is being sold as a "gritty, revisionist take on the legend" that has "an origin story that has been likened to The Dark Knight." Now that's just the wording of Ali Jaafar and Mike Fleming Jr.'s piece, but I've seen that before when discussing this project and others of its ilk. Here's the rub: The last two major Robin Hood movies to come out of Hollywood were both dark-n-gritty reboots. And looking at this Robin Hood as well as several other projects in the pipeline, it would appear that Hollywood's obsession with theoretically copying Chris Nolan's Batman films isn't just a matter of misreading why they were popular but also a matter of selective amnesia. Hollywood is not just rebooting the same franchises over and over again but copying the last reboot and hoping audiences won't remember.
In some ways, Kevin Reynolds's Robin Hood: Prince of Thieves was the very first "dark-n-gritty reboot." Released in June of 1991, the Warner Bros./Time Warner Inc. film was itself an attempt to take a beloved action-centric property and go "full Batman." But of course in this case, it was Tim Burton's Batman that was being somewhat mimicked. The Kevin Costner movie didn't just cast the obscenely popular actor/movie star, coming off of The Untouchables, Bull Durham, Field of Dreams, and Dances With Wolves, in the role of Robin Hood and call it a day. The film quite literally fashioned a much darker and more realistic look at the Robin Hood legend. This film confronted the horrifying legacy of the Crusades head-on while offering a grim and determined Robin of Locksley who had to not just fight for the poor against cruel taxation but avenge the murder of his father and take out a supervillain who was babysitting the throne in King Richard's absence. Said supervillain of course was The Sheriff of Nottingham, played with scenery-chewing gusto by Alan Rickman fresh off Die Hard.
The PG-13 film was full of gruesome violence, modern characterization (Morgan Freeman played the so-called "good Arab" who became Robin's partner and best friend), and a sensibility that advertised that this was not Errol Flynn's Robin Hood. And, to put it mildly, critics were outraged. Say what you will about the film, but a huge number of critics were merely horrified that this version wasn't a glorified remake of Errol Flynn's The Adventures of Robin Hood. This was a different time, one when critics weren't necessarily fond of taking childhood...
More