Whenever there is uncertainty in the market, Investors Park their funds in the safer financial instruments. The yield on benchmark 10 year Treasury note declined to the lowest level in more than a month as investors bought US government bonds. The Banco Espirito Santo a large Portugal Lender was under pressure since some accounting irregularities were detected in its holding companies but today the pressure deepened when investors got to know that the parent company Espirito Snato International had delayed coupon payments of some short term securities. These concerns suggested continuing weakness in other European economies. 

We know that the yields and USDJPY are directly related and the decline in yields results in a decline of USDJPY. Whenever investors feel uncertainty, they start moving to safer havens like government bonds, Gold. Japanese Yen strengthen whenever treasury yields decline.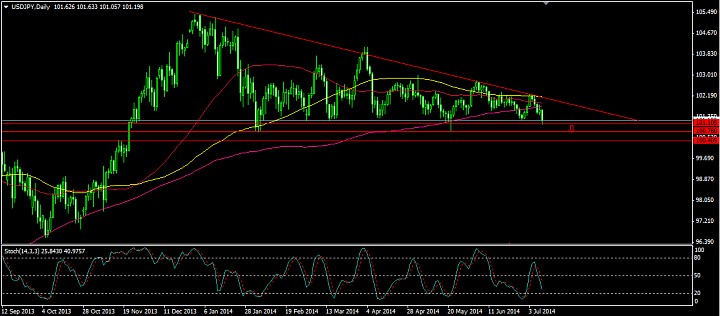 (USDJPY : Daily Chart)
On the daily chart, the pair seems like following a downtrend and trading within a descending triangle. Accordingly the pair should break below the support at 101.10. The 50 day SMA is just trying to cross below the 200 day SMA confirming the downtrend. The next support the pair will find if it continues to decline are at 100.78 or 100.40.