Recently, here on Zero Hedge, I posted an article titled, "Law suit? Porn addict? Divorcing? Seeking investment ideas? Worried about the world?" In the article, I state:
Below is an English translation of one of Jesus' very famous outdoor lectures, which was widely shared by his disciples that were present, and eventually written down circa 70-90.

 

If you take 5-10 minutes to read this sermon, then you will know what being a Christian is actually supposed to mean. 
On many other occasions, on Zero Hedge, I have also recommend this very good book.
Abraham: A Journey to the Heart of Three Faiths, P.S. Edition
Bruce Feiler, $    10.39
In today's world where all sides try to dehumanize the enemy, we should understand that Jews, Christians, and Muslims pray to the same God. 
Today, I was reading this article on RT, '100yrs to repair Gaza': Oxfam says blockade remains, aid almost non-existent.
Oxfam's statement outlines how "the situation in Gaza is becoming increasingly desperate" and calling for the lifting of the eight-year blockade, as well as a continuation of peace talks.

 

"Only an end to the blockade of Gaza will ensure that people can rebuild their lives," Regional Director Catherine Essoyan said. With it in place, the flow of construction materials in and agricultural produce out is having a crippling effect on the lives of Palestinians.

 

 

According to the NGO, new figures reveal a drop last month in construction materials, which are vital to the efforts. "Less than 0.25 percent of the truckloads of essential construction materials needed have entered Gaza in the past three months," the statement also said.

   

In pure figures, over 800,000 truckloads of such materials are still required to repair the infrastructure damaged in last summer's operation alone – Israel's bloodiest in years – which claimed 2,200 Palestinian lives, most of them civilians.

 

About 100,000 of these people still live in shelters and other makeshift or temporary accommodation because of this lack of materials.

 

"Tens of thousands more are living in badly damaged homes," Oxfam ads.

 

"Families have been living in homes without roofs, walls or windows for the past six months. Many have just six hours of electricity a day and are without running water. Every day that people are unable to build is putting more lives at risk. It is utterly deplorable that the international community is once again failing the people of Gaza when they need it most," Essoyan continues.

 

"Exports of agricultural produce from Gaza have fallen in the last year to just 2.7 percent of the level before the blockade was imposed. Fishermen are still restricted to an enforced fishing limit of 6 nautical miles – far short of where most fish are – farmers are restricted from accessing much of the most fertile farmland."
In formulating my response to this RT article, and attempting to have empathy for both sides of the Palestinian conflict, I could not help but to first think back to my ealier reading, this morning, of Jesus' teachings from His Sermon on the Mount, more specifically, regarding Moses' teaching of the law:
"Do not think that I have come to abolish the law or the prophets; I have come not to abolish but to fulfill. For truly I tell you, until heaven and earth pass away, not one letter, not one stroke of a letter, will pass from the law until all is accomplished. Therefore, whoever breaks one of the least of these commandments, and teaches others to do the same, will be called least in the kingdom of heaven; but whoever does them and teaches them will be called great in the kingdom of heaven.
Next, my mind was led to here, to the law, as given to us by Moses from The God of Abraham, The God Israel, The God of Christianity, and The God of Islam.  Specifically, this law:
When a foreigner resides among you in your land, do not mistreat them. The foreigner residing among you must be treated as your native-born. Love them as yourself, for you were foreigners in Egypt. I am the Lord your God.

 

Leviticus 19:33
If you take five minutes to read the following, then you will have a pretty good idea of how Jews AND Christians are supposed to act.  I have included both The Ten Commandments, Exodus 20, and various other laws, Leviticus 19, for our reading, interpretation, contemplation, discussion, daily use, and I am most certain...our debate.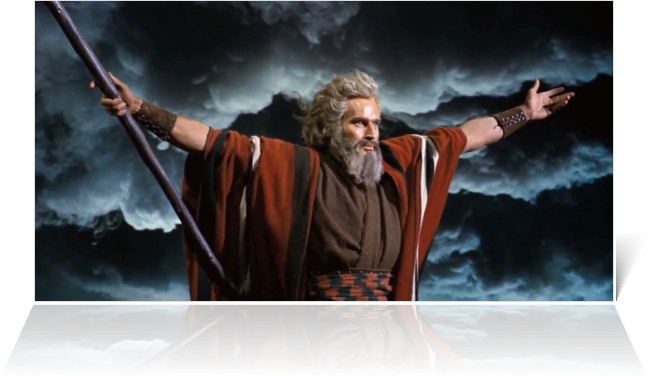 The Ten Commandments
20 And God spoke all these words:
2 "I am the Lord your God, who brought you out of Egypt, out of the land of slavery.
3 "You shall have no other gods before[a] me.
4 "You shall not make for yourself an image in the form of anything in heaven above or on the earth beneath or in the waters below. 5 You shall not bow down to them or worship them; for I, the Lord your God, am a jealous God, punishing the children for the sin of the parents to the third and fourth generation of those who hate me, 6 but showing love to a thousand generations of those who love me and keep my commandments.
7 "You shall not misuse the name of the Lord your God, for the Lord will not hold anyone guiltless who misuses his name.
8 "Remember the Sabbath day by keeping it holy. 9 Six days you shall labor and do all your work, 10 but the seventh day is a sabbath to the Lord your God. On it you shall not do any work, neither you, nor your son or daughter, nor your male or female servant, nor your animals, nor any foreigner residing in your towns. 11 For in six days the Lord made the heavens and the earth, the sea, and all that is in them, but he rested on the seventh day. Therefore the Lord blessed the Sabbath day and made it holy.
12 "Honor your father and your mother, so that you may live long in the land the Lord your God is giving you.
13 "You shall not murder.
14 "You shall not commit adultery.
15 "You shall not steal.
16 "You shall not give false testimony against your neighbor.
17 "You shall not covet your neighbor's house. You shall not covet your neighbor's wife, or his male or female servant, his ox or donkey, or anything that belongs to your neighbor."
Various Other Laws
Leviticus 19 New International Version (NIV)
1The Lord said to Moses, 2 "Speak to the entire assembly of Israel and say to them: 'Be holy because I, the Lord your God, am holy.
3 "'Each of you must respect your mother and father, and you must observe my Sabbaths. I am the Lord your God.
4 "'Do not turn to idols or make metal gods for yourselves. I am the Lord your God.
5 "'When you sacrifice a fellowship offering to the Lord, sacrifice it in such a way that it will be accepted on your behalf. 6 It shall be eaten on the day you sacrifice it or on the next day; anything left over until the third day must be burned up. 7 If any of it is eaten on the third day, it is impure and will not be accepted. 8 Whoever eats it will be held responsible because they have desecrated what is holy to the Lord; they must be cut off from their people.
9 "'When you reap the harvest of your land, do not reap to the very edges of your field or gather the gleanings of your harvest. 10 Do not go over your vineyard a second time or pick up the grapes that have fallen. Leave them for the poor and the foreigner. I am the Lord your God.
11 "'Do not steal.
"'Do not lie.
"'Do not deceive one another.
12 "'Do not swear falsely by my name and so profane the name of your God. I am the Lord.
13 "'Do not defraud or rob your neighbor.
"'Do not hold back the wages of a hired worker overnight.
14 "'Do not curse the deaf or put a stumbling block in front of the blind, but fear your God. I am the Lord.
15 "'Do not pervert justice; do not show partiality to the poor or favoritism to the great, but judge your neighbor fairly.
16 "'Do not go about spreading slander among your people.
"'Do not do anything that endangers your neighbor's life. I am the Lord.
17 "'Do not hate a fellow Israelite in your heart. Rebuke your neighbor frankly so you will not share in their guilt.
18 "'Do not seek revenge or bear a grudge against anyone among your people, but love your neighbor as yourself. I am the Lord.
19 "'Keep my decrees.
"'Do not mate different kinds of animals.
"'Do not plant your field with two kinds of seed.
"'Do not wear clothing woven of two kinds of material.
20 "'If a man sleeps with a female slave who is promised to another man but who has not been ransomed or given her freedom, there must be due punishment.[a] Yet they are not to be put to death, because she had not been freed. 21 The man, however, must bring a ram to the entrance to the tent of meeting for a guilt offering to the Lord. 22 With the ram of the guilt offering the priest is to make atonement for him before the Lord for the sin he has committed, and his sin will be forgiven.
23 "'When you enter the land and plant any kind of fruit tree, regard its fruit as forbidden.[b] For three years you are to consider it forbidden[c]; it must not be eaten. 24 In the fourth year all its fruit will be holy, an offering of praise to the Lord. 25 But in the fifth year you may eat its fruit. In this way your harvest will be increased. I am the Lord your God.
26 "'Do not eat any meat with the blood still in it.
"'Do not practice divination or seek omens.
27 "'Do not cut the hair at the sides of your head or clip off the edges of your beard.
28 "'Do not cut your bodies for the dead or put tattoo marks on yourselves. I am the Lord.
29 "'Do not degrade your daughter by making her a prostitute, or the land will turn to prostitution and be filled with wickedness.
30 "'Observe my Sabbaths and have reverence for my sanctuary. I am the Lord.
31 "'Do not turn to mediums or seek out spiritists, for you will be defiled by them. I am the Lord your God.
32 "'Stand up in the presence of the aged, show respect for the elderly and revere your God. I am the Lord.
33 "'When a foreigner resides among you in your land, do not mistreat them. 34 The foreigner residing among you must be treated as your native-born. Love them as yourself, for you were foreigners in Egypt. I am the Lord your God.
35 "'Do not use dishonest standards when measuring length, weight or quantity. 36 Use honest scales and honest weights, an honest ephah[d] and an honest hin.[e] I am the Lord your God, who brought you out of Egypt.
37 "'Keep all my decrees and all my laws and follow them. I am the Lord.'"
Finally, if you haven't had enough, enjoy reading another recent RT article: Over half of Republicans want to ignore Bill of Rights, make Christianity national religion.
Peace be with you.