The EIA reported the number of uncompleted wells rose for the first time since July
The Energy Information Administration (EIA) released its monthly Drilling Productivity Report Monday. The November report forecasts that both oil and gas production in the United States will decline by 20 MBOPD and 94 MMcf/d, respectively, and also noted that the number of drilled but uncompleted (DUC) wells in the country rose for the first time since July last month.
The agency started tracking the number of DUC wells in its September report, showing that the count declined month-over-month from July to August, and again from August to September. The November report shows that DUCs increased for the first time since the EIA started tracking the information from September to October, however. The total number of uncompleted wells rose by 58 month-over-month, primarily in the Permian, where 85 wells were drilled but left uncompleted, bringing the area's total to 1,467.
The rise in DUC wells in the Permian was partially offset by the Eagle Ford, where the DUC count fell by 30 from September to October. The Eagle Ford remains the region with the second-highest DUC count at 1,309. The Marcellus also recorded a decline in DUCs ending October with 643, down seven from September. The Bakken, Haynesville, Niobrara and Utica all saw an increase to their DUC counts as well, though none of them broke into double-digits.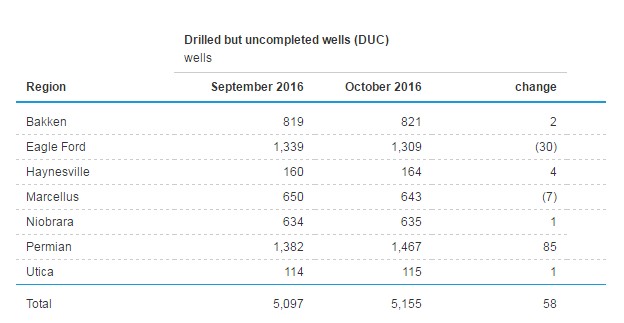 (Click to enlarge)

Source: EIA
By Oil & Gas 360
More Top Reads From Oilprice.com: