Teradyne Inc. TER reported third-quarter 2017 earnings of 54 cents per share, surpassing the Zacks Consensus Estimate by 11 cents. Also, earnings increased 64% year over year.
Following the strong third-quarter results and better-than-expected fourth-quarter guidance, Teradyne's share price surged 5.7% in the after-hours trading.
Also, on a year to date basis, the stock has outperformed the industry it belongs to. It has returned 54.0% compared with the industry's gain of 46.9%.
Revenues
Revenues of $503.4 million decreased 27.8% sequentially but increased 22.6% year over year. Also, the figure came in above the Zacks Consensus Estimate of $473.0 million and above management's guided range of $455-$485 million.
Approximately 79% of revenues came from semiconductor Testing platforms, 8% from Industrial Automation, 7% from system Test business and the remaining 6% from wireless Test business.
Bookings
Total orders amounted to $410 million, declining 12.7% sequentially.
On a sequential basis, only Semiconductor Test orders were down 20.1% to $295 million, while all others increased. Systems Test orders were up 44.8% year over year, Wireless Test orders increased 10%, while Industrial Automation orders were up 21.2%.
However, Semiconductor Test increased 18.0% year over year, primarily driven by record memory Test orders. All others also increased from the year-ago quarter except System Test, which declined 44.7%.
Margins
Pro forma gross margin was 58.6%, up 250 basis points (bps) sequentially and 320 bps year over year. The increase was due to higher revenues and a favorable mix.
Total adjusted operating expenses of $163.4 million increased 8.8% year over year. As a percentage of sales, both engineering & development expenses and selling & administrative expenses decreased. As a result, adjusted operating margin came in at 25.6%, increasing 1,180 bps sequentially year over year.
GAAP net income was $103.4 million in the third quarter against net loss of $63.8 million in the year-ago quarter. Excluding special items but including stock-based compensation expense, non-GAAP net income came in at $108.4 million or 54 cents per share compared with $67.3 million or 33 cents in the year-ago quarter.
Balance Sheet
Teradyne ended the quarter with cash and cash equivalents and marketable securities balance of $1.64 billion, reflecting an increase from $1.41 billion in the prior quarter. Trade receivables were $268.1 million, down from $405.9 million last quarter.
Cash flow from operations was $309.8 million compared with $230.3 million in the previous quarter. Capex was $27.3 million compared with $23.9 million in the second quarter.
Share Repurchase/Dividend
In the reported quarter, Teradyne spent $57.5 million on share repurchases and paid $13.8 million as dividend.
Q4 Guidance
Management expects fourth-quarter revenues in the range of $420-$450 million, decreasing 15.6% sequentially at the mid-point. The Zacks Consensus Estimate is pegged at $372.0 million.
Non-GAAP earnings per share from continuing operations are likely to be in the range of 31-37 cents. The Zacks Consensus Estimate is pegged at 22 cents. GAAP earnings are expected in the range of 27-33 cents.
Conclusion
Teradyne is a leading provider of automated Test equipment. The company reported strong third-quarter results, with both the top line and the bottom line outperforming the respective Zacks Consensus Estimate.
Given the popularity of its products, acquisition of Universal Robots and continuous design wins, we are optimistic about Teradyne's performance in the long run. However, weakness in the wireless Test market could be a near-term concern.
Teradyne, Inc. Price, Consensus and EPS Surprise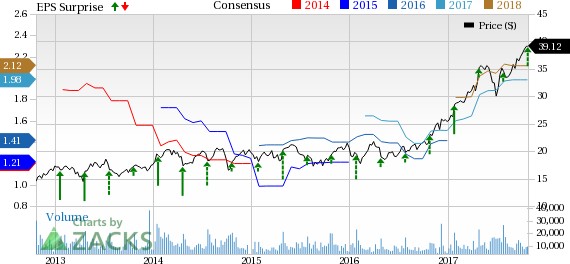 Teradyne, Inc. Price, Consensus and EPS Surprise | Teradyne, Inc. Quote
Other Stocks to Consider
Currently, Teradyne carries a Zacks Rank #3 (Hold). A few better-ranked stocks in the broader technology sector are NVIDIA Corporation NVDA and Applied Materials, Inc. AMAT, both sporting a Zacks Rank #1 (Strong Buy), while FactSet Research Systems Inc. FDS, carrying a Zacks Rank #2 (Buy). You can see the complete list of today's Zacks #1 Rank stocks here.
Long-term earnings per share growth rate for Applied Materials, NVIDIA Corporation and FactSet Research Systems is projected to be 17.1%, 10.3% and 10.8%, respectively.
Looking for Stocks with Skyrocketing Upside?
Zacks has just released a Special Report on the booming investment opportunities of legal marijuana.
Ignited by new referendums and legislation, this industry is expected to blast from an already robust $6.7 billion to $20.2 billion in 2021. Early investors stand to make a killing, but you have to be ready to act and know just where to look.
See the pot trades we're targeting>>
Want the latest recommendations from Zacks Investment Research? Today, you can download 7 Best Stocks for the Next 30 Days.
Click to get this free report
FactSet Research Systems Inc. (FDS): Free Stock Analysis Report
NVIDIA Corporation (NVDA): Free Stock Analysis Report
Applied Materials, Inc. (AMAT): Free Stock Analysis Report
Teradyne, Inc. (TER): Free Stock Analysis Report
To read this article on Zacks.com click here.
Zacks Investment Research