Analyst Gene Munster of Piper Jaffray weighed in on Facebook Inc (NASDAQ:FB) after the company issued a blog post stating that pre-orders for its Oculus Rift Virtual Reality platform will start Wednesday, January 6. As a result, the analyst believes the device will have a March launch date, in line with company consensus. However, Facebook has not announced an exact release date or price tag for the VR headset.
The analyst states that although this release was expected, the launch will result in positive investor sentiment regarding the VR market, as it "is the start of a new computing paradigm." The analyst also states that while he does not believe Oculus will affect Facebook's profitability in the next few years, the device "should be a positive to FB's multiple." Munster states that he expects a few hundred thousand units of Oculus Rift to be sold in 2016. However, the analyst believes Facebook will actually sell Oculus at a loss in the 2016, as the company must invest in hardware, marketing, and content.
Munster also noted that the company announced the delay of Oculus Touch, a handheld controller for the Rift, to the later part of 2016. According to the analyst, even though the device "will enhance the overall Oculus experience longer term," its delay will not affect the Q1 launch of the Rift. Despite the delay, Munster expects "pre-orders to sell out quickly" for the Rift. The analyst reiterates his Overweight rating for the company with a $155 price target. Analyst Gene Munster of Piper Jaffray is ranked #6 out of 3,706 analysts on TipRanks. He has a 63% success rate recommending stocks with an average return of 22.5% per recommendation when measured over a one year horizon and no benchmark.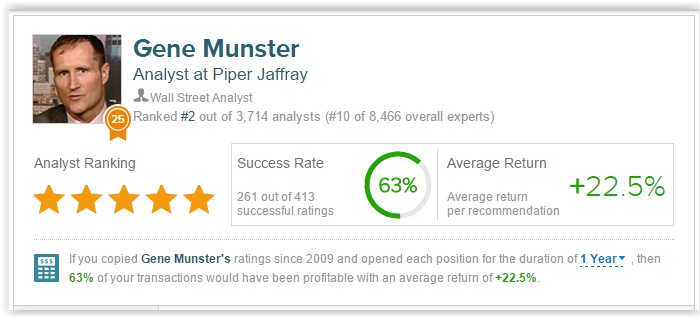 Out of the 34 analysts polled by TipRanks who have rated Facebook in the past 3 months, 33 gave a Buy rating while 1 remains on the sidelines. The average 12-month price target for the stock is $125.33, marking a 20% upside from where shares last closed.