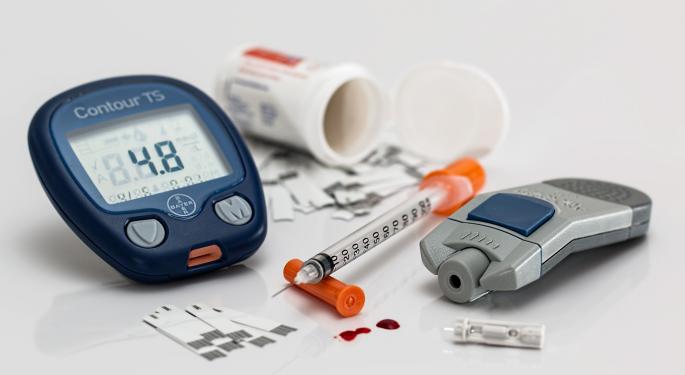 SkyTides has followed up on a report from November 15 that Insulet Corporation NASDAQPODD has covered up patient deaths related to its Omnipod insulin pump. The report contained what SkyTides believes were 44 undisclosed Omnipod patient deaths and 51 FDA complaints that the product put children at risk.
SkyTides has now released an updated report in which the firm dug a bit deeper into a number of promises Insulet management has made in recent months.
SkyTides believes Insulet's current market cap of nearly $2 billion is extremely inflated due to management's commentary. The firm has a $15 price target for the stock.
Competition
SkyTides starts off with a comparison of the market valuations of Insulet and its competitors DexCom, Inc. DXCM 1.4% and Tandem Diabetes Care Inc TNDM 3.77%. According to SkyTides, all three stocks sold off in early November on fears that a new wave of insulin pump technology, particularly Medtronic PLC MDT 0.07%'s 670G, would be disrupting business.
While DexCom and Tandem's share prices have remained depressed, Insulet shares quickly bounced following earnings commentary from management indicating that the 670G isn't actually a threat to Omnipod.
"Our messaging is focused on the multiple daily injection [MDI] patients. That is not where 670G is focused…Omnipod's target market and value proposition are unique," Insulet president Shacey Petrovic said.
SkyTides points out that William Blair analysts have suggested the 670G will capture "some MDI patients."
In addition, while the 670G is not approved for children under 14 years old, children make up only 30 percent of Omnipod's patients.
"We see 30% of PODD's patient base being protected from the 670G but the remaining 70% of its patient base being at risk," SkyTides concludes.
A New Threat
At the same time a major new threat to Insulet's business has arrived, company management is projecting a 20 percent annual sales growth rate for the company through 2020. SkyTides points out that Insulet's revenue growth has been rapidly decelerating from 69 percent in Q1 to 33 percent in Q3.
"Patients are delaying their purchase of insulin pumps until the new innovative pumps are available to choose from. This makes sense. PODD's commentary does not," the report reads.
SkyTides says Petrovic's comments to shareholders were filled with "baseless claims."
"If PODD believes it can grow at 20% for the next 5 years and the market is growing at 9-10% CAGR and PODD's own market share growth in the past 3 years has been 9.14%, where is the remaining 11.86% growth coming from?" the firm asks.
In its original report from November 15, SkyTides focused on a complaint filed against Insulet back in August that alleges CEO Patrick Sullivan has committed a number of crimes during his tenure, including bribing physicians, making false claims and hiding unflattering trial data. SkyTides notes that analyst reports from William Blair and JPMorgan also claim that Sullivan has deceived investors.
© 2016 Benzinga.com. Benzinga does not provide investment advice. All rights reserved.