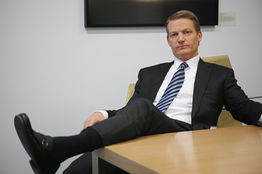 , chief executive of security technology vendor FireEye (FEYE), was in the neighborhood and was kind enough to swing by Barron's offices this afternoon for a brief chat.
Mandia, who sold his company Mandiant to FireEye in 2013 for a billion dollars, a week ago reported results that briefly halted the stock before sending it the shares surging.
That was coming off a rough Q4 and a rough 2016, some of which was of his own making, in a sense, if for good reason.
Asked what had been working and what not, Mandia replies, "That's funny, because I fixate on challenges, not on what's going right," in the decisive, clipped style with which he attacks most questions.
"What was wrong? I needed new technology, and the cost structure was not what it should be."
"We had no head of EMEA [Europe, the Middle East, and Africa], and no head of Japan for six months, and without those, it's hard to run a business."
Why hadn't they? Because Mandia got rid of them and replaced them with better ones, he says.
Shaping up the company took some time, but the Street likes the results. Mandia $80 million in "run rate costs" out of operating expenses. The smaller-than-expected loss last quarter was a pleasant surprise to the Street.
As Stifel Nicolaus's Gur Talpaz, a bull on the stock, wrote last week, "the company's Q1 performance showcased evidence of improved sales execution, including lower overall sales turnover (something we credit new head of sales Bill Robbins in helping to drive), improving channel relationships (which we saw in our Q1 VAR Survey), and the release of the much-discussed Helix platform on the last day of the quarter (which generated four deals, including two to new customers)."
Can you continue to innovate, I asked, while tightening spending?
"You can if you have the right people," he replies. "I always worry about do we have the...
More