Starbucks Corporation has seen significant forward P/E ratio growth in 2015, and investors appear to be increasingly placing a premium on future earnings.
However, with strong operating income growth, I foresee that the company still has the potential to grow.
I forecast that Starbucks can still appreciate by 10 percent yielding a price target of $64.
Given the significantly greater-than-expected growth in Starbucks Corporation (NASDAQ:SBUX) over the past year, significant debate has emerged as to whether the company is in fact burning the candle at both ends and is at risk of being overvalued.
Firstly, let's provide some context. Last March, I had projected that using the dividend discount model, Starbucks would grow both dividends and earnings per share at a rate of 20 percent per annum. On the basis of a forward P/E ratio of 23.64, this would result in a 30 percent upside (prices at the time not adjusted for stock split). Using the adjusted closing price and graphing the same on a percentage growth basis, we see that prices have increased by just over 20 percent. In this context, one could make the case that there is some growth left to go.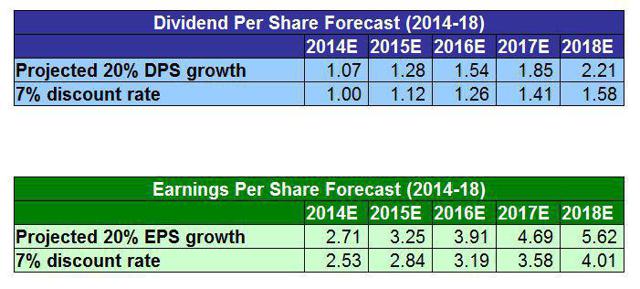 Sources: Author's Calculations
Interestingly, we also see that the forward P/E ratio for Starbucks has increased quite significantly over the past six months; meaning that the forecasted price for Starbucks has increased at a much faster rate than earnings.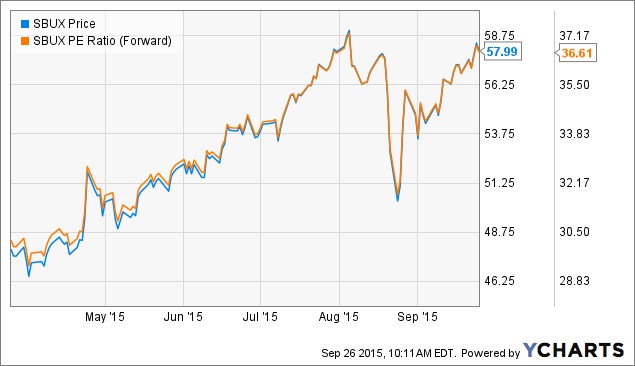 In this regard, price is deviating somewhat from the true valuation and investors are placing a premium on the projected future earnings of the company. So, what are the drivers behind such potential future earnings?
On the basis of the Q3 financial results, investors appear to be banking on a high degree of growth resulting from increased revenues worldwide, even though this has been accompanied by a higher incidence of operating expenses. For instance, total net revenues from June 2014 had increased by 16.1 percent, and total operating expenses had increased by 15 percent.
However, operating income had performed strongly, increasing by 18.2 percent and net earnings had increased by 42.2 percent. In this regard, Starbucks appears to be in a good financial position to meet its earnings forecasts, and I expect that the company will continue to thrive as a result.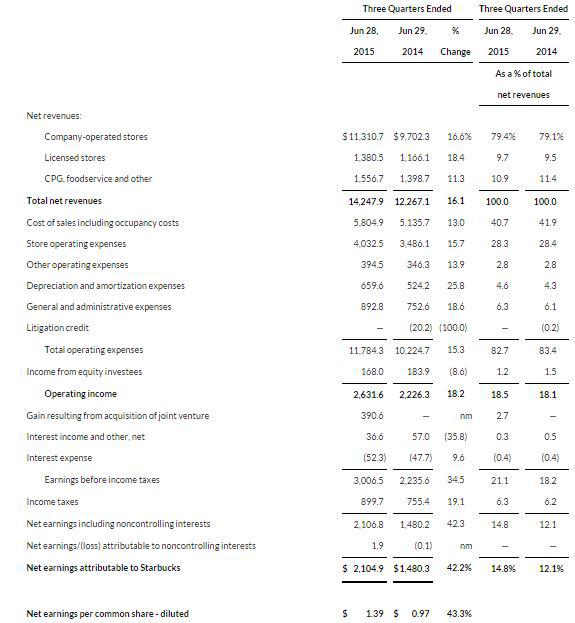 Source: Starbucks Q3 Financial Release
From a business standpoint, what I particularly like about Starbucks is that the company has proven its ability to increase market share in both new and established geographies, while continuing to remain highly profitable and innovative.
I had previously remarked that the China/Asia-Pacific region holds a lot of promise for Starbucks to increase sales and capitalise on its ever-expanding presence. From the below, we can see that not only did net new stores and sales increase in this region, but the company also saw a significant increase in the Americas:
Asia-Pacific Operating Results

Americas Operating Results
Sources: Starbucks Q3 FY15 Earnings Release
Moreover, the company is in an ideal position to further capitalise on growth in both developed and emerging markets. Through its partnership with Casino Restauration and Taste Holdings respectively, Starbucks is set to significantly increase its presence in both France and sub-Saharan Africa, with the Johannesburg outlet marking the first Starbucks store in the region.
Additionally, the company's Mobile Order and Pay initiative has already been rolled out to 7,000 stores across the United States. The ease of payment provided by this technology will aid Starbucks in further differentiating its brand and I envisage will result in a higher number of regular customers due to payment ease.
Ultimately, I envisage that the above business initiatives will continue to translate into solid earnings growth. While there are conflicting projections regarding Starbucks' earnings, on the basis of earnings and the forward P/E ratio, I take the vote that Starbucks still has room left to grow and we could likely see a further 10 percent appreciation in price on this basis for a new price target of $64.
More