South Korea is one of the Asian Tigers which made a significant economic growth under special political situation. One of the features of such policy was a chaebol phenomenon. In fact it is something like Russian govcorporation which headquarters in South Korea and sometimes there are several reasons to think that Kremlin wants to implement South Korean model of economic development. So let's present a Korean front-man of Automotive, Chemical, Steel and other industries Hyndai Motor Group (If they systematized its English data it will be great).   
Chart 1. Hyundai-Kia Motors Global Network & Performance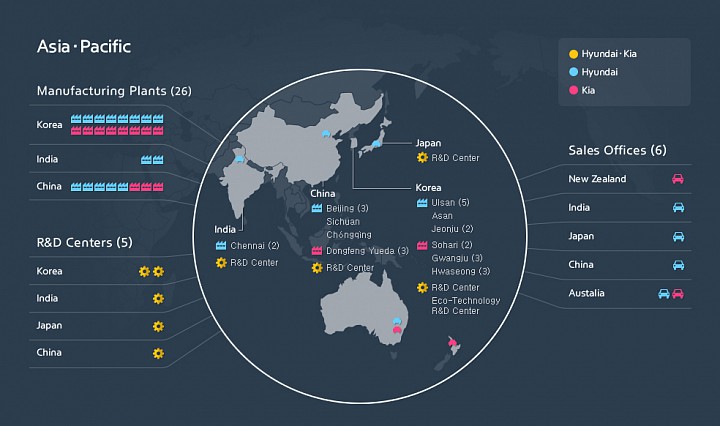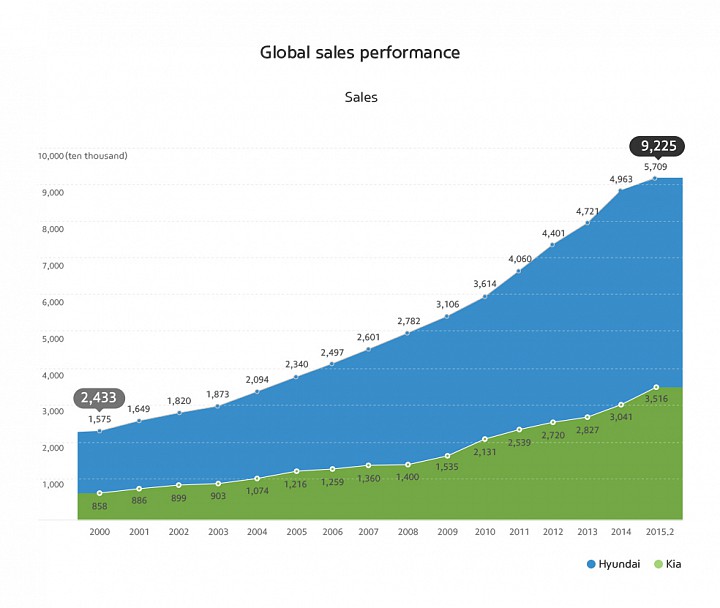 By the way Hyundai is a giant conglomerate wherefore we look after its automotive business more than others. In fact Hyundai and Kia show a significant growth in their business. They have a full-line and diversified production which helped them to sell their cars under affordable prices and it is not a secret that nowadays they are leaders in low-cost segment. For instance, Solaris has changed Lada from the people's car niche and the global sales grew up by 280% in comparison with 2000. That show us that Hyundai-Kia alliance is the most progressive carmaker for the last 15 years.
Chart 2. Volume Of Sales (KWON)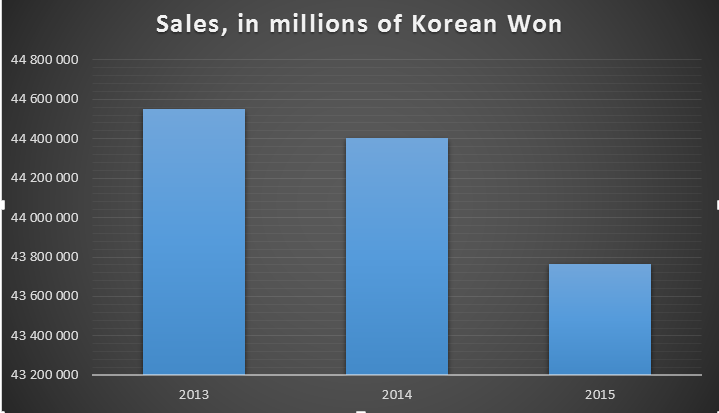 On the other hand macroeconomic facts have changed the item sales effect. These charts shows that uncutted costs can reduce all facilities in operating income growth and net sales survive. In fact, you can see that the total sales decreased by 2 % corresponding to 2013 year but we don't have a 2015 full year results for giving an adequate mark for the volume of sales (in KWON).
Chart 3. Hyundai Profitability Ratios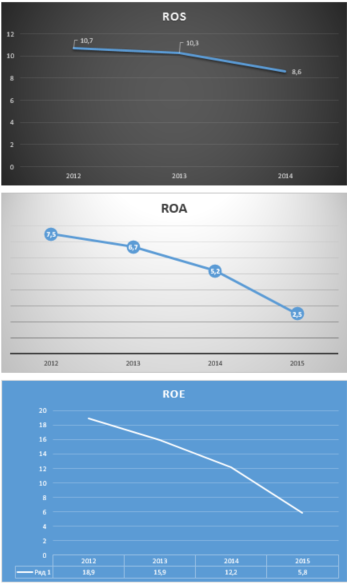 To be more precise: they stop increase their profit. For example, it's more expensive for a company to sell cars by 2.1% than in 2012. No comments for ROE and ROA, Hyundai need to pay more attention to the foreign capital markets or they will continue to slide into a slump and chart below will prove my words. 
Chart 4. Hyundai Motor Company Daily Chart
  <!== INSTRUMENT %% %1440% ==!>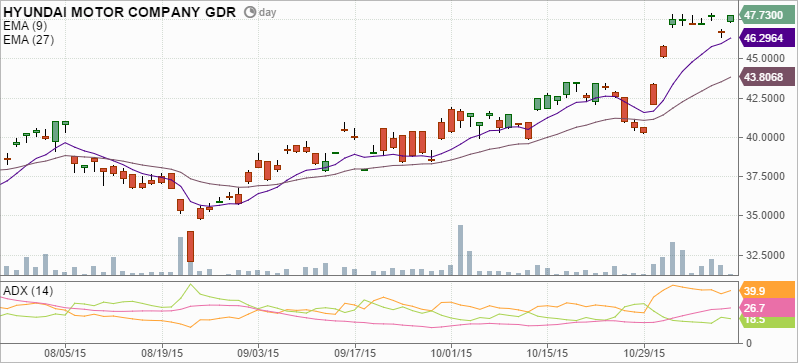 In fact it is uptrend, buy and hold or buy and sell, but it is an unliquid Korean Burse with low volumes so there is no prospective for traders and investors without new IPO or listing in liquid exchanges. 
In conclusion< I would like to admit the news about Genesis brand. Hyundai take an untrend way maybe if they start to R&D hybrid niche they will rechange current financial situation.