Groupon Inc (NASDAQ:GRPN) appears to be making progress in its long, difficult transition from daily deals to e-commerce, and the market is mighty happy, sending GRPN stock up sharply by midday Friday.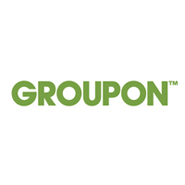 Groupon stock has been wildly volatile throughout its short history, and unfortunately for anyone holding GRPN, it's been all to the downside for the last year. Groupon stock lost 30% of its value in 2014, and it has been negative all of this year too.
However, while Friday's gains were a much-needed breath of fresh air, don't bank on Groupon stock doing more for you anytime soon.
So it's something of a milestone in its transition that GRPN swung to a net profit from a net loss in the year-ago quarter, and beat Wall Street estimates by a comfortable margin.
For the most recent quarter, GRPN had net income of 1 cent a share, vs. a net loss of 12 cents a share in last year's fourth quarter. On an adjusted basis, which is what analysts typically look at, Groupon earnings came to 6 cents a share to beat Street estimates by 3 cents, according to a survey by Thomson Reuters.
Revenue grew 20% to $925 million, which was also ahead of analysts' estimates. Excluding the effects of a stronger dollar, revenue would have expanded by 25% in the fourth quarter. For the full fiscal year, revenue rose about 32% on both a currency neutral and foreign exchange basis.
Also boosting Groupon stock was the company's confirmation that it's looking to sell Ticket Monster. GRPN is talking about valuations of as much as $1 billion for the business, according to media reports. That would deliver a remarkable return for GRPN, seeing as it bought Ticket Monster a little more than a year ago for $260 million.
Despite the encouraging quarter, Groupon served up a soft outlook. For the current quarter, GRPN forecast earnings to come in between break-even and a profit of two cents a share. Analysts surveyed by Thomson Reuters projected earnings to come in at 2 cents a share. Revenue guidance was likewise light, with GRPN targeting a top line of $790 million to $840 million, vs. a Street for $856 million.