We expect Laboratory Corp. of America Holdings LH, or LabCorp to beat expectations when it reports first-quarter 2016 results before the opening bell on Apr 25. Last quarter, the company had reported a negative earnings surprise of 50%. However, the four-quarter trailing average beat is pegged at 1.83%. Let's see how things are shaping up for this announcement.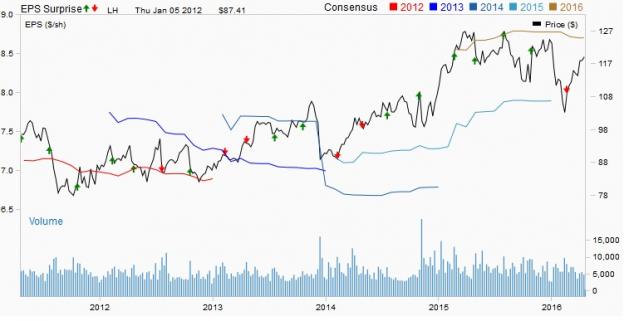 Why a Likely Positive Surprise?
Our proven model shows that LabCorp is likely to beat earnings because it has the right combination of two key ingredients.
Zacks ESP: LabCorp's Earnings ESP is +0.51%, since the Most Accurate estimate stands at $1.97 while the Zacks Consensus Estimate is pegged lower at $1.96. A favorable Zacks ESP serves as a meaningful and leading indicator of a likely positive earnings surprise. 
Zacks Rank: LabCorp currently has a Zacks Rank #3 (Hold). Note that stocks with a Zacks Rank #1, 2 or 3 have a significantly higher chance of beating earnings estimates. Conversely, Sell-rated stocks (#4 or 5) should never be considered going into an earnings announcement.
The combination of LabCorp's Zacks Rank #3 and +0.51% ESP makes us reasonably confident of a positive earnings beat.
What is Driving the Better-than-Expected Earnings?
The year 2015 was marked by LabCorp as one of solid growth, thanks to the successful execution of the company's three-pronged strategy viz. delivering world class diagnostics, bringing innovative medicines to patients faster, and changing the way of patient care. The company strongly expects 2016 to be no different which should get reflected from the very first quarter itself.
LabCorp expects to focus on organic growth by introducing new tests to its existing as well as new customers, channels and markets. In the field of test menu expansion, last year the company successfully introduced 75 new assays and accelerated next-generation sequencing capabilities.
Complimentary capabilities were enriched through targeted tuck-in acquisitions. As a major boost, the company's companion diagnostic franchise achieved double-digit growth in 2015, and LabCorp is confident about delivering $100 million in incremental revenue in companion diagnostics through 2018.
With respect to its second strategy, the company collaborated on 87% of the 45 new drugs (within oncology, it was 100%) that were approved by the FDA in 2015 – which should provide great momentum for 2016. Regarding the third strategy, Beacon LBS and Xcellerate Monitoring are expected to show further success in 2016.
In fact, the acquisition of Covance, which is operational under the label Covance Drug Development, is the primary reason for LabCorp's steep growth trend from last year. Earlier, LabCorp had set a goal of $150 million in incremental revenues by the end of 2018.
In the fourth quarter of 2015, the acquisition of Covance contributed $670 million to the company's revenue, driving 44% year-over-year growth. The company is currently on track to achieve the incremental revenue synergy target. Moreover, LabCorp expects to achieve annual cost synergies in excess of $100 million to be fully realized within three years of closing. Of this, the company has already achieved $45 million in synergy and is steadily progressing toward fulfilling its goal.
Additionally, the new company has already started to derive nearly 20% of revenues from outside the U.S., almost in line with expectations. According to LabCorp, the Covance acquisition has enabled it to compete worldwide in a growing addressable market of approximately $200 billion.
Stocks to Consider
Here are some other companies you may want to consider as our model shows these have the right combination of elements to post an earnings beat this quarter:
Align Technology Inc. ALGN has an Earnings ESP of +12.82% and a Zacks Rank #2 (Buy).
Becton, Dickinson and Company BDX has an Earnings ESP of +2.49% and a Zacks Rank #2.
Zimmer Biomet Holdings, Inc. ZBH has an Earnings ESP of +1.55% and a Zacks Rank #2.
 Want the latest recommendations from Zacks Investment Research? Today, you can download 7 Best Stocks for the Next 30 Days. http://woas.zacks.com/adv/7stock_report.pdf?ADID=ZACKS_PFP_7... blog">Click to get this free report >>
Want the latest recommendations from Zacks Investment Research? Today, you can download 7 Best Stocks for the Next 30 Days.
Click to get this free report
ALIGN TECH INC (ALGN): Free Stock Analysis Report
BECTON DICKINSO (BDX): Free Stock Analysis Report
LABORATORY CP (LH): Free Stock Analysis Report
ZIMMER BIOMET (ZBH): Free Stock Analysis Report
To read this article on Zacks.com click here.
Zacks Investment Research