Talent Solutions revenue may be affected yet again due to a weakening global job environment.
LinkedIn has some pretty stiff competition in its sponsored updates and advertising categories.
User ad revenue growth will be the primary metrics that the street will go by for the LinkedIn's Q2 earnings.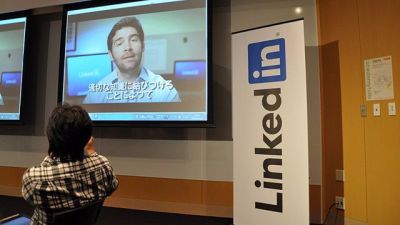 LinkedIn (NYSE:LNKD) is set to announce its second quarter earnings on the 4th of August where the average EPS estimate is $0.78 on revenues of $888 million. With the Microsoft deal now firmly in the rear view mirror (should go through at the end of the year), LinkedIn has to hit its numbers, because even when it is finally taken over by Microsoft, it will continue to be run as an independent company. User growth and engagement will be watched. Revenue is expected to grow by 24% this year and a further 19% next year and these gains will be primarily on the back of more income from its "Talent Solutions", "Marketing Solutions" & "Premium Subscriptions" income streams. It is imperative that LinkedIn nails its top line guidance going forward as we have already seen how weaker than anticipated guidance can tank the stock (as it did last February - see chart). The company reported 433 million members at the end of Q1 and 106 million monthly users. The latter is the one we look at for engagement levels. Wall Street will be looking for a nice lift in this metric. Remember, as with all social media companies, Wall Street will need to see meaningful user growth to keep on valuing the stock higher. Can LinkedIn pull it off for Q2?
Talent Solutions Revenue Is Key
Firstly it's obvious that user growth has slowed at...
More