Marathon Oil (MRO) has been bullish in 2016. The uptrend has been gaining traction and makes MRO a candidate to "buy-on-a-dip". Let's take a look at the daily chart and today's price action. (8/22)

MRO Daily Chart 8/22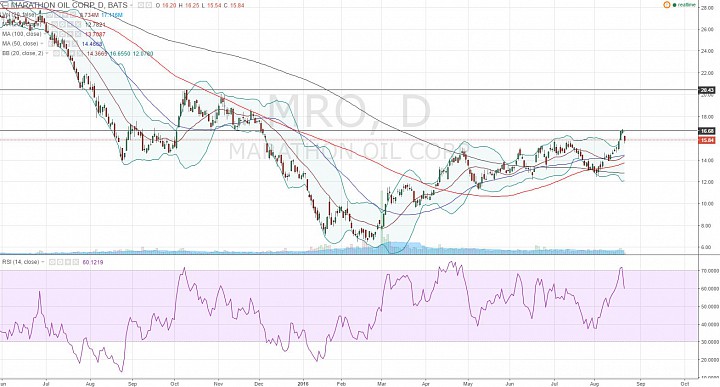 (click to enlarge)

Slingshot and bullish momentum:
- First of all, let's recognize the critical slingshot that materialized in August. 
- Price came up above the moving averages and then bounced off the moving averages as support. This is a bullish signal. 
- Also note that the RSI has held above 40 after pushing above 70. This shows maintenance of bullish momentum.
- The fact that the RSI pushed above 70 again in August also confirms bullish momentum. 

Resistance and management shakeup:
- MRO has turned more choppy since May, but has been in a bullish run in August, making a new high on the year.
- As price reached to new highs on the year, it also met a support/resistance pivot area around 16.65.
- This potential resistance area was reinforced by news that MRO's CFO has stepped down due to personal reasons (TheStreet.com).

Buy on a dip?
- I think the reaction to this news is justified because anytime there is an exit, there is some uncertainty. 
- However, I don't think the shake up should reverse the bullish outlook of 2016. 
- I think there is still upside towards 20.00, especially as oil prices regain its stride after a couple months of correction.
- In the short-term, let's wait for this current bearish reaction to extend. I think if price slips back towards 14.00, we can consider buying, especially if the RSI is also around 40 again.