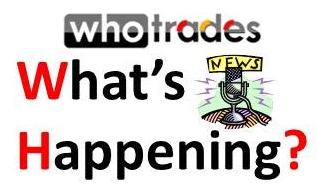 Upcoming S&P 500 Earnings Releases:
Check out the earnings parade of the big companies
Before the bell:
Amphenol
Baxter International Inc.
BB&T Corp.
Peabody Energy Corp.
Quest Diagnostics
Danaher
Dover Corp.
Fifth Third Bancorp
Goldman Sachs 
Huntington Bancshares Inc.
Nucor Corp.
Philip Morris International
PPG Industries
Snap-on Incorporated 
UnitedHealth Group Inc.
Union Pacific
Verizon 
After the bell:
Chipotle Mexican Grill Inc
Capital One Financial Corp.
Google 
Intuitive Surgical
People's United Financial Inc.
Stryker
---
Important Data Releases:
UK:
4:30AM EST Office for National Statistics will release Retail Sales m/m, which measures Change in the total value of inflation-adjusted sales at the retail level.
US:
8:30AM EST Department of Labor will release Unemployment Claims, which measures the number of individuals who filed for unemployment insurance for the first time during the past week.
10:00AM EST Federal Reserve Bank of Philadelphia will release Philly Fed Manufacturing Index, which measures the level of a diffusion index based on surveyed manufacturers in Philadelphia.
Australia:
9:00PM EST Reserve Bank of Australia will release RBA Gov Glenn Stevens Speaks at the Australian British Chamber of Commerce Business Lunch, in Sydney. As head of the central bank, which controls short term interest rates, he has more influence over the nation's currency value.Traders examine his public engagements to drop subtle clues regarding future monetary policy.
China:
10:00PM EST National Bureau of Statistics will release GDP q/y, which measures change in the inflation-adjusted value of all goods and services produced by the economy, and will also release Industrial Production y/y, which measures change in the total inflation-adjusted value of output produced by manufacturers, mines, and utilities.