J.P. Morgan impressed all the analysts sending the stocks and the whole market up this morning. The only question I have: where are all these analysts who forecasted a recession during Q1 2016 and then Q2 2016? I'm convinced that we won't see the recession, we see the market transformation and a new bubble inflates right now. And this bubble is in the technology field. But here I want to share JPM earnings, which is really interesting to see. 
Key metrics: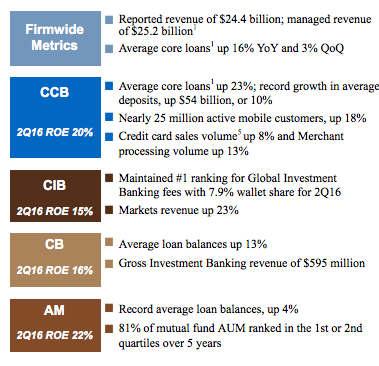 Yes, key metrics are above the analysts estimates. 

I still don't think that banking sector is your best investment choice, but I'd better have a few banks in my portfolio such as BAC and JPM. They won't be driving the portfolio, but it's enough for diversification. 
Full report is here: J.P. Morgan Q2 press release.