Higher interest income drove Wells Fargo & Company's WFC second-quarter 2017 earnings which recorded a positive surprise of 4.9%. Earnings of $1.07 per share outpaced the Zacks Consensus Estimate of $1.02. Moreover, the figure compared favorably with the prior-year quarter's earnings of $1.01 per share.

Shares of Wells Fargo decreased more than 2% in the pre-market session, indicating that investors have been bearish on the results. The price reaction during the full-trading session will give a fair idea about the extent of disappointment among investors.

Wells Fargo witnessed organic growth aided by strong loans and deposit balances. Higher net interest income was also favorable. In addition, a solid capital position and improving credit quality acted as the key positives. However, higher expenses and lower non-interest income were on the downside.

Notably, reserve release of $100 million was recorded in the reported quarter, driven by strong credit performance. Second-quarter net income came in at $5.8 billion, up from $5.6 billion in the prior-year quarter.

The quarter's total revenue was $22.2 billion, lagging the Zacks Consensus Estimate of $22.3 billion. Revenues were in line with the prior-year quarter figure.

Furthermore, on a year-over-year basis, revenue generation at the business segments was impressive. Community Banking and Wealth and Investment Management segments' total quarterly revenue increased around 1.0% and 7.7%, respectively, while Wholesale Banking revenues declined around 4.5%.

Loans and Deposits & Interest Income Rise, Costs Escalate

Wells Fargo's net interest income in the quarter came in at $12.5 billion, up 6% on a year-over-year basis. Increased interest income from trading assets, investment securities, loans held for sale and mortgages held for sale, along with higher other interest income, mainly drove results. Further, net interest margin expanded 4 basis points year over year to 2.90%, reflecting a rising interest rate environment.

Non-interest income at Wells Fargo came in at around $9.7 billion, down 7% year over year, primarily due to low mortgage banking revenue, lower net gains from trading activities and debt securities, along with reduced other income.

As of Jun 30, 2017, total loans were $957.4 billion, up slightly year over year. Growth in commercial loan portfolio contributed to the rise, partially offset by reduction in consumer loan portfolio. Total deposits were $1.3 trillion, up 4.8% from the prior-year quarter.

Non-interest expense at Wells Fargo was $13.5 billion, up 5% from the year-ago quarter. The upsurge in expenses primarily stemmed from higher FDIC and other deposit assessments, as well as elevated other and employee benefits and salaries expenses.

The company's efficiency ratio of 61.1% was above 58.1% recorded in the year-ago quarter. A rise in efficiency ratio indicates a fall in profitability.

Credit Quality Improved

Wells Fargo's credit quality metrics improved in the quarter. Allowance for credit losses, including the allowance for unfunded commitments, totaled $12.1 billion as of Jun 30, 2017, down 4.7% year over year.

Provision for credit losses was $555 million, plunging 48.3% year over year. Net charge-offs were $655 million or 0.27% of average loans in the reported quarter, down 29.1% from the year-ago quarter net charge-offs of $924 million (0.39%). Non-performing assets were down 25.2% to $9.8 billion in the quarter under review from $13.1 billion in the prior-year quarter.

Strong Capital Position

Wells Fargo has maintained a sturdy capital position. In the reported quarter, the company repurchased 43 million shares of common stock.

Wells Fargo's Tier 1 common equity under Basel III (fully phased-in) increased to $151.9 billion from $145.6 billion in the prior-year quarter. The Tier 1 common equity to total risk-weighted assets ratio was estimated at 11.6% under Basel III (fully phased-in) as of Jun 30, 2017, compared with 10.6% recorded in the year-earlier quarter.

Book value per share increased to $36.53 from $35.38 in the comparable period last year.

Our Viewpoint

Wells Fargo reported decent revenue numbers and we expect top-line headwinds to subside, given the improving interest rate environment. However, escalating expenses remained a major drag, along with slowdown in mortgage business.

Cross-selling, which has been the company's major strength in recent years, drew regulators' attention as they discovered that thousands of bank employees were unlawfully enrolling consumers for products and services without their knowledge or consent, in order to receive incentives for meeting the sales targets. The bank has also been subjected to severe political and public outrage, and faced several lawsuits and investigations as well.

Nevertheless, we believe that over the long term, investors will not be disappointed with their investment in Wells Fargo, given its diverse geographic and business mix, which enables it to sustain consistent earnings growth. We also believe that strategic acquisitions and the bank's efforts to address current adversities will help the company expand its business and enhance profitability.
Wells Fargo & Company Price, Consensus and EPS Surprise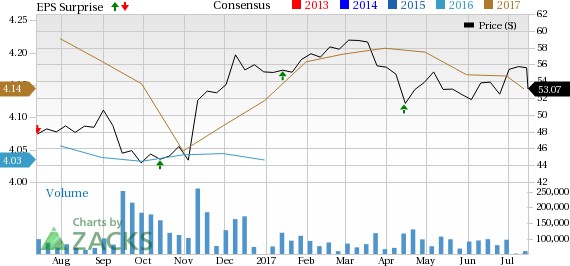 Wells Fargo & Company Price, Consensus and EPS Surprise | Wells Fargo & Company Quote
Currently, Wells Fargo carries a Zacks Rank #3 (Hold). You can see the complete list of today's Zacks #1 Rank (Strong Buy) stocks here.

Meanwhile, banking major – Citigroup Inc. C – delivered a positive earnings surprise of 5.0% in second-quarter 2017, riding on higher revenues. The company's income from continuing operations per share of $1.27 for the quarter outpaced the Zacks Consensus Estimate of $1.21. Also, earnings compared favorably with the year-ago figure of $1.25 per share.

Among other Wall Street giants, U.S. Bancorp USB is scheduled to report second-quarter 2017 earnings on Jul 19, while Comerica Inc. CMA will report on Jul 18.

More Stock News: Bigger than the iPhone!

It could become the mother of all technological revolutions. Apple sold a mere 1 billion iPhones in 10 years but a new breakthrough is expected to generate more than 27 billion devices in just 3 years, creating a $1.7 trillion market.

Zacks has just released a Special Report that spotlights this fast-emerging phenomenon and 6 tickers for taking advantage of it. If you don't buy now, you may kick yourself in 2020. Click here for the 6 trades >>
Want the latest recommendations from Zacks Investment Research? Today, you can download 7 Best Stocks for the Next 30 Days.
Click to get this free report
Comerica Incorporated (CMA): Free Stock Analysis Report
U.S. Bancorp (USB): Free Stock Analysis Report
Wells Fargo & Company (WFC): Free Stock Analysis Report
Citigroup Inc. (C): Free Stock Analysis Report
To read this article on Zacks.com click here.
Zacks Investment Research