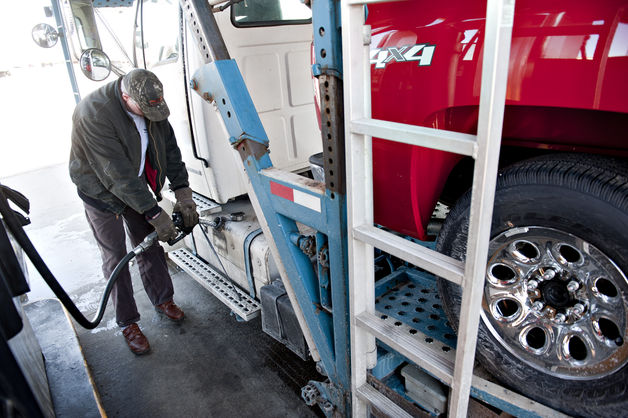 Photographer: Daniel Acker/Bloomberg

Speculators are making their biggest-ever bet on lower U.S. diesel costs after expanding stockpiles drove prices to a two-year low.
Hedge funds increased net-short wagers on ultra-low sulfur diesel for a fourth week, to the most in U.S. Commodity Futures Trading Commission data that begins in 2006. Prices retreated 17 percent since reaching this year's high on Jan. 31.
U.S. inventories of distillate fuels, which include diesel, are the biggest in almost a year asrefineries operated at 93 percent of capacity this quarter, the highest level since 2005. Supply is at a three-year high at the main storage and trading hub in Europe, the second-largest importer of U.S. fuel, threatening to reduce demand for shipments.
"Refineries aren't scaling back," Gene McGillian, an analyst and broker at Tradition Energy inStamford, Connecticut, said by phone Sept. 19. "When we see the refinery rate drop back below 90 percent, diesel prices are going to find some strength."
Diesel futures dropped 3.52 cents, or 1.3 percent, to $2.7563 a gallon on the New York Mercantile Exchange in the week ended Sept. 16, the period covered by the CFTC report. Prices continued falling and ended at $2.6871 in today's trading, the lowest settlement since July 2012. Gasoil futures declined to $823.25 a metric ton on ICE Futures Europe in London on Sept. 19, the least since May 2013.
Distillate Supply
U.S. distillate supply grew by 6.23 million barrels in the four weeks through Sept. 12 to 127.8 million, the Energy Information Administration reported Sept. 17.
Production averaged a record 4.85 million barrels a day this year through August, the American Petroleum Institute, a Washington-based industry group, said Sept. 18.
Refineries have been running at more than 90 percent of capacity since June. They used 16.3 million barrels a day of crude oil in the week ended Sept. 12, the most for this time of year in data going back to 1989.
Distillate fuel demand in the U.S. averaged 3.71 million barrels a day in the four weeks ended Sept. 12, the weakest level since March, according to the EIA.
The drop in consumption comes as exports to Europe are set to decline. Six tankers were chartered or expected to be booked to ship fuel from Houston to Amsterdam in the next two weeks, according to a Bloomberg survey on Sept. 18. That's down from 10 in a survey a week earlier. Europe imported about 400,000 barrels a day from the U.S. last year, trailing only Latin America.
European Supply
Gasoil stockpiles in independent storage in Europe's Amsterdam-Rotterdam-Antwerp oil-trading hub rose 7.2 percent to 2.79 million metric tons in the week ended Sept. 18, the most since June 2011, according to PJK International BV.
"The anticipation of lower diesel exports to Europe will mean a glut of diesel supply in the U.S.,"Michael Lynch, president of Strategic Energy & Economic Research in Winchester,Massachusetts, said by phone on Sept. 19.
The U.S. exported 1.13 million barrels a day of distillate fuel last year, about 24 percent of itsproduction of 4.73 million, according to the EIA.
Bearish wagers on U.S. ultra-low sulfur diesel climbed 1,244 to 21,390 futures and options combined in the week ended Sept. 16. That's the most in CFTC records for disaggregated positions that began in 2006. Short positions rose 1,066 and longs fell 178.
Gasoline Wagers
Bullish bets on gasoline dropped 52 percent to 8,277, the lowest since 2010. Futures advanced 1.04 cents to $2.5588 a gallon on Nymex in the reporting period. Regular gasoline at the pump, averaged nationwide, slipped 0.8 cent to $3.356 a gallon on Sept. 18, the lowest since February, according to Heathrow, Florida-based AAA, the largest U.S. motoring group.
Net-long positions on U.S. natural gas fell 6.3 percent to 108,651. The measure includes an index of four contracts adjusted to futures equivalents: Nymex natural gas futures, Nymex Henry Hub Swap Futures, Nymex ClearPort Henry Hub Penultimate Swaps and the ICE Futures U.S. Henry Hub contract. Nymex natural gas gained 1.1 cents to $3.995 per million British thermal units on the Nymex during the report week.
Net longs for West Texas Intermediate crude climbed by 9.1 percent to 203,648. The U.S. benchmark rose $2.13, or 2.3 percent, to $94.88 a barrel on the Nymex in the CFTC week.
"The high U.S. refinery run rate has been consistently helping grow product inventories," John Kilduff, a partner at Again Capital LLC, a New York-based hedge fund that focuses on energy, said by phone Sept. 19. "We could see supplies build sufficiently to break the back of the high prices we've seen over the past several years."