Tesla will release their Q2 earnings after the closing bell tomorrow and I think it's a right time to check a few options strategies. Tesla is a high-volatile stock due to a few reasons: most of people simply love the company and Elon Musk. Others who has ever taken deeper look at their financial and operating metrics are less optimistic regarding their future. I also have some concerns regarding the production goals, Gigafactory, liquidity issues and their acquisitions. It will be unbelievably difficult for Elon Musk and his team to meet the production goals even and deliver around 500k cars by the end of the next year. Their most recent acquisition of SolarCity also have more questions than answers. Those two business aren't 100% complementary,it means that a potential synergy between them will be unexpectedly low. 
Traders start to buy or sell Tesla's stock heavily right after the earnings. After the most recent earnings release Tesla's stock wasn't too volatile though, it went down just 5%. When Tesla's management reported their annual results the stock plummeted more than 19%, around 10% it drew up after Q3'15 results. 10 analysts say to hold Tesla's stock, 5 have outperform recommendation and 4 underperform. Revenue range is wide, however the consensus shows almost no growth:

EPS is deeply below the water line, Tesla is still a great project but not a business:

Source: Financial Times
if you think that the volatility is going up, you'd better buy strangle or straddle. I think that the best way now is to buy a straddle, it will be more expensive than strangle, but we can compensate certain portion selling OTM call and put. The initial outlay will have the following options: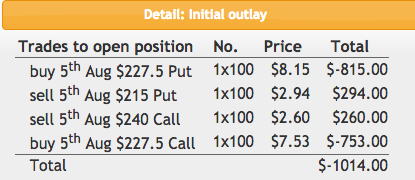 And the P&L profile is the following: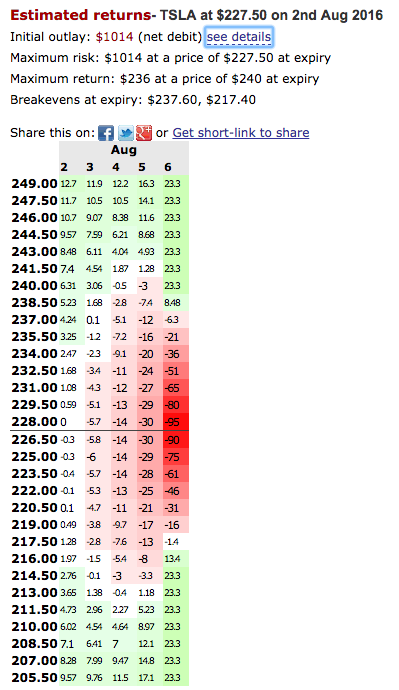 As you can see, green area starts if the stock moves for more than 5% after the earnings. As I've already mentioned, even after the most recent earnings the stock went down 5%. This strategy is well-balanced and has an optimal risk-return rate. The maximum return you can get is around 23% of the initial outlay. I think this strategy will work out, it doesn't matter whether the stock will go up or down. 
Tesla is definitely not a stock that I want to own for the long-term. A number of concerns including production goals and pre-order that have been already made earlier this year, liquidity issues, however they received $2B from Goldman Sachs and some other banks a few months ago, and their Gigafactory. According to Tesla's press release, their brand new factory will start working at a full capacity just in 2020, but the company still needs to deliver more than 500k by the end of this year. It's a little bit tricky and I prefer to avoid the stock if I have any doubts and hesitations regarding their long-term plans. Such stocks as TSLA and NFLX, for example, could help you to earn on options with limited risk and tasty returns.