Summary
Royal Bank targets double-digit growth from newly acquired City National Bank.
Royal Bank's current valuation does not reflect growth prospects for its recently strengthened U.S. presence. The bank's relative valuation will improve as its U.S. business improves its earnings power.
RBC, with its strong franchise, strong market position, safe and growing dividend, represents a sound investment for value-oriented, dividend-growth investors with a long investment horizon.
Introduction
In the Canadian banking industry, five banks stand above the rest in terms of assets, deposits and capitalization. These five banks are referred to colloquially as the "Big Five" Canadian banks.
All five are headquartered in Toronto and classified as Schedule 1 domestic banks operating in Canada under government charter. Cumulatively, the Big Five banks account for close to 90% of the banking industry in Canada.
Source: Sam Javanrouh
Beginning 2016, Canadian bank stocks had their worst start to the year in a quarter century, plunging 10% in January amid concerns over slumping oil prices, tepid new consumer borrowing due to already high household indebtedness and eroding margins, as interest rates plumbed record lows. The shares rebounded 9% in February after most of the lenders posted quarterly profit that exceeded analysts' expectations.
On March 31, I published an article for Seeking Alpha entitled, "A Good Time To Buy The 'Big Five' Canadian Bank Stocks". The "Big Five" has become an outdated moniker. The assets held by the Big Five Canadian banks have ballooned in size over the past decade, crossing the threshold into gargantuan territory. Royal Bank of Canada (NYSE:RY) and Toronto Dominion Bank (NYSE:TD) became Canada's first trillion-dollar banks, measured by total assets, and the Bank of Nova Scotia (NYSE:BNS) is not far behind. Only four banks in the U.S., an economy 10 times the size of Canada, have crossed into trillion-dollar territory, reinforcing how massive these five institutions are in relation to the substantially smaller Canadian economy.
The banking culture in Canada has traditionally been more protected, less competitive and therefore more conservative. This conservatism was most evident during the financial crisis. While toxic credit products wreaked havoc on international financial markets, the Canadian banking system was virtually unscathed.
During and after the global credit crisis, the Big Five banks became recognized globally for their fiscal responsibility. The respect they receive from their global peers is underpinned by their consistent operational and financial performance and consistently strong returns on equity (ROE); they are more profitable than their 12 largest U.S. counterparts based on ROE.
Moreover, the Five Big banks dominate the Canadian banking sector, accounting for almost 90% of the country's banking deposits. This dominance - and the regulatory protection they enjoy in their domestic market - are key advantages that make it unlikely new entrants will challenge their dominance. These conditions have allowed Royal Bank to deliver consistently healthy returns to shareholders for more than 150 years.
Canadian banks typically pay a higher dividend than their U.S. counterparts and have done so for a considerable period. For example, the Bank of Montreal (NYSE:BMO) has an uninterrupted record of dividend payments extending back to 1829. The Bank of Nova Scotia is not far behind, with continual dividend payments since 1832, followed by TD Bank, which has paid dividends continually since 1857, and the Royal Bank, which has paid an uninterrupted dividend to investors for 144 years, extending back to 1870. Canadian banks give almost half their earnings back to investors in payouts, resulting in an average dividend yield of 4.32%, about double that of U.S. lenders. There is no sure thing in investing, but in my experience, companies like Royal Bank - with its strong franchise, resulting in its strong market position, and paying a safe and growing dividend - best reward investors over the long haul.
Canadian banks have been ranked the world's soundest for eight straight years by the World Economic Forum. The country's banking system, which is dominated by the Big Five banks, ranked No. 1 in the Global Competitiveness Report released by the organization. Finland's banking system ranked second of 140 countries surveyed and Australia's third. The U.S. banking system was in 39th place, compared with 49th a year earlier.
Canadian lenders benefit from fewer regulatory restrictions and less competition than their U.S. counterparts. Royal Bank, TD Bank and Bank of Montreal are also benefiting from their expansion in the U.S., where economic growth is expected to outperform that of Canada in the foreseeable future.
Canada's banking system is an oligopoly, with five large and protected banks serving 33 million people. Part XII of the Bank Act (Canada), which is administered by the Office of the Superintendent of Financial Institutions (OSFI), contains a prohibition preventing any "foreign bank" from engaging in or carrying on business in Canada. In contrast, the United States has over 6,000 banks and over 7,000 credit unions serving 330 million citizens.
However, in terms of stock price performance, the Big Five banks have been treading water at best since the summer of 2014, when the price of oil collapsed.
During this period, the Canadian oil patch and broader Canadian economy have struggled, taking the "loonie" down with them. And Canadian households are carrying the largest debt-to-income load in the G7. In 1980, the ratio of Canadian household debt to personal disposable income was 66%; that ratio has ballooned, recently reaching 170% (Statistics Canada 2016). This means that, in aggregate, Canadian households owe more than $1.70 for every dollar of disposable income.
Oil prices used to have an 80% correlation with the loonie. That correlation is now up to almost 95%. Who knows what the future will bring, but oil looks to have not only carved out a bottom, but to be basing. Production and inventory data finally appear to turning supportive. And the cheaper Canadian currency appears to be providing some lift to Canadian manufacturing. These are encouraging signs for the Canadian bank sector.
Source: Haver Analytics & Gluskin Sheff
The combination of the weakness in energy weighing on investment, together with high levels of household indebtedness, which is keeping a lid on consumer spending, puts pressure on the export side of the Canadian economy to do much of the heavy lifting. The combination of a recovering U.S. economy and the lower Canadian currency are supportive indicators for Canadian exports, a trend that must continue for overall economic growth to gain traction.
However, although CIBC (NYSE:CM) is essentially a play on the Canadian domestic market because of its greater exposure to the Canadian consumer and domestic economy, which represents two-thirds of its business, the domestic exposure for its Big Five peers averages only of 40%.
Each of the Big Five Banks pursues a markedly different growth strategy, which I discussed in a previous article.
I have also analyzed Bank of Nova Scotia and TD Bank in separate articles, outlining their respective growth strategies.
"Big Five" Canadian Banks
| Name | Ticker | Mkt Cap | ROE | Yield % | Fwd P/E | P/BV |
| --- | --- | --- | --- | --- | --- | --- |
| Royal Bank | RY | $115.4B | 15.6% | 4.18 | 11.0 | 1.88 |
| Toronto Dominion | TD | $103.2B | 12.3% | 3.95 | 11.1 | 1.60 |
| Bank of Nova Scotia | BNS | $77.5B | 13.6% | 4.47 | 10.5 | 1.48 |
| Bank of Montreal | BMO | $52.4B | 11.6% | 4.22 | 11.1 | 1.47 |
| CIBC | CM | $40.1B | 17.4% | 4.76 | 10.5 | 1.93 |
Click to enlarge
Investment Thesis
The Royal Bank of Canada (RY on the NYSE and TSX) was founded in 1864 in Halifax, Nova Scotia, by a group of Halifax merchants allied to form a private commercial bank. They named it the Merchants Bank. In 1887, the bank opened a branch office in Montreal, the country's financial center at the time, signaling a reorientation in the bank's strategy from providing regional services to doing so on a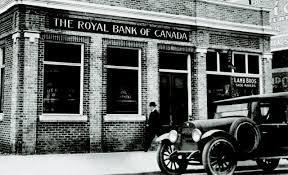 national level.
As the bank expanded, its directors realized that the name needed to be changed to truly reflect the geographic reach and strategy of the institution. So, in 1901, the bank adopted the name The Royal Bank of Canada. It relocated its headquarters to Montreal in 1907.
With...
More