Alibaba - for months incessantly discussed as the must own stock of the decade - just hit fresh all-time lows. Down over 5% in the pre-market after missing revenue estimates and seeing growth at the slowest in three years, it appears things are not soft-landing in China after all...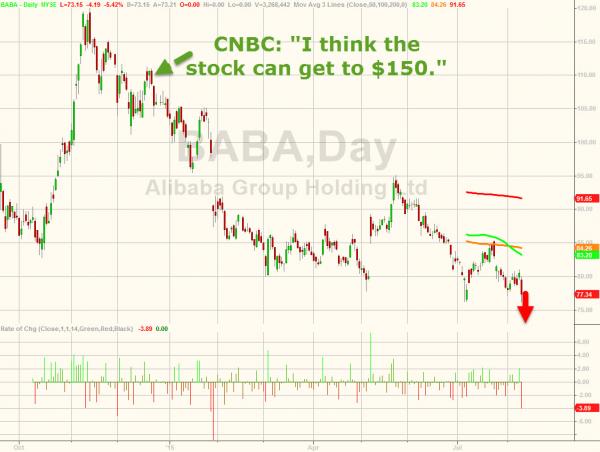 But here is CNBC from Nov 2014 to explain why this is a great opportunity to buy the dip...
"I think this is a growth story. I don't think $110, $120—I don't think that's the top," Najarian said. "I think the stock can get to $150."

 

Ritholz Wealth Management CEO Josh Brown said he played the sector via Chinese Internet exchange-traded fund KWEB, with Alibaba accounting for 10 percent its holdings.

 

"The thing to keep in mind about China, they did not spend the last 30 years building out Wal-Marts and Targets everywhere. So, now that people have more disposable income, they want to spend money on things like Singles' Day, for example," he said. "They don't have a million options in stores down the street. They're increasingly using Alibaba."

 

Brown said Alibaba's fortunes are tied to the growth of a middle class in China.

 

"There are a multitude of ways to play it. There have been a lot of big winners in the space. And there will be going forward," he said. "BABA is the best going forward right now. May not be the case three months, six months, a year from now because it's not just what you own, it's at what price you buy it. There are cheaper Chinese Internet names that I think will benefit as well."

 

TheStreet CIO Stephanie Link noted that with a valuation at 49 times earnings, Alibaba stock was "not cheap."

 

"I don't know what you want to go full-bore in today," she said. "Maybe you can see a little of the volatility and buy on a dip if you get it."

 

Joe Terranova of Virtus Investment Partners said institutional money was going to become a factor.

 

"Now you hear the fundamental earnings story, and those like myself who sat back passively and didn't trust the company, they're going to come in," he said. "You're going to see the institutional mutual fund side own this company in 2014. I expect it to be a very strong winner, and it could easily Pete's target."
*  *  *
Well it is cheap-er now!