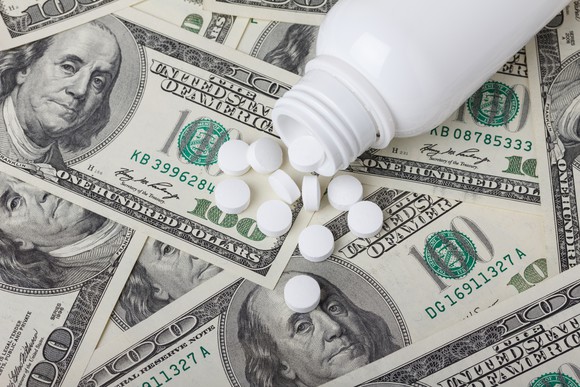 Gilead Sciences (NASDAQ:GILD) can't seem to find a bottom. Despite the stock trading at a dirt-cheap forward price-to-earnings ratio of 6.8 (cheap, that is, for a large-cap biotech stock), the company's shares have simply failed to catch a bid recently: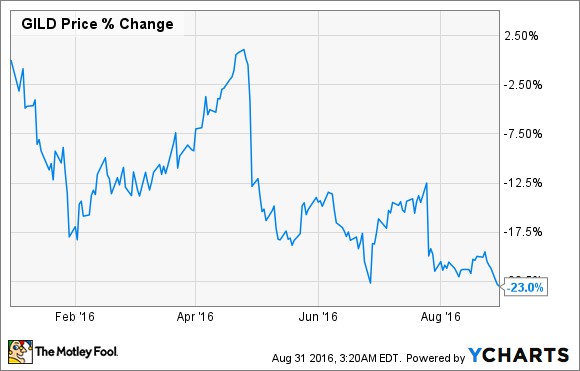 Of course, investors are deeply concerned about Harvoni's second-quarter cliff dive: The star hepatitis C drug saw its U.S. sales fall by more than 50% relative to a year ago. While such a steep decline for a franchise-level product is never welcome news, Gilead hasn't exactly been sitting idly by in 2016. In fact, the biotech has made at least five key moves this year designed to create deep value for shareholders.
Gilead's 5 best moves this year
1. In January, Gilead cemented a global license and collaboration agreement with Galapagos NV (NASDAQ:GLPG) for experimental anti-inflammatory drug filgotinib. The reason this move should excite investors is twofold. First, filgotinib is being developed as an oral treatment for rheumatoid arthritis, Crohn's disease, and ulcerative colitis. This gives it megablockbuster potential, depending on how AbbVie's (NYSE:ABBV) competing oral selective JAK1 inhibitor, ABT-494, pans out in its broad late-stage clinical program. Second, Gilead didn't break the bank to bring filgotinib into the fold, reportedly investing only $725 million upfront in this collaboration with Galapagos NV, while back-loading the deal with an additional $1.35 billion in milestone payments.
2. Over the course of March and April, Gilead grabbed two FDA approvals for its cornerstone HIV franchise. Specifically, the agency approved the biotech's TAF-based regimens Odefsey and Descovy. These two new TAF-based HIV medicines would go on to help boost the biotech's quarterly HIV sales by a healthy 14.8% in the...
More