The share price of AT&T (T) has been sliding throughout 2017, from a high around 43 to close around 36.50 lat week.

AT&T (T) Weekly Chart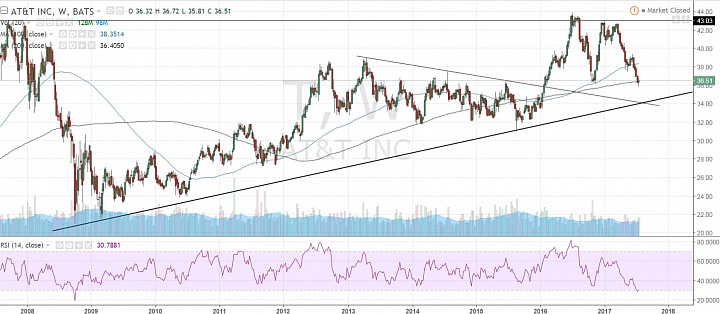 (click to enlarge)
ABC Correction:
- When looking at long-term price action, we can see that AT&T has been bullish since 2009.
- There was a period of consolidation between 2013 and 2016, but price shot up in 2016 until it hit 44.00.
- Since that bull rush in 2016 stalled at 44, price action has been pretty sharp downwards, then upwards, then dowards again. This looks like an ABC correction, and price is approaching the end of the C wave.
Support:
- The 34-35 area involves a rising trendline and a broken falling resistance.
- Also the RSI is now tagging 30, if it falls a little lower and develops a bullish divergence with price, I would anticipate some buying.
- The fact these signals would be coincident with completion of an ABC wave encourages even more attention to T as it approaches the 34-35 area.
- From here, I think a conservative bullish target would be 38, with the 40 handle and the 44 high from 2016 as slightly more aggressive targets.