Facebook's shares will reach $100 by 11.15.2015

16 october 2015
We are upbeat about shares of Facebook (FB), the world's largest social network. The company continues to deliver double-digit revenue growth and network monetization. According to the financial report for 2Q15, revenue was up 39% y-o-y to USD 4.04 bn. Advertising became a revenue growth driver, with the top line surging 43% to USD 3.8 bn due to a growing audience, a larger number of advertisers and investment in new products. The share of revenues from mobile advertising climbed to 76% of total revenue. Adjusted operating profit rose 27% y-o-y to USD 2.23 bn, while operating margin fell by 5 pps to 55.1%. Adjusted EPS increased 16.3% y-o-y to 50 cents, outpacing the median forecast by 6%. The number of monthly active users (MAUs) amounted to 1.49 bn by the end of June 2015, or 13% more than a year ago, while the number of daily active users (DAUs) rose 17% y-o-y in June to 968 mn. The company's mobile audience expanded at a significantly faster rate. The number of monthly active users visiting the network from mobile devices increased by 23% y-o-y to 1.31 mn, while the number of daily active users rose 29% y-o-y to USD 844 mn.
Facebook generates a significant cash flow and continues to accumulate funds on accounts. The company had USD 14.1 bn in funds and short-term investments on accounts by late June. The company generated an operating cash flow worth USD 1.88 bn vs. USD 1.34 bn a year ago.
We believe that the company will continue to improve its performance and successfully monetize its subscriber base. We raised our target price for Facebook shares to USD 105 and reiterate our Buy recommendation in the mid-term. The short-term technical target is USD 100.
<!== INSTRUMENT %% %1440% ==!>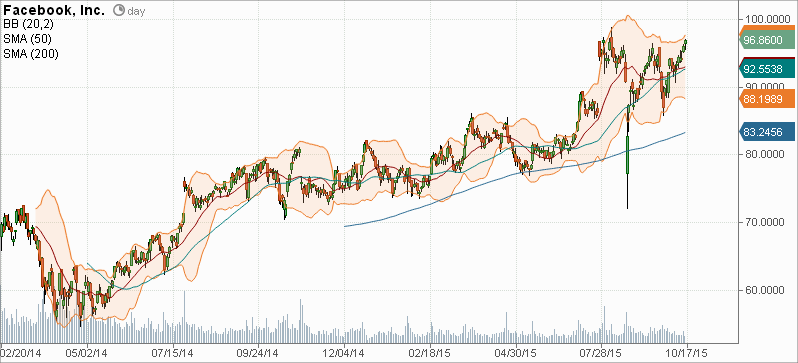 Voting is over
Waiting for


the right answer