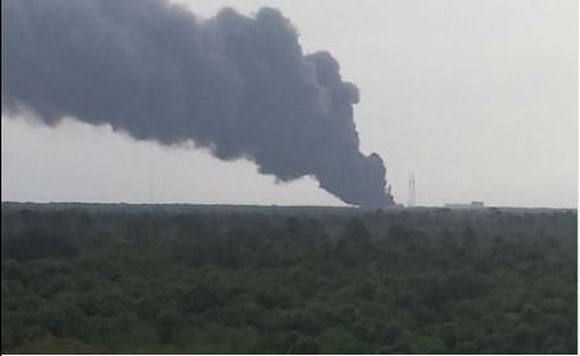 Israel's Space Communication got scorched by SpaceX's launch-test "anomaly" last week. Now it's seeking compensation. Image source: U.S. 45th Space Wing.
On Thursday, September 1, a SpaceX Falcon 9 rocket undergoing pre-flight testing at Cape Canaveral Air Force Station in Florida caught fire and exploded, destroying the rocket itself, its Amos-6 satellite payload, and severely damaging the launch pad from which it had planned to leave later in the week.
All of this is bad news for SpaceX. But it could be great news for lawyers.
First thing, let's [call] all the lawyers
Earlier this week that Israel-based Space Communication (SpaceCom), owner of the Amos-6 that burned up in SpaceX's fire, announced it had "begun measures to recover funds invested in the project." Unfortunately for SpaceCom, it apparently neglected to insure its satellite for accidents that might take place before liftoff, procuring only the standard launch insurance standard in the industry. Lacking insurance, therefore, SpaceCom faces a huge loss from the disaster in Florida.
Adding insult to that financial injury, SpaceCom was apparently so confident that the SpaceX launch would go off without a hitch, it agreed to make a successful launch a precondition to its planned merger with Chinese company Beijing Xinwei Technology Group. That merger now appears likely to go away -- taking with it the $285 million buyout price Beijing Xinwei had agreed to pay.
Trouble all around
Faced with a disaster of this magnitude, SpaceCom is casting a wide net in hopes of getting some recompense. As reported on SpaceflightInsider, SpaceCom plans to demand $205 million in compensation from Amos-6's manufacturer Israel Aerospace Industries (IAI). Israeli paper Jerusalem Online adds that SpaceCom "is planning to sue SpaceX for $50 million" -- presumably the price of the launch itself. (Alternatively, SpaceCom may demand a replacement rocket ride, free of charge, after it has procured a replacement satellite to send up.)
If all of this sounds like an extreme set of demands, it's not entirely without hope. Israel's Globes business newspaper notes that while SpaceCom failed to insure its satellite for a pre-launch mishap, IAI did procure such insurance -- in the amount of $173 million -- and IAI plans to transfer that entire amount, plus a bit more as a penalty payment, to satisfy SpaceCom's claim against it.
SpaceX, too, should be quick to accede to SpaceCom's demands. As custodian of Amos-6 at the time of its destruction, SpaceX could easily have expected to be sued for the cost of the launch, the cost of Amos-6, and even for the incremental cost of rush-order shipping for a new satellite to replace the now extra-crispy Amos-6.
Things could be worse
Furthermore, SpaceCom had a deal in place with Facebook (NASDAQ: FB), whereby Facebook (in combination with Europe's Eutelsat) would have leased access to Amos-6 to provide satellite-based broadband internet access to customers in Africa. That deal would have brought in $95 million in revenue for SpaceCom over five years -- money that will not now be forthcoming.
On top of all that, SpaceCom stock has suffered about a 40% drop since the disaster was announced -- a consequence of investors reacting to the missed business opportunity with Facebook, the probably failed merger with Beijing Xinwei, and of course the massive financial losses SpaceCom could still incur if any one of the parties it's suing fail to pay up. It wouldn't take a terribly creative class action lawyer to blame SpaceX for all of that, either.
Far from lamenting a potential payout to SpaceCom, if SpaceX gets out of this mess with no more than a $50 million payment, it should count itself fortunate -- and thank its lucky stars.
A secret billion-dollar stock opportunity
The world's biggest tech company forgot to show you something, but a few Wall Street analysts and the Fool didn't miss a beat: There's a small company that's powering their brand-new gadgets and the coming revolution in technology. And we think its stock price has nearly unlimited room to run for early, in-the-know investors! To be one of them, just click here.
Fool contributor Rich Smith does not own shares of, nor is he short, any company named above. You can find him on Motley Fool CAPS, publicly pontificating under the handle TMFDitty, where he's currently ranked No. 293 out of more than 75,000 rated members.
The Motley Fool owns shares of and recommends Facebook. Try any of our Foolish newsletter services free for 30 days. We Fools may not all hold the same opinions, but we all believe that considering a diverse range of insights makes us better investors. The Motley Fool has a disclosure policy.