Exxon posts worst profit in 17 years, missing estimates
Chevron's third straight loss capped longest streak in decades
Exxon Mobil Corp. and Royal Dutch Shell Plc this week reported their lowest quarterly profits since 1999 and 2005, respectively. Chevron Corp.'s third straight loss marked the longest slump in 27 years, and BP Plc lodged its lowest refining margins in six years.
Welcome to year two of a supply overhang so persistent it's upsetting industry expectations that the market would return to a state of balance between production and demand. It's left analysts befuddled and investors running to the doorways as the crude market threatened to tip into yet another bear market, dashing hopes that a slump that began in mid 2014 would show signs of abating.
Exxon missed analyst estimates by 23 cents a share and fell as much as 4.5 percent on Friday before recouping some of that decline. Chevron posted a surprise $1.47 billion loss after booking $2.8 billion in writedowns. The company's per-share loss of 78 cents was in stark contrast to the 19- to 41-cent gains expected by analysts. BP and Shell registered similarly gloomy outcomes.
"What we're seeing is that there's just no place for the supermajors to hide," Brian Youngberg, an analyst at Edward Jones & Co. in St. Louis, said in an interview. "Oil prices, natural gas, refining, it all looks very bad right now."
Crude prices dropped during the quarter from a year ago amid a global glut in the $1.5 trillion-a-year market. With diesel and gasoline prices also slumping, the companies were deprived of the tempering effect oil refining typically provides during times of low crude prices.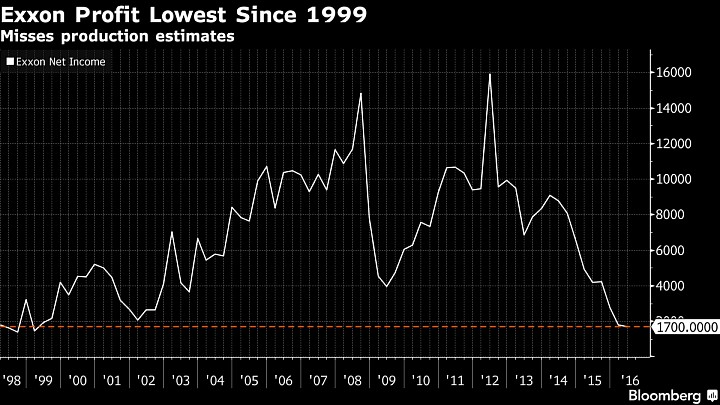 Given the plunge in crude...
More